It's your time to shine. You've called upon us to build a WhatsApp marketing strategy that gets you the best results, and we've delivered.
---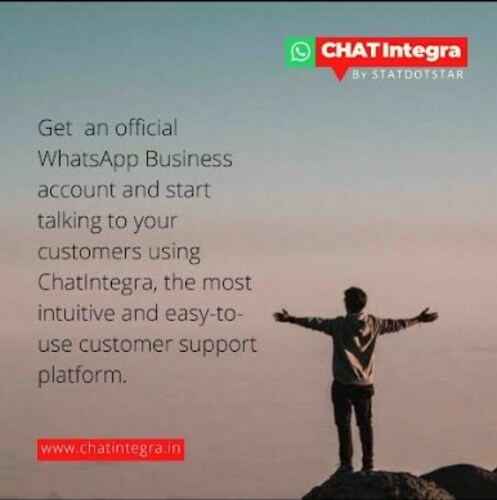 Do you have a satisfactory CRM tool but would love to add WhatsApp as one of your channels?
ChatIntegra's WhatsApp APIs just lets you do that. All your routing logic, user management, interface stays just the way it is with an additional channel that has over 1.5 billion users. This is the time to put your 'go where the user is' vision into action.
WhatsApp Business API Service - Send and receive WhatsApp messages globally with ChatIntegra 's API for WhatsApp.
✔️For complex questions, help your customer with two-way messaging and instant response.
✔️Real-Time Notification
✔️Handhold your customer with text. images, PDF and other rich media directly on WhatsApp.

🤖Chatbot & Live Agent🤖
✔️Integrated WhatsApp with ValueFirst's chatbot and live agent takeover offerings.
✔️Invest in a communication system that is powered by WhatsApp Business APIs.
✔️Easy Integration. Resolve Issues In One-On-One Conversations.
✔️Build apps for alerts, notifications
✔️Automate 80% of your call center conversations
✔️Chatbots take care of repetitive queries so that your agents can focus on the issues that truly need their attention.
✔️They're also available 24×7. So while your agents are offline, your chatbots can hold the fort ensuring your customers are happy.
For more information click here - www.stardotstar.in
Contact Number : 91 98400 59095, 91 98400 66333.