Automate your WhatsApp Business number With ChatIntegra
---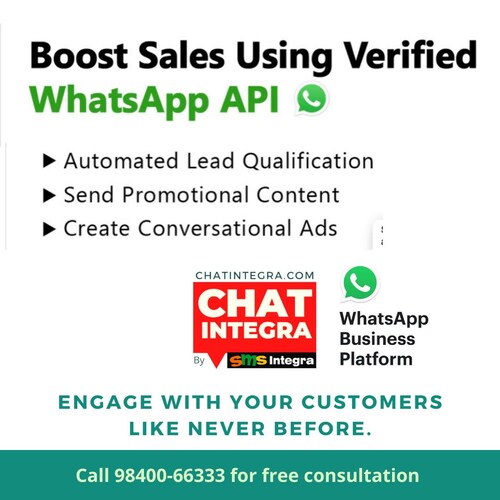 Automate your WhatsApp Business number with our no-code Chatbots, create customizable conversational flows and, simplify your CRM integrations like Shopify, WooCommerce,HubSpot etc.


With ChatIntegra you can:
Increase lead conversions by >50% 📊
Improve customer retention by ~2x 📈
Reduce sales & support costs by >30% 📉
ChatIntegra : Grow business on WhatsApp. A central hub for all your WhatsApp communication. Sales, Marketing and Customer Support from a single WhatsApp number. That's the magic of ChatIntegra.
There is no denying in the fact that WhatsApp Chatbots play a superior role in your sales & support functions👍
Standard bot: The bot will work based on the predefined questions and answers.

Custom bot: The bot will fetch the values from your systems/platform and provide the answers.
We are more than happy to help implement WhatsApp Business solutions for your company 😊
Call 98400-66333 for more info.