Pushkar Panasa By Pushkar Properties Private Limited Anna Nagar Chennai. Near Neomed Hospitals
---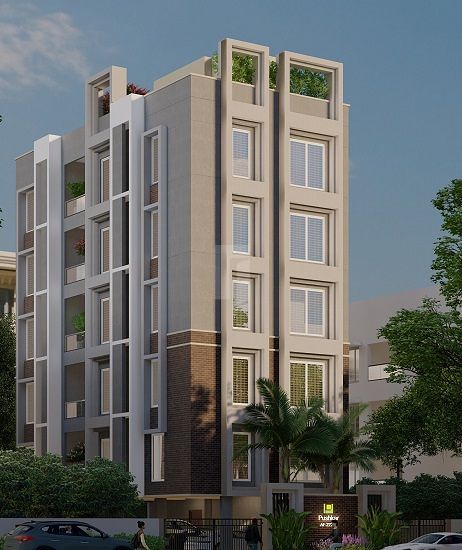 Pushkar Panasa
By Pushkar Properties Private Limited
Location : Anna Nagar Chennai.
Near Neomed Hospitals
PRICE : 2.80Cr
Price inclusive of all charges including registration and taxes. Provided by the builder.
16000+ /SqFt
Units Available: 3 BHK Apartments/Flats
Possession: Dec 2024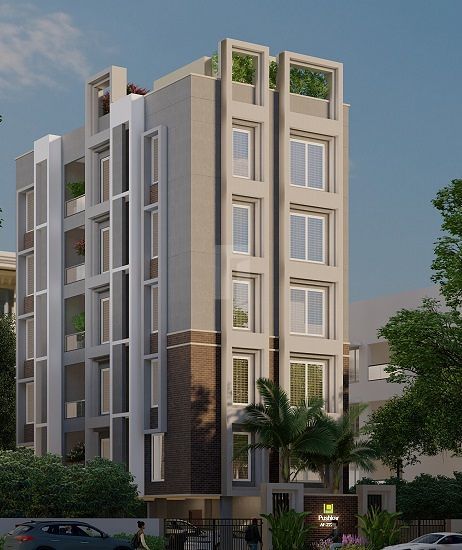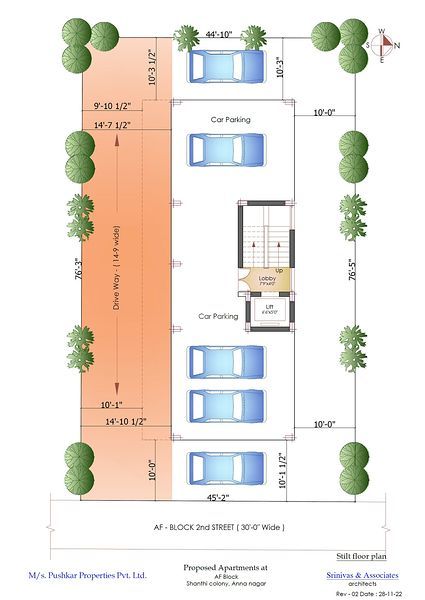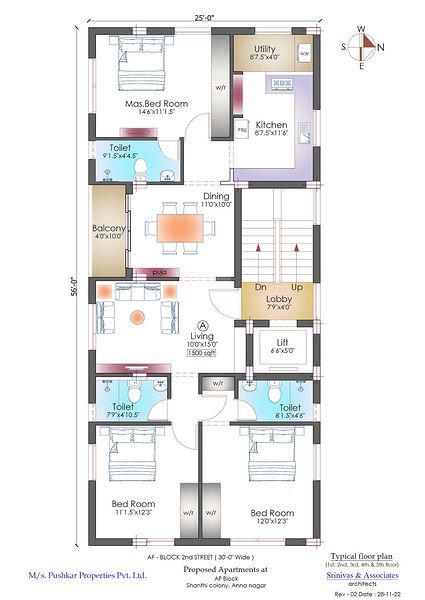 Legal Information of Pushkar Panasa
Completion Certificate-Not Available
Approval Authority-No Info
Occupancy Certificate-Not Available
RERA Registration ID-Not Applicable
Commencement Certificate-Available
Amenities of Pushkar Panasa
Basic Amenities
Lift
Power Backup
Car Parking
Rainwater Harvesting
Vaastu Compliant
Convenience Amenities
More Amenities
Landscaping For Common Area
Sump And Overhead Tank For Metro Water & Borewell
Common Servant Toilet
Terrace Waterproofed
Overview Of Pushkar Panasa
Pushkar Panasa is a residential project located in Anna Nagar, This residential project comprises of 3 BHK Apartment with modern decor as welas basic amenities. The area is also well connected to major schools and colleges.
NEARBY PLACES
Thirumangalam Metro Station - 300 meters
Anna Adarsh Womens College - 900 meters
Sundaram Medical Foundation - 400 meters
CSI Jessie Mosses School - 800 meters
Shopping / Restaurants - 250 meters
Bank / ATM - 250 meters
Special Amenities
Landscaping for common areas.
Reserved car park for each flat.
Lobby with elegant seating on stilt floor.
CCTV surveillance camera with recording facility.
Automatic lift with V3FF & ARD from JOHNSON / OTIS ELEVATORS
Generator from KIRLOSKAR GREEN with adequate capacity.
Rainwater harvesting.
Sump and overhead tank for metro water & borewell.
A common servant toilet shall be provided.
One borewell for suppliment usage.
SATWAVE - Integrated Dish TV system for the entire project.
Terrace waterproofed with a layer of pressed Kerala Tiles/ Thermatek tiles.
Specification Of Pushkar Panasa
Pre Foundation
Geotechnical Investigation (Soil Test)
Conducting Soil Investigation to determine the STP - Value for the proposed construction.
Derivation of a Soil Test Report with suitable recommendations for the foundation based on the soil investigation.
Ground Water Investigation (Bore Well)
Divining the bore well using scientific methodology and executing the same
Water Test Analysis to determine the TDS (Total Dissolvable Solids).
Derivations of a report to understand the TDS values (Total Dissolved Solids) and to determine the LPH discharge (Liters per hour).
Foundation
Earthquake resistant R.C.C. framed structure with suitable foundations based on the geotechnical investigation report. In compliance with IS 1893 - 2016, IS 456 - 2005.
Anti-Termite treatment in compliance with IS 6313 – 2001
Basement height (From existing road level to car park flooring level) shall be 2'6" feet.
Basement filling with filling soil, topped and consolidated with 6" inches of M. Sand and 6" inches of P.C.C with a mix ratio of 1:4:8.
Super Structure
R.C.C. framed structure with RCC columns, beams and slabs.
Walls using Wire Cut Bricks / Aerocon Blocks.
Doors And Windows
Main entrance door – Teak wood frame & shutters with natural walnut veneered solid panel shutter.
Internal doors – Steam beach wood frame with laminate finish.
Toilet door – Tubular core shutter.
UPVC openable windows from FENESTA / SAINT GOBAIN.
MS grills in all windows.
Locks from YALE / DORSET.
Painting & Finishing
Internal walls and ceiling shall be finished with 2 coats of BIRLA wall care putty. One coat of ICI primer. Two coats of premium emulsion from ICI DULUX.
M.S. Grills shall be painted with one coat of zinc chromate primer and finished with two coats of synthetic enamel paint from ICI.
External walls shall have one coat of cement-based textured finish. One coat of exterior primer from ICI and two coats of weather shield max from ICI.
Plumbing & Sanitary
Inner Plumbing:
Bathroom and kitchen water lines with FINOLEX CPVC pipes.
Overhead tanks to the bathroom and kitchen water lines with FINOLEX UPVC pipes
Outer Plumbing:
Outer waste line, soiline, rainwater harvesting lines shall be with 4" inch and 6" inch dia of 4 kg / SQ.CM pressure with necessary specials of FINOLEX PVC pipes.
Sanitary & CP Fittings:
All toilets shall have concealed wall hung closets with soft closing seat covers from JAQUAR / KOHLER.
Health Faucet from JAQUAR / KOHLER.
All toilets shall have a white wash basin with necessary fittings from JAQUAR / KOHLER.
All toilets shall have Opel prime series thermostatic shower mixer with 3-way diverters from JAQUAR / KOHLER.
Overhead shower and Arm from JAQUAR / KOHLER.
Toilets shall be provided with glass shower enclosures from JAQUAR / KOHLER wherever feasible.
Electrical And Power Back Up
3 phase electricity supply and independent meters.
FRLS wires from PANASONIC / HAVELS / LEGRAND.
Split A/C points for Living, Dining & all bedrooms.
Modular switches and sockets of PANASONIC / HAVELS / LEGRAND.
Earth leakage circuit breaker to prevent shock.
DG power back for the flats and common area excluding A/C.
TV, telephone points in living and master bedrooms.
2-way switches for all bedrooms.
Flooring & Wall Tiles
Living, Dining and Bedrooms shall have first quality vitrified tiles from SOMANY / RAK / KAJARIA of 4' feet x 2' feet tiles with 4" inch height skirting (rate of Rs.100/- per sq. ft.)
Tiles in Living, Dining and Bedroom will be laid with 3mm spacer with Bal Endura/ Laticrete grout
Bathrooms shall have First quality wall tiles of 2' feet * 1' feet glazed / matt from SOMANY / RAK / KAJARIA and flooring shall have matching first quality anti-skid tiles (rate of Rs. 100 per sq. ft.).
Bathroom flooring shall have 3mm spacer with matching epoxy grout.
Kitchen
Black Granite countertop with CARYSIL sink.
CP fittings from JAQUAR / KOHLER.
Provision for exhaust fan, refrigerator, and water purifier.
Adequate power points for all Kitchen appliances.
Ceramic / Printed tiles on the wall 2' above the countertop.
Builder Details
About Pushkar Properties Private Limited
Pushkar Properties Private Limited10 Live Projects
Pushkar Properties Private Limited is a Company promoted by Mr. P. Kruthivas and his family. Incorporated in 2003, Pushkar Properties Private Limited has made its presence felt in the construction industry by successfully contributing to residential and commercial buildings in Chennai.
Since its incorporation, Pushkar has been a front runner in the Chennai construction scene on both the residential and commercial front. It's a company that is solely driven by its lasting principles of commitment to customer satisfaction. Based on a strong second-to-none approach, it has established for it selves, a solid reputation over a decade and half for exceeding customer expectations on all fronts.
Elegance of design and a strong commitment to quality forms the core principles behind its reputation in this industry. A continuous benchmarking process and a passion for constant innovation have helped Pushkar Properties to lead from the front on all facets of the industry.
The Company combines the knowledge, talent and insight of the best professionals to bring a distinct portfolio of spectacular residential apartments with contemporary features and superior amenities at affordable price.
The assurance of quality and an emphasis on design are the essence at Pushkar's projects. The Company is committed to constant innovation and continuous product development coupled with highest standards in design, construction and customer service.
Pushkar has an innovative team of renowned and experienced people, working
together to provide the best for its clients. The team, young and dedicated,
consists of Project Managers, Site Engineers, Architects, Structural Engineers and Marketing Personnel known for its time bound delivery and excellence in quality.
Pushkar Properties lives by its pledge to have its home buyers homes designed by expert architect, structural engineers and elevationists in the field and leaves no room for compromise. In turn the home buyer can be rest assured for the best returns on there investments.
As on 31st Dec 2020, the group has completed 132 projects covering 3.6 million sq.ft, and has a customer base of 1200+ home buyers . Pushkar Properties is currently having 15 ongoing projects covering over 0.7 million sq.ft, and holds a vast land bank with potential developable area of 1 million sq.ft.
Company Policy
"Pushkar Properties is committed in providing quality homes coupled with exceptional life style and outstanding value to its home buyers."
Ten Reasons To Choose a home from Pushkar Properties
1. Transparency in Documentation
2. Title Deed scrutiny from leading Law firms
3. No Deviation from approved plans
4. UDS ( Undivided Share of Land ) completely delivered to home buyers
5. Uniform Sale Agreements to meet International standards
6. Geotechnical Investigation (Soil Test) and Ground Water Investigation
7. Structural design from renowned structural consultants
8. Home loan tie ups with leading National and Private banks
9. Senior citizen and child friendly planning in all projects
10. After Sales Support and 24x7 maintenance team on call
Advantage of partnering with Pushkar Properties
•Computer Aided Design & Detailing.
•Continuous flow of funds for an uninterrupted execution of the project.
•Systematic and timely execution of projects by experienced personnel in the industry.
•Allocation of separate machinery for each individual project.
•Tie-ups with manufacturers for supply of quality raw materials with a price protection guarantee.
•Our quality guarantee policy is backed by our own initiative to constant innovation and continuous product development coupled with the highest standards of design and customer service.
---