Stay in touch with your customers even when you are not around with SMSIntegra
---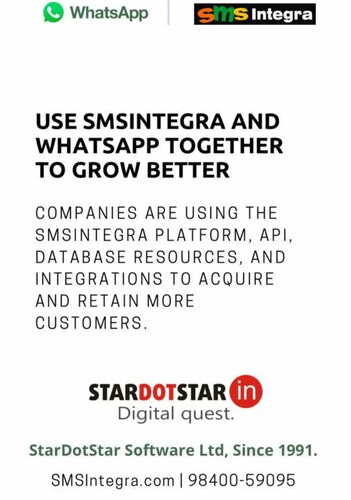 PROMOTIONAL SMS OR TRANSACTIONAL SMS, WE'VE GOT YOU COVERED
Send Better, Smarter, More Integrated SMS Messages.
With massive engagement and open rates, SMS is a channel you can't afford to ignore. So why aren't more marketers using SMS in their marketing strategy?
📈In a recent poll, marketers said that one of the key reasons they're hesitant to use SMS is fear of over-messaging customers. We agree: pinging your customers too often is a terrible, no good, very bad way to earn trust, loyalty and drive long-term value.💯
Promotions & Campaigns
Quickly send sale alerts, upsell opportunities, partner promotions and more that grab attention, spark action and get results.
Transactional Messaging
Make transactional messages more visible and useful — or respond to a user request through your preference center to send transactional messages via SMS.
Free BULK SMS software for PC
SMSIntegra API – A Free API Built for SMS Developers. We support all languages including PHP, .NET, C.
Whether it's sending OTPs or triggering transactional alerts from your application, simply cut and paste our readily available sample codes to integrate easily.
✔️Robust, scalable cloud-based infrastructure
✔️Inbuilt redundancy for near-zero downtime
✔️Intelligent routing technology to select the best possible routes
✔️Secure SMS gateway, trusted by leading banks
✔️Best-in-class SMS delivery
✔️Direct connectivity with leading telecom operators
✔️Unmatched delivery, whether it's 1 SMS or a million
About our company
SMSIntegra is an communication service providing company headquartered in Chennai, 30+ years of experience. It is one of first companies in India to offer SMS Services Online.
CONTACT INFO
For more info visit : www.stardotstar.in
Contact us : 98400 59095, 98400 66333, 04428263355.