STERNA SECURITY DEVICES PVT LMTD No.21,C-2, Captain Palaniswamy Lay Out Thadagam Road, , Coimbatore, Tamil Nadu, 641002
---

STERNA SECURITY DEVICES PVT LMTD

No.21,C-2, Captain Palaniswamy Lay Out Thadagam Road, , Coimbatore, Tamil Nadu, 641002

WELCOME!
Sterna Security offers high security solutions, providing bespoke security implementation for a wide variety of automated and intelligent requirements. We combine electromechanical security solutions of the highest standards with software to solve some of the toughest challenges in the industry today. We work with technology leaders around the world to offer unmatched service with highest standards of implementation.
Who We Are ?
Sterna Security devices is a well established manufacturer/distributor of electronic door lock for petroleum and oil refinery industry. Sterna Security devices are known for its predominant accomplishment in the manufacturing of electronic door locks with high precision and credibility. We have served as a pioneer in introducing locking system in Indian Oil petroleum tanks.
We have remained rigid about the two industries we are serving which have made sure that we achieve the targets we set without any looking back. We have raised our standards quite above the bar when we extended our horizon globally by entering the Swedish, United States and Israel markets. Sterna Security devices is a largest distributor/manufacturer and a proud partner of various locking products of Abloy.
The locks we manufacture are used in Indian Oil petroleum Tanks widely for the past 13 years. Our Clients are Reliance Group, Shell, IOC, BPCL, HPCL, Essar, Nokia and BARC. Ought to deliver the best solution to the consumer's security issues we are proud to say we have done a commendable contribution to the industries we are serving.
Where We Started ?

Sterna Security was started in 1996 by Mr.N.Rangaswamy who also wears the mantle of the Chief executive and President who promotes the company. The company is a part of Ramalingam & Co group that has its origins in 1927. Started as a primarily trading unit in printing & packaging paper, this unit has since diversified and over the years evolved as a marketing outfit with the focus on niche markets and solutions. The origin of sterna security was with Abloy in 1996. Being a proud partner of Abloy, we have integrated electromechanical products that are of high security standards. The first security solution developed by us brought accolades as we solved one of India's biggest problems faced by petroleum industry. The petroleum industry over the years has been plagued by threats of adulteration and pilferage. Ensuring products was delivered in right quality and quantity was a challenge. We developed the first solution ever that solved this very problem and helped petroleum companies delivered quality and quantity and ensuring purity during transportation of products. Since then we have had the privilege of providing solutions to some of the best companies in the world of Oil & Gas, Telecom, Infrastructure and Security.
STERNA SECURITY

Design and development is the main core in this part of the organization. Our all security products are made and developed from an idea in this part of our firm only. Be it the software or electromechanical product, they are modeled and made into a prototype for manufacturing by employees working here.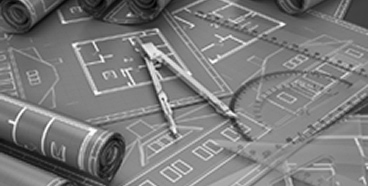 DESIGN
Products designed here at sterna security not only enables the clients to solve their complex scenario but also makes it easy for them to get it delivered at highest precision. This phase is for detailing the design and creating engineering drawings and documents of the design presented during the prototype modeling. Any changes or modifications to the design requested by the customer are incorporated before drawings are made. A written report is also delivered detailing everything done in this phase. Again, at the end of this phase we will update the proposal and give firm costs for the next phase before proceeding for development.
DEVELOPMENT

Once the design is finalized a prototype is made and check for testing.The testing can be as simple as "does it work or not?" but with more intricate assemblies this can become much more complicated as you are not just testing if it works but how well or how long it works. Tests vary tremendously on the type of product and level of quality the customer wants to achieve. These can also involve market research testing to see how well the product would be received and for production. The amount of testing is most often limited by time and budget constraints.
Often the product development cycle listed above is repeated several times mainly to iron out bugs or fix problems that were discovered in testing. The goal is usually to create a short run of prototypes that are as close to release as possible and get them into the hands of key testers, select customers or others to do some final testing before a full product is released. The release build phase is usually just to get the final bugs out of the design as production is ramped up for the initial product development.
STERNA SECURITY & DEVICES

Manufacturing and assembly is the main core in this part of the organization. Our all security products are manufactured and assembled in this part of our firm only. After a prototype is made after from a development phase, production is done in sterna security devices.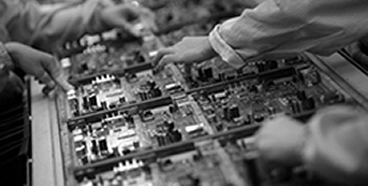 MANUFACTURING

Prototype Testing is done before manufacturing.Once drawings and necessary documents are completed, these are sent out to manufacturing houses for quote so that the customer will have a detailed price for the building of the product. At the end of this phase the work is summarized and delivered to the customer at a Critical Design Review (CDR).
Design for Manufacturability and Integrated Product Development may require additional effort early in the design process. Manufacturing costs depend on complexity of our product, if there are multiple components, material selection, low batch product or high batch numbers. These factors are considered to ensure that company will make a healthy profit on the end product.

ASSEMBLY

The assembly of product is vital. It is assembled with minimum number of joins and hence this will not only spend up manufacture and reduce manufacturing costs it also makes assembly of our product quicker. So the overall cost of our product is considerably less than a complex product.
Our company utilizes assembly processes such as manual, semi-automatic and fully automated assembly techniques ranging from automatic contact insertion and final assembly for connectors and smaller automotive components. In addition to our product assembly services for electro-mechanical components , we provide customers products in a variety of packaging solutions including tape and reel packaging meet each customer's needs to reduce costs during the next levels of assembly for smaller components.

NANA FOUNDATION
Integration and Servicing is the main core in this part of the organization. Our all security products are installed and serviced in this part of our firm only. After a product is installed in the client side, any complaints and support are handled by Nana Foundation.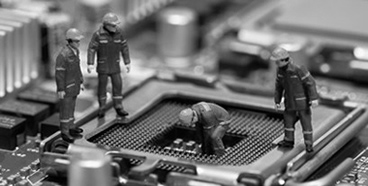 INTEGRATION

Installation of the products will be done by our company employee under professional guidance. Installation of equipment in the industrial environment is handled by professionals working under Nana Foundation. So once they are installed in the destination, they are integrated to the server under which the electromechanical device operates.
Application Integration services focus on the clients' strategy, operations, people and information management. Integration process allows us to make the client's product enable web access, or connect them to their phone for authentication purposes. We also enable to user to integrate new devices under our knowledge for their convenience.

SUPPORT

Our team of intelligent members make sure that Sterna security devices are one-stop security solution providers covering all aspects of system design, feasibility and installation to 24/7 maintenance services in an extensive and a qualitative level.
Remote services, offsite repair, depending on product and state

Any problem with the integration or connectivity our service experts reach clients on time.
24/7 maintenance service
Faulty or Break fix support
Easy replacement if any manufacturing defect exists
ELECTROMECHANICAL SECURITY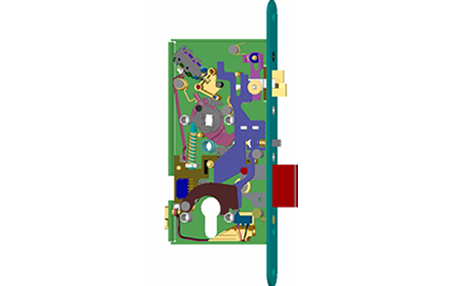 Physical security attributes to any kind of activity that includes vandalism or theft, right way to protect the assets is very significant. Sterna Security Devices has always made sure we deliver security products that are exceptional and are of high security standards. These security devices are integrated as electromechanical products.
Cost Effective
User friendly
Easy installation and Service
ABLOY ACCESS CONTROL

Unlock The Door To The Mobile Era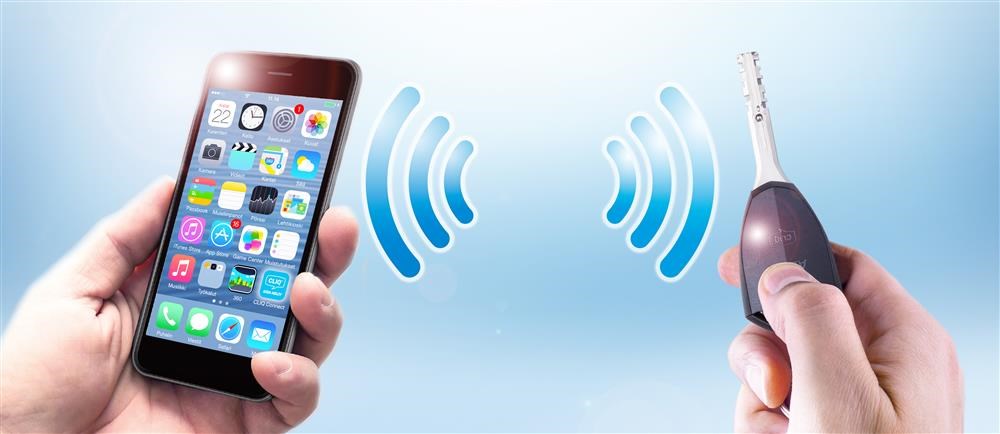 When the system administrator changes an employee's access rights, the employee can update their smart key with the new rights through their smartphone. This makes updating quick, easy and efficient, which saves both time and money. In order to maximise security, the key's unlocking rights can be verified every time the lock is opened. Unlocking rights are downloaded to the key through a smartphone, and they are valid only until the lock has been opened. This way, a lost key is no longer a security risk.
Double-Secured Security

The patented PROTEC2, based on a rotating disc cylinder, ensures the mechanical locking. The electronic CLIQ™ technology enables flexible management of keys, access rights and the access register. PROTEC2 and CLIQ™ work together seamlessly. Data transfers between the different parts of the system are strongly encrypted.

Individual Access Rights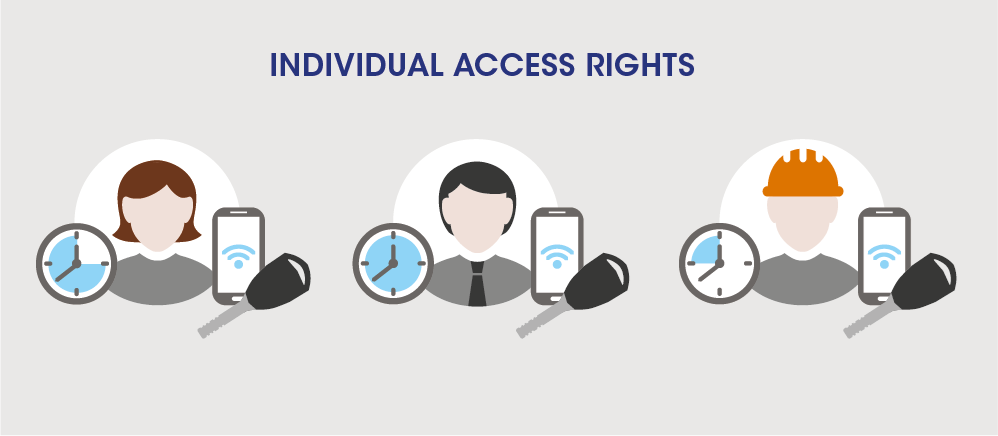 One key is enough for each employee – your own or subcontractors' – as it has individual access rights to the necessary premises. The validity of the access rights can be determined as desired, for example for one day or for only five minutes. After the period of validity has ended, a lost key is not a security risk. If a mobile solution is connected to the system, the unlocking rights can be verified and updated whenever a lock is opened.
Easy To Use And Manage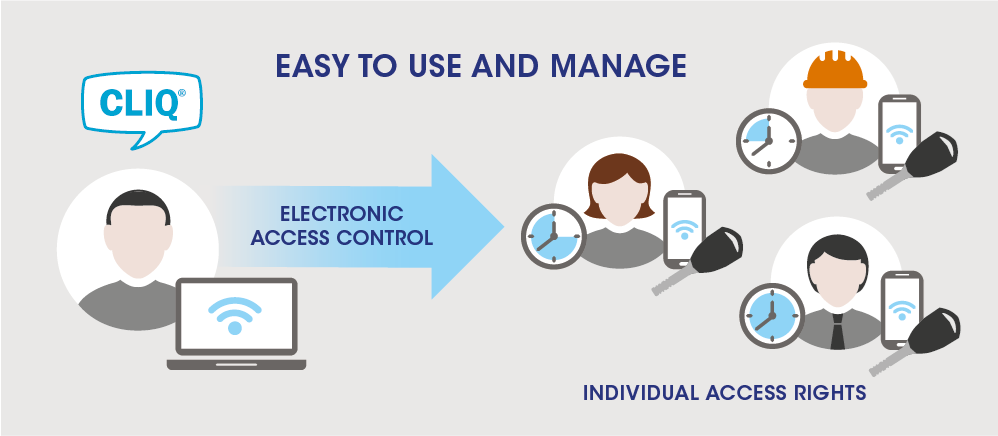 Administration – for example, changing access rights or removing a lost key from use – is done via the CLIQ™ Web Manager web app. If a mobile solution is linked to the system, employees can update changes made by the administrator to their keys with the help of a smartphone, anywhere and everywhere. Otherwise, the updating can be done through a wall unit. The system enables a real-time access register, which can be utilised in resource management, for example. If you desire, Abloy can manage the software and locking system updates related to the system as well as the server room.
Master Key System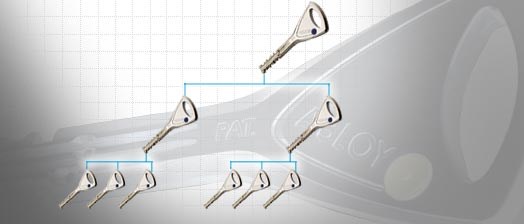 Careful planning is the basis for long-term success of the master key system, ensuring the customers safety and security. It is possible to create multi-level master key systems each with unique access rights for different user groups. Superior master keying features are offered based on our vast number of different key combinations without compromising security. Expandable locking systems can be designed to cover large and extensive facilities. Ideally each key holder will carry only one key.
Keyed To Differ

Locks or cylinders, each of which is combined differently from the others. Each different key operates only one lock or cylinder.
Keyed Alike

Two or more locks or cylinders can be operated with the same key.

Central Locking

A keying system in which one or more locks or cylinders are opened by every key or by large number of different keys in the system.
Master Keying

The simplest master key system has two levels of keying and is considered the basic level of master keying.

Grand Master Keying

Locks operated by multiple levels of keys and levels of master keys along with an overall grand master key to open the complete system.
ELECTROMECHANICAL LOCKING SYSTEMS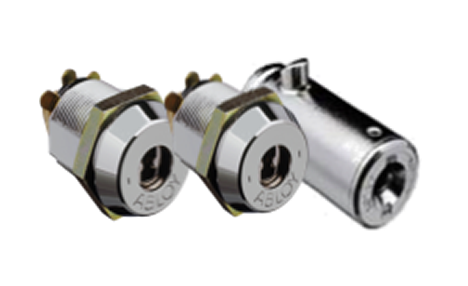 "AUTOMATED DOOR LOCKS"
Sterna Security Devices did envision that the future of access control business is driven around electromechanical locks from Abloy Oy. This is an integrated system that has all the electronics fully integrated into a single component. Electronic locking systems are a way to replace mechanical keys and to add additional automation features, like remote locking or unlocking. Sterna security device manufactures electronic locking systems for doors which are Abloy lock cylinders
ABLOY PROTEC2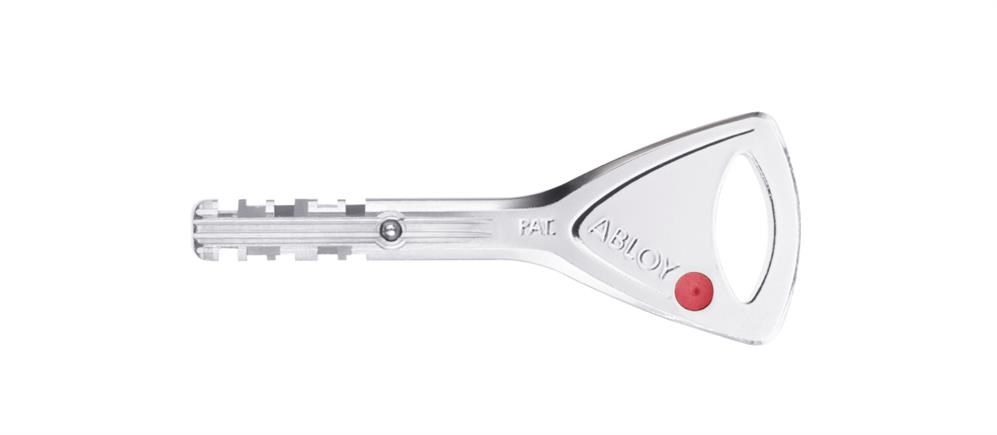 Secure In Every Way
In an ABLOY PROTEC2 locking system, different products can be keyed into the same master key system and thus all products can be operated with just a single key. This simplifies your locking system and key management. The range is wide, there are 1,97 billion different key combinations providing the possibility to create extensive master key systems that fulfil your exact specifications.

Durable And Long Lasting

ABLOY PROTEC2 is durable and long lasting thanks to its superior design and precision manufacturing. The unique and patented rotating disc technology provides smooth and reliable functionality also in extreme environments. New patented features in keys and cylinders have worldwide patents which are valid until 2031.
One Core, Wide Product Range

ABLOY PROTEC2 meets and exceeds requirements of several international, national and customer specific standards and requirements. With an extensive product range, ABLOY PROTEC2 provides a global solution. While the core of the cylinder remains the same, the outer covering can be changed to meet the requirements of the specific application.

Integration With Electromechanical CLIQ Technology

ABLOY PROTEC2 can be integrated with electromechanical CLIQ technology. This electromechanical system is intelligent and highly customizable. It enables flexible and secure access management, including time functions, into your daily operations. And in case of a lost or stolen key it can easily be electronically removed. Both the cylinders and keys collect audit trail of use. CLIQ makes things click. It lifts your locking security to a whole new level.
ABLOY NOVEL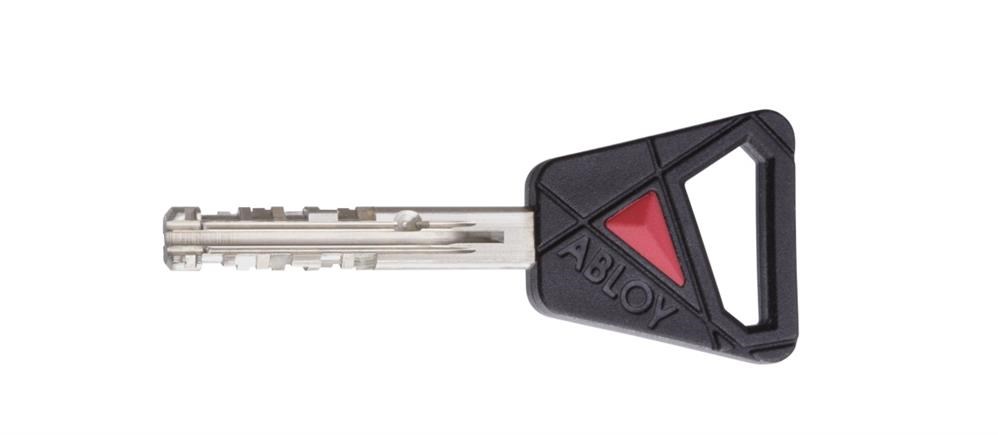 The Unique ABLOY Cylinder Mechanism
The unique ABLOY cylinder mechanism, based on the use of rotating discs instead of the traditional springs and pins, is known widely by security professionals all over the world.

Long Lasting ABLOY NOVEL Key

Modern designed, reinforced plastic composite key bow with nickel silver shaft makes the ABLOY NOVEL key pleasing to handle and use. The symmetrical key is light but reversible and durable, thanks to its precision manufacturing. Patented feature AWS (Anti Wear System) is an arrangement in the key and in the cylinder that prolongs the life cycle - ensuring a long and trouble free service life even in extensive use applications.
One Key Many Applications

In ABLOY NOVEL locking system different products can be keyed into one master key system and thus all products can be operated with just a single key weather the application is a door, gate, drawer or cabinet. The range is wide providing the possibility to create extensive master key systems that fulfill your exact specifications. ABLOY NOVEL is an excellent solution for new builds as well as when upgrading existing locking systems. With ABLOY product range the core always remains the same.

Duplication Of Keys Strictly Controlled

ABLOY NOVEL cylinders, keys and key blanks are protected by patents worldwide until 2027. Distribution of key blanks and the use of different security levels and profiles ensure the highest level of key control tailored to your exact needs. Duplication of keys is always strictly controlled. In order to get additional ABLOY NOVEL keys, you must have the related keycard. Keys are supplied by the authorized ABLOY Centers only.
ABLOY SENTRY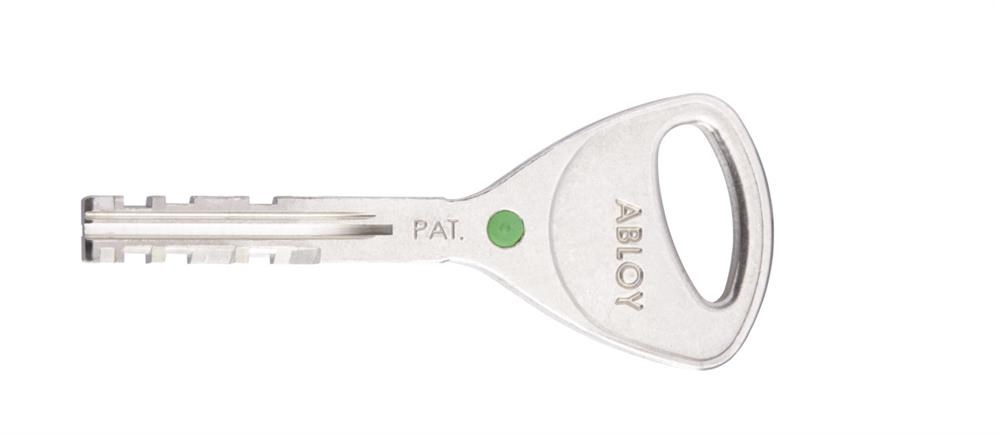 For Industrial Applications
ABLOY SENTRY is specifically designed to meet the needs of industrial locking environments. Industrial and municipal facilities are subjects to vandalism, thefts and even terrorism. Securing their activity is also socially important. ABLOY SENTRY is an ideal solution whenever high security and resistance against wear is needed.

One Key Fits All Industrial Locks

ABLOY SENTRY locks can be keyed into the same master key system. That means one key can open up all padlocks, camlocks and cabinet locks within the application.
A Perfect Key For Professional Use

Symmetrical ABLOY SENTRY key is easy to use and full metal makes it very strong to handle. Because of the patented AWS the effect of wear to the cylinder mechanism is minimized.

Key Security

Security is optimised by the vast number of key combinations. Duplication of keys is strictly controlled. In order to get additional keys, you must have a related keycard. The ABLOY SENTRY cylinder, keys and key blanks are protected by patents worldwide until 2027.
ABLOY CLASSIC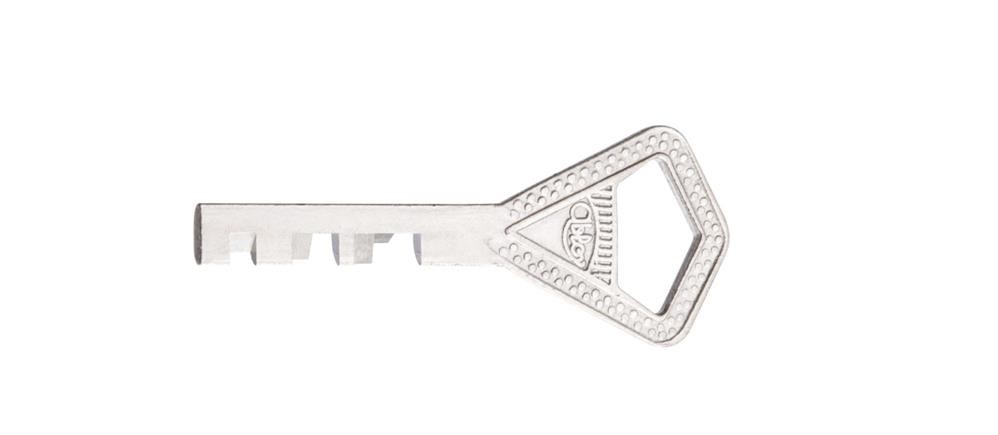 ABLOY CLASSIC is the icon for ABLOY rotating disc cylinders. The first ABLOY CLASSIC cylinders were sold in 1920 and they are still a part of the ABLOY cylinder family. The unique structure of rotating disc cylinders guarantees reliable and durable function.
INTELLIGENT KEY MANAGEMENT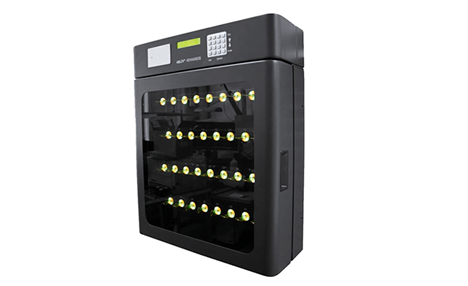 "KEY ACCESS MADE SIMPLE"
Sterna Security devices has identified a unique way to organize and credit access to mechanical keys in an organization in the most decisive manner. It is fully authenticated with PIN, Proximity Card or User Access Credentials. Key management systems help you establish the key authorization a company is willing to give to a particular employee. This approach to key management ensures that keys are kept in track of, considering when they were removed and replaced or missing. In the event of any security breach the system is fully equipped with encrypted protocols to generate alarms and send the event notification as a report to the concerned authority. The necessary information is displayed with a LCD screen in the system. Key management system is the most efficient and ethical key management strategy.
CABINET SECURITY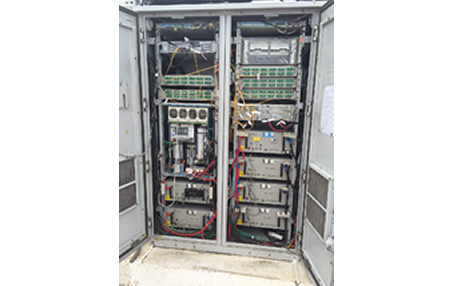 Customer requisites on security concerns change dynamically. But, we have made sure that these needs are met in an extensive level with utmost integrity. Everyone wants their upscale credits to be secured. Sterna Security Devices did envision this need of its reputed customers, when they came up with this plan of a solid cabinet security system.
SWING HANDLE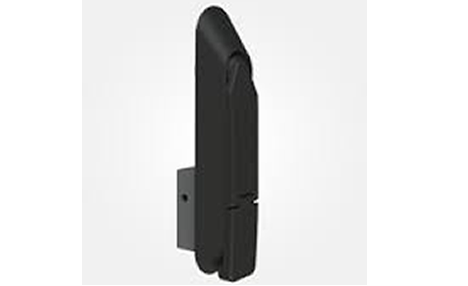 Swing handle security device are specifically designed for the outdoor cabinets using high quality solenoid. Protection against Ingress of dust and water is highly guaranteed with IP65 security standard and hence provides high usage trial. The handle is ZAMAC casted with escutcheon complete that fits in common cut out, Cut out dimension in cabinet: two holes 25 x 50 mm. The mechanical override is optional in ABLOY cylinder, when the key is used an electronic status is displayed saying that the swing handle has been overridden. advantage is Swing Handle is easily adaptable on the existing access controller.
MOTOR LOCK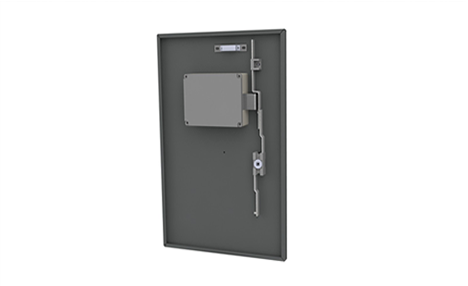 Motor lock is a distinct security product designed to serve as a main lock for the entire motor control system of a cabinet. Protection against Ingress of dust and water is highly guaranteed with IP55 security standard. In case of emergency mechanical overriding can be done with mechanical keys provided by ABLOY. With such intricate designs this motor lock can fit into existing cabinets as well as other cabinet sizes ranging from small to large.
TRANSPORTATION SOLUTIONS

The petroleum industry over the years has been plagued by threats of adulteration and pilferage. Ensuring that the delivered product was in the right quality and benefit was a challenge. We came up the product of a padlock designed specifically for petrol tanks in association with Abloy products. These padlocks have special Abloy mechanical keys that are specifically designed for these padlocks. The Abloy mechanical key has been further advanced by making this an electronic key i.e., Abloy Protec2 Cliq with an integrated smart box which encloses the mechanical key to the padlock of the petroleum tanker. This electronic key can keep the event trials of when and how long the electronic key has been used to access the mechanical key. The CLIQ key has a larger memory capacity enabling to store more audit trials, i.e., 3500 locks or lock groups can be programmed in the key. Hence this way of access control to the key makes it easier to track the flaw in the transportation routine.

STORAGE SOLUTIONS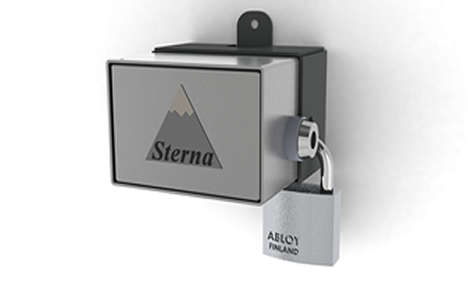 Sterna security develops smart storage solutions which is user based authentication but is integrated with electronic key. Smart box integrates key management in cargos. Integrated with Abloy electronic locks, the smart box system ensures that the cargo is managed to get the highest security standard. This system ensures that the authorization to remove and return keys is kept in track of and is available in an online server. This system incorporates remote monitoring and also need based authorization to prevent any kind of break-in.
INSTALLATION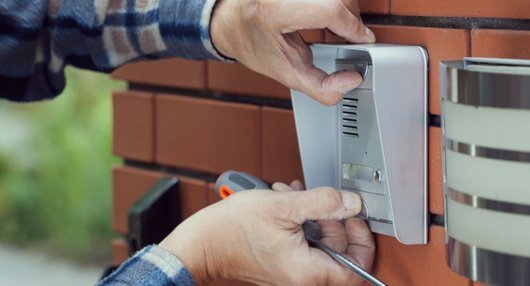 Sterna Security not only develops products that are customer focussed but does the installation process and servicing as well. Installation of the products will be done by our company employee under professional guidance. We offer complete installation and discipline for product deployment of security protocols as required by our clients. Our team of intelligent members make sure that Sterna security devices are one-stop security solution providers covering all aspects of system design, feasibility and installation to maintenance services in an extensive and a qualitative level.
SUPPORT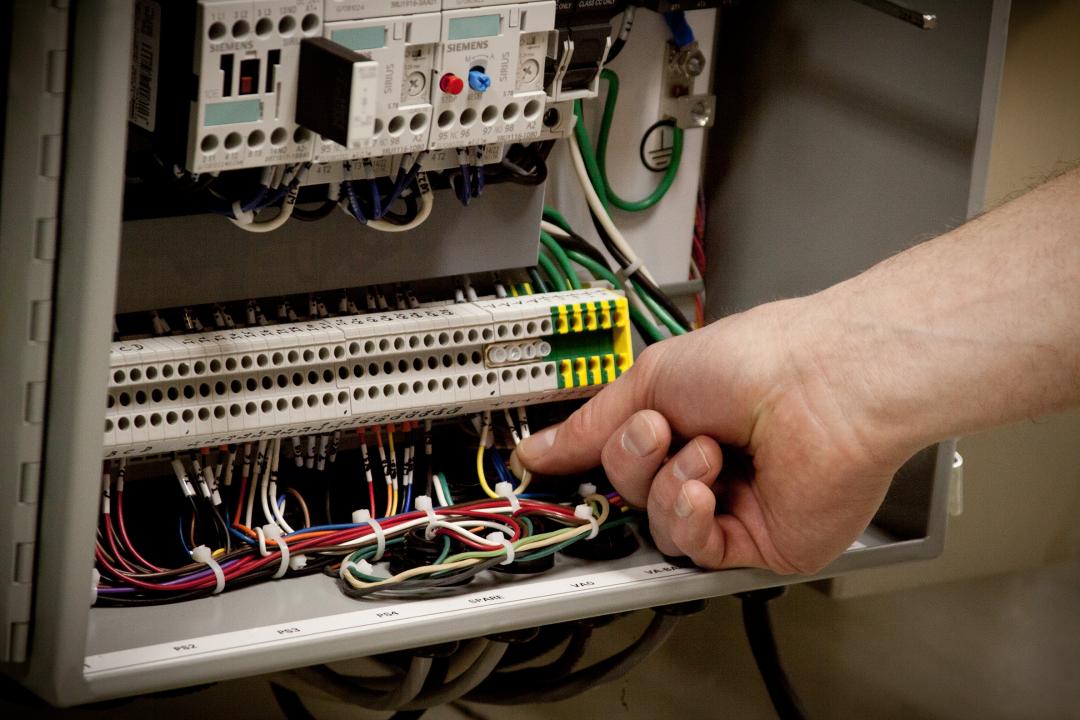 We provide all India support in Installation and Commission of our system to the customers. We offer 24/7 round the clock service. Our core revenue is driven by enabling this service to our customers providing complete enhancement and backing as we move forward together towards excellence. We are located in 12 cities offering complete factory trained support and service. In addition to this we have our service personnel located nationwide to support our existing installed base of over 180 cities that are today using our products widely. We are today supporting over 2500 locations using our locks actively every day.
DESIGN AND DEVELOP

As a product manufacturing company we have earned the credit of providing products that has satisfying endurance and we do support them with a lifetime of operation with our devices. Hence we design and deliver all kinds of security products. The strength of Sterna Security is its ability to understand the customer's problems, connect with the products, customize and deliver a comprehensive solution for implementation. So when a client approaches us with a security issue, our team can precisely solve client's problem with utmost integrity with the advanced electromechanical solution available in the market.

SECURITY SOLUTION FOR TELECOM INDUSTRY

Sterna Security deciphered the problem faced by the telecom industry when it comes to replacement of products or servicing them. So what happens is, if there is any servicing that has to be done and a service person is required to fix it. The service person uses a mechanical key to operate the site and fix it, but dealing with mechanical keys could be tricky in case of loss or misplacement, so sterna developed a smart key system where electronic key is used to access the box which contains the mechanical key, this electronic key keeps track of all the data thus saving time and resource.

SECURITY SOLUTION FOR PETROLEUM INDUSTRY

Sterna Security analyzed the threat that petroleum industry is running into while transporting the petrol tanks. So this happens in sterna security transportation solution, when tanks that carry petrol are moving to delivery places, an electronic key is given to the driver, this Abloy electronic key opens the smart box which has the mechanical key, but access to this electronic key could be given only by one person, access can be given from any part of the world, thus making it flexible. When this mechanical key is taken and placed back all the audit trial information is received by the authorization person. This makes us control our transportation from any part of the world.
---