RAJA MAHESWARI EDUCATIONAL TRUST RAJA NATIONAL MATRICULATION HIGHER SECONDARY SCHOOL No. 35, Sakthi Nagar, Perumalpattu, , Tiruvallur Dsitrict, Tiruvallur, Tamil Nadu, 602024
---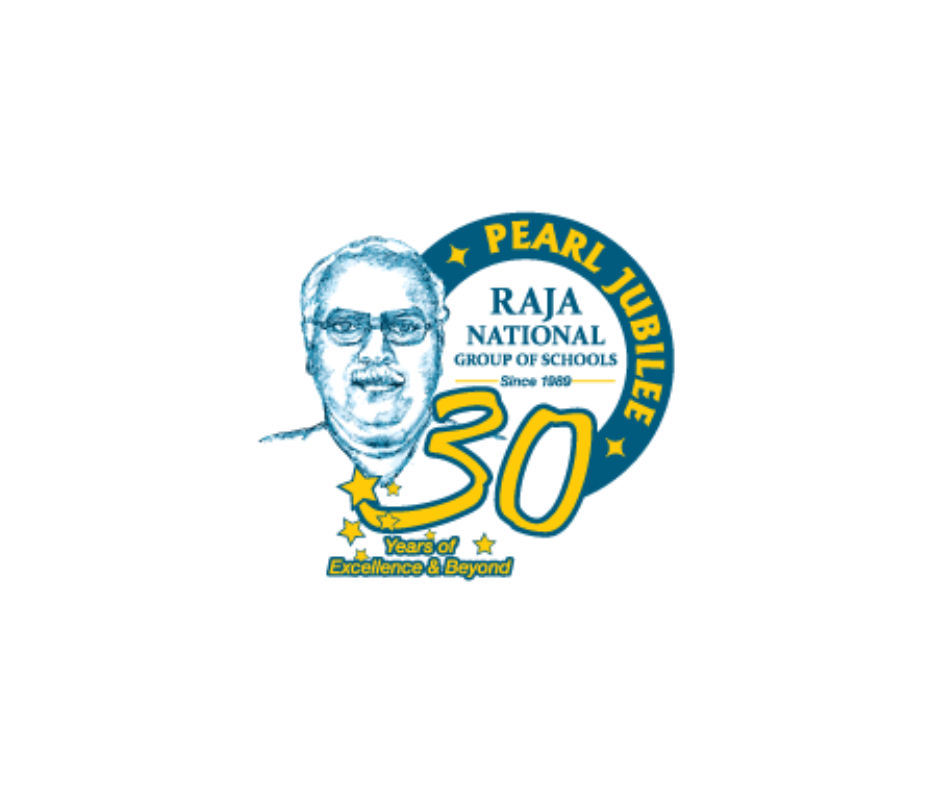 RAJA MAHESWARI EDUCATIONAL TRUST
RAJA NATIONAL MATRICULATION HIGHER SECONDARY SCHOOL
No. 35, Sakthi Nagar, Perumalpattu, , Tiruvallur Dsitrict, Tiruvallur, Tamil Nadu, 602024
Phone: +91-44-27689 308 / 307
Mobile: +91-99625 24308
Fax: +91-44-27689308
Email: info@rajanational.com

Welcome to Raja National School
We are very pleased and proud to welcome you, to present this introduction of our School and to offer the best educational programs to the future youth of the world. Our School was established in the year 1989, by our Founder "Late. Shri. K. KUMARASWAMY RAJA, M.Com., B.Ed., B.L., CAIIB., DIF., DBM., ACS.(1955 - 2008)" who was an Educationalist, Banker, Lawyer, renowned Teacher and an eminent Administrator. He was well known for his hard work and dedication in developing the Raja National Group of Institutions, with a commitment to serve the rural areas and provide high quality educational opportunities and value based education. Our Founder, firmly believed that every child should get best quality education with values and thereby, coined our School Motto as "Education Everyone's Basic Right" aligning with our Indian Constitution, which is now established as a Fundamental Right of every child.
With his 20 years of relentless service to the institutions and education, he has left us with a great vision and values. We imbibe the spirit of his vision and values as we lead this institution and commit to provide outstanding education to our Students.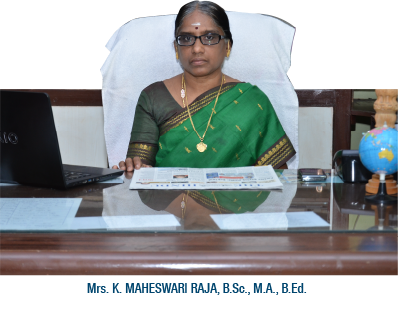 Co-Founder & Sr. Principal's Message
Our School is committed to provide a friendly, safe and happy atmosphere, where, the needs of the student comes first. Our School, works with the parents together to help each child to unveil his or her unique potential. Just as a small drop of water, makes its contribution in the formation of a mighty ocean, our School helps our students to develop
High self-esteem,
Respect for individual,
Learn to think for themselves,
Benefits of working as a team,
Out-of-the-box thinking,
Make prudent judgements and
Apply their knowledge in real life situations.
Every student here recognizes that, learning is a continuous process, foundations of which are laid in the early years. Our teachers appreciate that individual students learn differently, thereby, we provide a wide range of modern teaching methods and assessment strategies.
The School is governed by a highly experienced team, comprising of a dedicated Correspondent, Academic Director & Advisor, School Trustees, Principal, Vice Principal, Head Teachers for Kinder Garden, Primary, Secondary and Higher Secondary, Administrative head and representatives from Parents as advisors.
Our School, is a non-profit organization (run under "Raja Maheswari Educational Trust") that exists, only to ensure outstanding education with good values, where all financial surpluses are reinvested to the development of the school. We assure you, that your child will be in safe hands, when you entrust the education of your child to us.

Our Mission
To strive to ensure education is available and affordable even to the last child in the society, since, "Education is Everyone's Basic Right!"
Our Vision
To provide value based education, which will uncover the potential lying within every child, thereby, build competence with integrity and values in our future youth to compete and excel in this global community and ultimately serve the humanity.
Our Values
"L R I C S"
Learning & Sharing
Respect Integrity
Caring Safety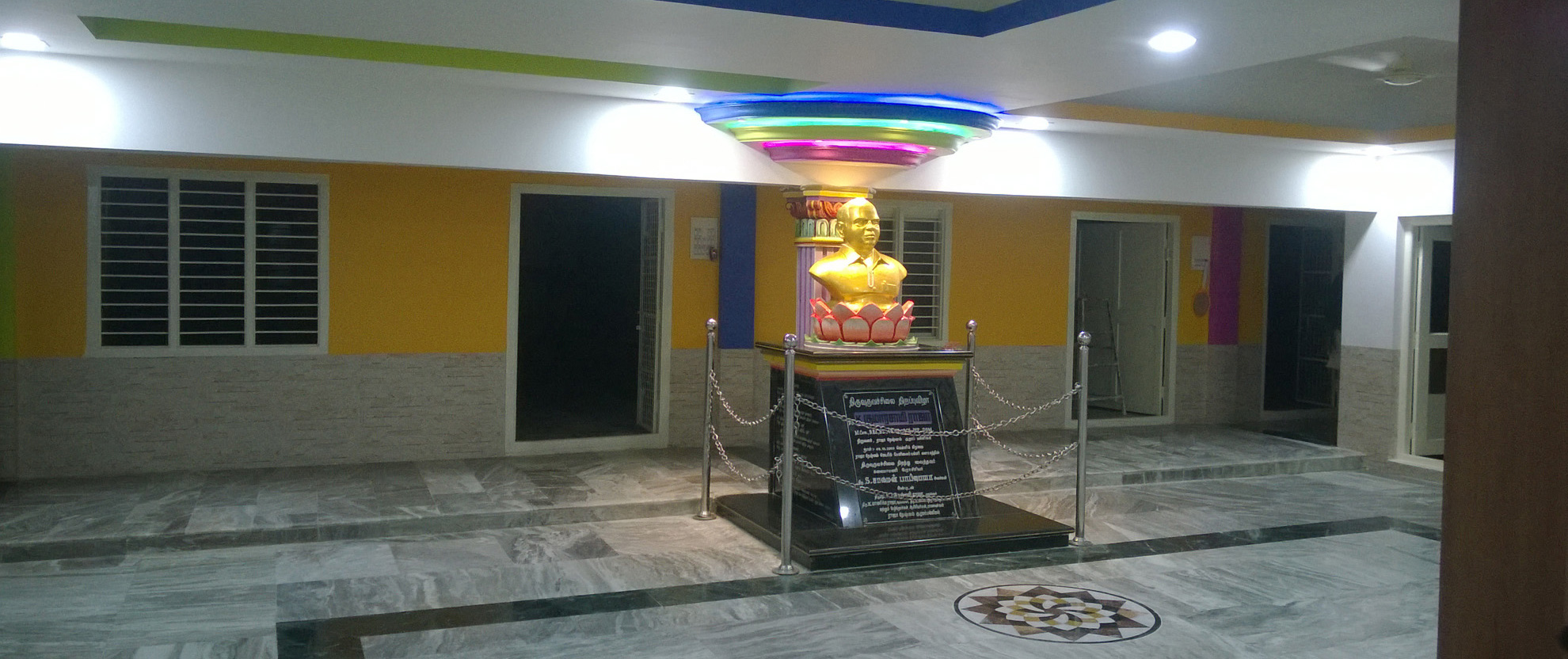 Infrastructure
"A nurturing environment, safe and secure ambiance to our children.

Kindergarten
Montessori, Play Way and modern learning techniques for Kindergarten children.

Free - Karate
Self-defence begins from us. Our Students realize that they are no less than any super hero. Our well qualified Masters equip our Students to be self-disciplined and proactive at any face of life. Martial Arts – Karate is part of our regular curriculum for classes I to V and is offered to other class students as well.

YOGA – Our Nation's Pride.
Yoga is a part of daily routine of our Students which helps them to lighten their young minds with better concentration, alertness of their surroundings and relaxation. The benefits of Yoga and Meditation reaches to each and every student of all classes.

Library
Our school has a spacious and well-stocked library, with popular encyclopedias, reference books on almost all topics & categories along with subscriptions to newspapers, journals and periodicals for students to enrich their knowledge through weekly library periods.

Digital E-Class Room & A/V Labs
The School is equipped with smart Interactive Digital E-classrooms for Kindergarten and dedicated Audio Visual rooms with advanced teaching aids, gadgets and servers filled with digital content linked with curriculum. All classes benefits by these latest technology and modern learning methods.

Laboratory
State of Art Laboratories, with latest equipment and modern facilities for Language, Math and Science, imparting hands on experience and spark to experiment.
Computer Lab
Full-fledged Computer lab with ample number of high configuration computers, high speed internet connectivity (with parental controls), internet clubs and other allied facilities.
Sports
The School provides full-fledged Sports & Physical Education for both physical and mental alertness through outdoor, indoor, memory and simulation games.

Transport
The School has a fleet of buses and vans to cover various routes in and around Veppmapattu, Perumalpattu, Nemam, Kottamedu, Sevvapet, Tiruninravur and other negotiable areas.

Raja National
"30 Years of Excellence and Beyond..."

Raja National
"Milestone Achieved: 30 Years... and the Journey Continues..."