Pravishta Consulting - Financial and Operational advisory services in Chennai
---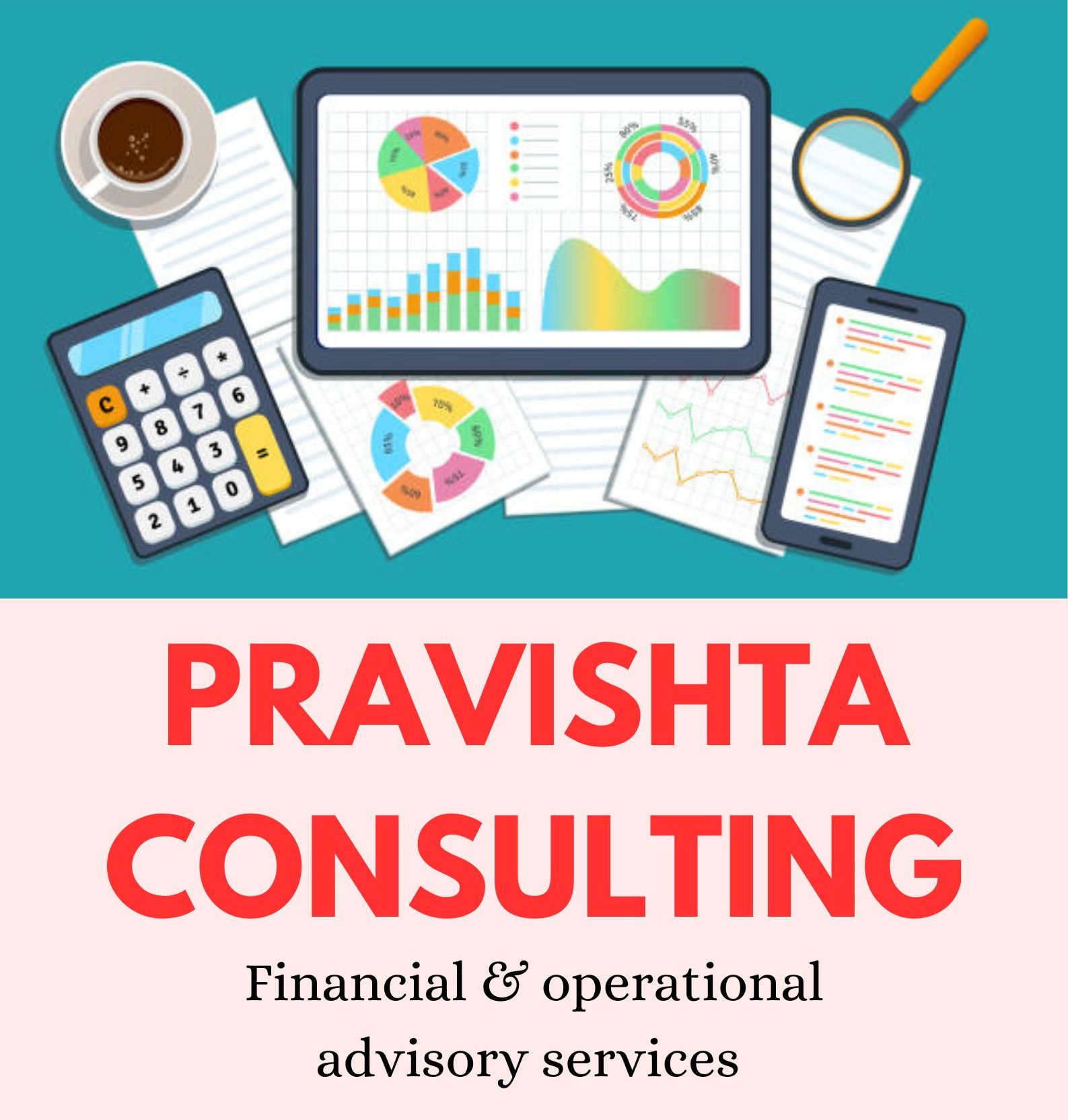 Welcome to PRAVISHTA CONSULTING,
Based in Chennai, Pravishta Consulting offers a comprehensive range of financial and operational advisory services to clients across a wide range of industries. Our advisory services encompass various areas, including manufacturing, trading, and IT industries. Our specialty lies in helping clients set up their business by implementing efficient procedures, systems, policies, and process controls.
We offer a variety of services, including internal controls evaluation, corporate governance services, virtual CFO services, setting up organizational structures and policies, devising effective MIS and management reporting structures, improving operational efficiencies, business planning, budgeting and strategy support, as well as certifications and compliances. Additionally, we provide financial and accounts outsourcing, GST solutions, and other statutory compliances.
Our solutions are customized, ensuring that they align with each client's unique values and objectives. We believe in maintaining the highest ethical and professional standards, prioritizing our clients' interests above all else.
OUR COMPETENCIES:
Though we provide tailor made "One-Stop Shop" solutions to the clients based on their needs and expectations, in general, the major Service Offerings are tabulated below:
Financial Process Outsourcing

Business Setup & Advisory

Set up of Risk Management function

Internal Controls on Financial Reporting

Business Interface of IT System Implementation

Operations Consulting

Taxation including Transfer pricing

Management Audit

GST Advisory & Compliance services

Company Law & Legal Support
Financial Process Outsourcing:
Outsourcing of Financial & Accounting processes is gaining enormous momentum now-a-days. In the current self-regulatory governance, it is imminent to be more efficient, competitive &skilful to manage complex transactions. Moreover, this enables the Management to be focussed on its core activities.
Our services are tailored to fulfil the business need of clients for timely, accurate services with well-defined documented process-flows with effective controls in a safe and secured manner. We provide customised solutions through well trained dedicated resources with a clear communication channel in a strictly confidential & protective environment. We measure our deliverables through detailed Service Level Agreements (SLA).
The Accounting Services include:
Accounts Receivable

Accounts Payable

Payroll and other employee related claims

General Ledger Accounting

Regulatory compliances viz., TDS, GST & Labour Laws

Fixed Assets/Inventory Accounting & verification

Design & Implementation of Management information Reporting including Analysis of financial statements

Financial & transactional advisory including virtual CFO services
Business Setup & Advisory:
Our Business set up services provide valuable options in choosing the right form of business formation. This is being done after a careful evaluation of business needs, regulatory requirements, operational model, etc. We will assist in setting up the business on a turn-key basis including registration under necessary statutes, licensing requirements, etc.
Our Advisory Services provide designing organisational structure, devising & documenting policies & procedures including IT, HR, Finance & Operations and process design for a smooth flow of operation with an effective reporting mechanism.
Based on the personal experience of our team in the industry, we provide assistance in preparing project & business plans, cost structure& budgetary control systems.
In order to assist the stakeholders during the initial phase of operations, we provide through our key specialist, training in non-technical areas. These client-specific training would be devised after evaluating the skillset of the staff, business objectives and client requirements.
One of the other services is providing part-time CXO roles until the business is ready to have its own full time CXOs.
The major services offered include:
Registration & licensing of new start ups

Design of Org Structure, Policies & Procedures

Project & Business Plans, Cost Structure

Budgeting controls & MIS Framework

Client-centric Training for non-technical areas

Part time CXO roles
Set up Risk Management Function:
With the current business environment, the risk management function is one of the key functions of the management. We assist them to identify, assess, and manage risks across the organization, in order to minimize the potential impact of those risks on the company's operations and performance. By doing so, companies can increase their resilience, reduce the likelihood of adverse events occurring, and improve their long-term sustainability and profitability.
Internal Controls on Financial Reporting:
Financial Reporting is one of the critical tools to the management for effective decision making. Hence effective internal controls help the management to ensure accuracy and reliability of the reports prepared and presented. We help the team to set up/implement effective controls right from recording of transactions, authorisation, review and finally on reports. Incorporating essential controls on reporting, will mitigate the risks on erroneous reporting or any irregularities but provide accurate and clear financial information.
Operation Consulting:
Due to globalisation & liberalisation and with fast advancement of technology & communication channels, the market has become highly competitive.Therefore, it becomes imperative that every business has to keep innovating various methods and exploring various options to improve operational efficiency & cost effectiveness. The options could be for shorter and longer terms.
Our specialised Operational services focus on the specific bottlenecks in the operations of the clients and provide solutions through a well-structured review & detailed discussions with every level in the structure, devise plans, test with variables, implement and review the results for a specific period to evaluate its effectiveness & consistency.
In general, our thorough review will be on Production Cycles/Turn-around Times, Flow of in/out of Goods, Levels of Inventories with Re-order Levels, Productivity on every Stage/Overall, Utilisation at every Levels, Distribution/Delivery Efficiency, Capacity Levels & finally the skill set of resources.
Taxation including Transfer Pricing:
We endeavour to provide realistic solutions on taxation matters to various entities including individuals through our experience on taxation laws and practices.
Our services will cater to the varied needs of the client and include
PAN & TAN registrations

Filing of TDS returns including TDS calculations

With-holding tax certifications & filings

Refund Orders

Tax Clearance Certificates

IT exemption for non-profit organisations

Preparation & Filing of Returns

Representation before authorities

Structuring of remuneration for staff including senior management
Transfer pricing (TP) provisions in India, though gained momentum, is undergoing various changes including amendment by statute. These changes are not only on the calculation and on the final Arm's Length Price (ALP), also on the documentation to be maintained.
Initially it was applicable only on International Transactions, since it covers the certain specific domestic transactions now, it requires more attention to properly adhere to the TP regulations to avoid taxation disputes.
In this perspective, our experience will come handy in providing assistance to our clients. Our service include:
Devising TP Policy

Arriving at the ALP through comparable companies

Preparation of TP Study Report

Drafting of TP Agreement

Assistance in TP documentation

Advising on Safe Harbour & Advance Price Agreements

Representation before Authorities
Management Audit:
Though the scope of Audit functions is widely defined & mandated by the regulatory bodies on disclosure & reporting, we assist the management through continuous review by evaluating the processes, practices and functions.
In this, our competencies are on:
a) Internal Audit
With a formal recognition to the function of Internal Audit for certain companies by the Companies Act, 2013, it has, indeed become a requirement to evaluate the effectiveness of governance, risk management, control processes & operational efficiency.
Our solutions are designed based on individual client needs and provide assistance to clients in managing key business risks, review operational efficiencies, compliance & regulatory norms and of course, governance. Our approach covers, broadly, evaluation of internal controls, constructive review of operations with a specific focus on business needs, identification of risks &their mitigation, areas for cost reduction, revenue optimisation and operational efficiency.
b) Other Audits
Apart from the above major regulatory requirement, there are other audits which are generally used to measure the performance of management controls, referred to as 3E's, viz., Efficiency, Effectiveness and Economy.
GST & General Compliance Audits

Management Audits including Fraud Investigation

Operational Performance Audit

Due Diligence Review
Our solutions are designed based on individual client needs and provide assistance to clients in managing key business risks, review operational efficiencies, compliance & regulatory norms and of course, governance. Our approach covers, broadly, evaluation of internal controls, constructive review of operations with a specific focus on business needs, identification of risks &possible mitigation, areas for cost reduction, revenue optimisation and operational efficiency.
GST Advisory & Compliance:
GST emanated from consolidation of Indirect taxes on products & services with few exceptions and exemptions. Since the Government is keep changing for improving & simplifying the regulations, there are changes often to the GST regime. This has resulted in constant follow up of the amendments from applicability, rates to compliance.
The impact of GST is far reaching on every business primarily on its pricing, distribution and cash flow. Proper HSN Classification, applying correct rates, determining the taxability, claiming of correct input credits and compliance process are very critical for every business to avoid any disputes and converse impact on its business.
In this perspective, our GST advisory services are focussed primarily on assisting and advising the businesses to ensure overall compliance. The following are the services:
Proper Classification of HSN codes and applicable rates

Determine the place of supply

Classify the eligible & ineligible input credits and its claim

Applicability of Reverse Charge

Filing of Periodic Returns

GST compliances on Imports & Exports

GST Assistance on a retainer basis

GST Audit

Support in special schemes and litigations
Company Law & Legal Support
The transformation of Companies Act in 2013 has brought in varied changes and implications to the corporate on regulatory compliances.
Our Company Law Advisory services to Corporates and LLPs include:
Incorporation of Companies & drafting of Memorandum & Articles of Associations.

Registration of LLP & partnerships and drafting of partnership deeds.

Filing of various documents and returns with regulator

Secretarial compliance services including drafting of minutes.

Assisting in maintaining statutory records.

Representations before Registrar of Companies.
Contact:
Ct: +91 97456 12988
Email: pravishtaconsulting@gmail.com