Patterns Cognitive Software Development Creating Value by Design Teynampet, Chennai–600 018
---

Patterns Cognitive
Software Development
Creating Value by Design
Corporate Office &
East Coast Development Center
Sreyas Chamiers Towers
New Door No.37/6, First Floor
Chamiers Road
Teynampet, Chennai–600 018
(Tamil Nadu | INDIA)
Phone: +91-44-2434 8561
Email: reachus@patternscognitive.com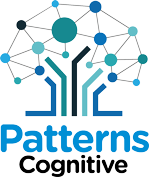 The Exciting Fusion of
Design, Domain & Artificial Intelligence
NEXT GEN AUTOMATION CLOUD,
INTEGRATED WEB AND MOBILITY SOLUTIONS
ENTERPRISE PRODUCT ENGINEERING
KNOWLEDGE AND DATA WAREHOUSING
DESIGN CONSULTING
Patterns Cognitive is built on the bedrock of superior performance design. Using powerful AI, Machine Learning and Robotics, Patterns is driving FinTech to the next Frontier of Excellence.

We thrive on building solutions that make your banking most robust, more cost effective and perfectly geared to usher in the future.
Patterns Vision

To Develop Cognitive Digital Bot Workers For Banks
To Develop Robot Human Collaborative Platforms
To Provide Digital Back Offices
Patterns Cognitive / Innovations
Continuous Research and Innovation is in the DNA of Patterns. We continue to make improvements in our products and enhance the products offerings to ensure they deliver more value to all our stakeholders.
The innovations listed below remains as a part of our product framework and enhances all our products.
Digital Bot Worker (DBW) – receives cases / transactions digitally, uses digital process knowledge / guidance, processes the cases digitally and generates transaction deliverables digitally.
Patterns Definition Language (PDL) – An image feature description language developed as the culmination of research work of over five years to describe image object features for any text symbol of any language or any image / picture object including logo / icon objects.
Teacher Bot Worker – uses the manual repairs done, as inputs for continuous on-the-job learning. The Teacher will pick all the repairs, bunch them for similarity & select best candidates to auto generate PDs (Pattern Descriptions) & save the PDs in the Pattern Definition Repository. Using this enhanced Pattern Definition Repository, Bot Workers will be able to correctly process cases, which failed earlier.
The Third Generation of DBWs have just been created with multiple abilities / skills like the previous generation, but with a big ability to understand and use image / data features described using a language called the Patterns Description Language (PDL). These PDL descriptions are created automatically by Teacher Bot Workers.
Vision Object Recognition – Patterns Bot Workers use Vision Object Recognition to recognize and read contents from Documents. This Beyond OCR technology from Patterns overcomes the limitations of OCR technology – inability to recognize Non-Standard Objects, Graphic Objects, Human Signature and Cursive handwritten characters. OCR needs format templating to be pre-defined to read from documents.
Intelligent Digital Worker (IDW) – All our DBWs can be enabled with Patterns Intelligent Digital Worker [IDW] skill. IDW helps to overcome issues of integration with systems which do not expose any APIs or Web Services. With IDW, Bot workers get the ability to Login, enquire, make data entry, take reports from banking applications, navigate screens, identify screen objects and content, can log screen shots / web pages as evidence during processing.
Digital Back Office (DBO) – Infra used to create Digital Back Offices with Bot worker seats. DBO is integrated with the Bank's enterprise / channel / hub / workflow systems. Each Bot worker is allotted an ID and a seat with working hours. In the DBO, Bot worker occupies the seat allotted and performs operational jobs allotted as per its entitlements and SOPs provided.
---