MAINTWIZ TECHNOLOGIES PRIVATE LIMITED MaintWiz simplifies technology for the front-line staff and provides a window to the maintenance world for decision makers.
---
MAINTWIZ TECHNOLOGIES PRIVATE LIMITED
MaintWiz simplifies technology for the front-line staff and provides a window to the maintenance world for decision makers.
New No:37, Old No: 22, Viswanathapuram Main Road, Kodambakkam, Chennai-600024.
PHONE NO : 6382449240
EMAIL ID : info@maintwiz.com
ABOUT US
Apply Industry 4.0 Technologies to Transform your Enterprise Asset Management and Plant Maintenance
At MaintWiz Technologies, we help the Asset Management Team and Maintenance professionals to reimagine the man-machine-process interactions, by providing the technology, process and systems they need.
We're applying Industry 4.0 technologies to Industrial Asset Management to build the platform of future.
Where in, Connected Assets, Integrated Processes, Smart Workforce and Asset Intelligence work together to deliver High Performance Assets and Superior People Productivity.
About MaintWiz
MaintWiz is an industry 4.0 CMMS platform focusing on Industrial Asset Management, Plant Maintenance, Operations, Condition Monitoring and generating Reliability Analytics. MaintWiz simplifies technology for the front-line staff and provides a window to the maintenance world for decision makers.
Building the Digital Foundation
Connecting the Systems -> Integrating the Operational Technology (IoT / PLC / SCADA / DCS / MES) with Enterprise Technology (SAP / DWH)
Actionable Analytics
Enabling Smart Workforce
Best practices in Plant Maintenance (Root cause analysis & CAPA, PM effectiveness, Risk Based Inspection, Condition based Inspection, Planning Work bench, Horizontal Deployment, OEE, Spares Lifecycle, RoI)
What We Do
MaintWiz is a global provider of Cloud-based Maintenance Management Solutions (CMMS). Our CMMS suite integrates asset management, scheduled and breakdown maintenance, work order management, and maintenance metrics, to be the single window to the maintenance world for the management and operational staff.
MaintWiz stands out with world-class cloud technology and the ability to deliver sustainable competitive advantages and operational excellence. MaintWiz effectively bridges the strategic management and operational layers, by translating the goals into operational metrics and automating the hitherto fragmented maintenance information for better information processing and actionable insights.
Our solutions help clients to pursue zero downtime, maximize output from their assets, improve their maintenance practices and increase productivity. We serve organizations of all sizes across a wide range of industries including Manufacturing, Engineering, Utilities and Hospitality.
Our solution suite is built specifically for the clients pursuing Total Productive Maintenance and helps them in every step of their TPM journey and in achieving TPM Excellence.
It is still "Day 1" and we continue to relentlessly focus on applying technology to maintenance domain to deliver continuous operational excellence. Stay tuned for our updates on innovation and transformation solutions.
Capabilities

Industry 4.0

What is Industry 4.0?
Industry 4.0 refers to the bouquet of new age technologies that are transforming the value creation process in the manufacturing industry. Physical-Digital systems (also known as Cyber-Physical systems or phygital systems) form the foundation of Industry 4.0 and the digitalization, connectivity and intelligence that redefines not only the factors of production (eg. smart manufacturing) but even the full value chain (eg. smart supply chain, business models etc.). It is often referred as Fourth Industrial Revolution, with the previous three revolutions referring to mechanization / mass production of goods, electric power and information revolution.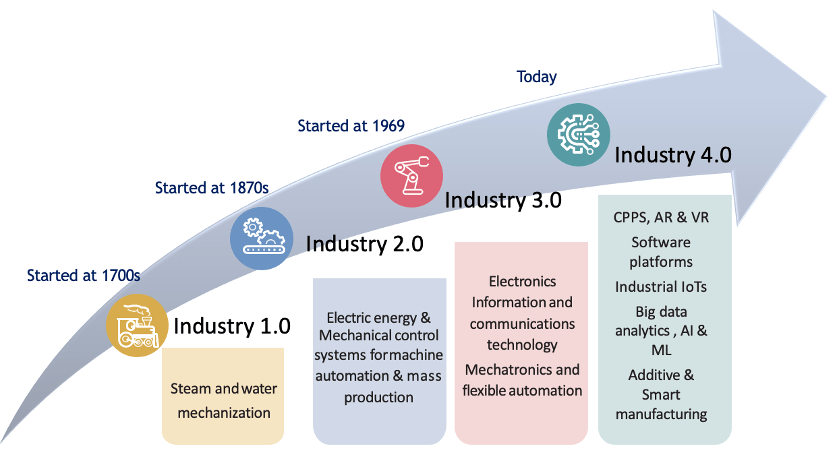 The big shift has happened because of connected assets and intelligent systems that combine real time information to provide insights at multiple levels to smarten the full value chain. When a billion people joined the Internet, it redefined how people communicate, interact and transact, thereby reimagining every possible industry. Even physical goods and services based industries like ecommerce and transportation have been upended very rapidly. Industry 4.0 brings in a trillion connected assets and its impact will be far reaching.
Industry 4.0 – The Convergence of Transformative Technologies
Internet has removed the distance barrier. Smartphones have broken the time barrier. Internet of things has enabled data capture at an elemental level. Connectivity has ensured that real time data can be monitored. Integration services built in has bridged the Operational Technologies (PLC, DCS, SCADA) with other enterprise technologies. Rule based systems and algorithms can enable process automations. Augmented reality can add experience that traverse between the real and virtual worlds. Big data provides enormous insights. Each of these technologies are high impact and a force of change. And Industry 4.0 brings in their convergence, wherein one or more independent technologies interoperate efficiently and integrate to define new outcomes that reshapes the process, business models and the basic constructs of the industry.
Application Areas:
Industry 4.0 touches business, operations, people and information and recasts their interactions in myriad new ways to deliver innovation and efficiency, at scale to transform the whole value chain. Principal applications in the manufacturing domain include the following six areas.
1.Supply Chain Management: Supply chain consists of diverse components, sourced from multiple tiers of suppliers with many intermediary steps including transportation, storage, customs clearance etc. Information exchange, automation and intelligence can make the supply chain and associated processes more efficient. Driverless in-plant vehicles, intelligent containers and storage units, smart warehouses, sensor controlled cold chains, blockchain led distributed ledgers, process digitalization at ports and borders are few examples. Industry 4.0 technologies have integrated the enterprise with its long tail of supply value chain and has enabled real time information exchange of inventory, seamless communication of sales and operating plants, traceability of supplier components at a granular level, flexible ecosystem with better demand planning, reduction of inefficiencies and quick time to market.
2.Customer Relationship Management: Customer demands are changing rapidly and are expecting instantaneous gratification. Product life cycles are getting shorter. Beyond goods and services, experience has become pivotal. Customer feedback, positive or negative is getting amplified via social media. Industry 4.0 provides multitude of ways to segment, target, position, promote, influence, sell, process payments, deliver, manage and respond to customer demands at granular level and at scale simultaneously.
3.Business Models: Uberization has driven newer models around orchestration of experience led customer ownership. Electric vehicles and cheaper renewable energy is overturning the oil led economics.Self driving cars are information led and changing the fundamental design tenets. Span of customer interactions are becoming deeper and for selective vendors. Business processes and even established business models are getting commoditized and organizations are constantly innovating to gain newer capabilities and competencies.
4. Manufacturing Operations: In response to high velocity external changes, technology has driven rapid changes in production systems to deliver newer and innovative products, that are better functionally and technically, greener and eco-friendly, in a faster and more efficient process, in safe and secure environment while being cheaper and cost effective. Autonomous robots are engaged for hazardous operations. 3D or additive manufacturing is employed for unique and custom manufacturing. Dynamic production planning and rapid change in product mix are becoming the norms. Production lines are getting automated and even remotely controlled. Non-intrusive testing and inspections discover defects at first mile of production. Traceability at component level enabled tracking and quick resolution.
5. Operational Process Efficiency: Industry 4.0 creates many technology led opportunities to identify and eliminate inefficiencies and bottlenecks and drive process optimization and operational excellence. Covid-19 accelerated a lot of digitalization in a very short span of time. Cloud based systems, remote monitoring tools, automated alerts and notifications on first symptoms have all become the essential support structure in the new normal of remote working. Digital era has led to information explosion and the agility required by market enabled decentralization of data for quick decision making and where possible automation of decision support. Stringent regulations and compliance led to robotics and computer vision based tools deployment. Industry 4.0 has led to higher asset utilization, operational efficiency enhanced people productivity and empowerment.
6. Asset Management & Plant Maintenance: Poor plant maintenance strategies can substantially reduce manufacturing efficiency. Traditionally plant maintenance has been heuristics based, driven by paper based processes, non-standard and fragmented. Digital era led to intelligent machines coupled with CMMS Software and technology integrations has led to efficient information capture at elementary level. Process standardization, risk based inspections and condition based interventions have led to preventive maintenance effectiveness. Simplification of technology has led to wider user adoption and higher engagement. Smart analytics implementation has led to predictive insights, metrics based management, goal based maintenance and better shop floor to top floor analytics. Smart Maintenance strategy has led to better plant maintenance, thereby improving asset uptime, utilisation and efficiency.
Maintenance 4.0 for Smart Plant Maintenance:
Maintenance 4.0 is the application of the Industry 4.0 to improve Capital Assets Management and Plant Maintenance. Maintenance 4.0, using the digital technologies, provide a lot of information about the assets under management, including their performance and failure history and helps in improving the availability and reliability.
MaintWiz provides a smart digital infrastructure leveraging the Industry 4.0 technologies to provide comprehensive Asset Care Solutions. MaintWiz Solution consists of
Building the Digital Foundation: Asset hierarchy (Plants / Projects, Equipment, Instruments, Utilities, Fleet), Process Assets (PM Schedules and Checksheets, Daily Patrolling tasks, Breakdown maintenance including Root Cause Analysis and CAPA activities, Inspection and Audit Schedules, Planning Tools, Horizontal Deployment etc.
Connecting the Systems: Connecting the Operational Technology (PLC / SCADA / DCS / MES) stack to the Enterprise Technology (SAP / Other ERP, Data warehouse, Homegrown applications). A Single Unified interface to all Asset related information and tools for Condition Monitoring
Providing Outcome Oriented Analytics: Wide variety of analytics (EQP, Peer class comparison, financial, maintenance metrics etc.)
Enabling Smart Workforce: Simplifying technology to enable quick learning and adoption. Access to all critical information via Mobile for the front end team. Providing contextual information to improve decision making and productivity. Enabling complete transaction entry at point of work with One Click maintenance.
Digital Foundation

Digital Foundation
Intelligent Machines is emerging as one of the most powerful manifestations of the industry 4.0 revolution. With the advent of technology, traditional maintenance practices are transforming today. Industry 4.0 technologies are reshaping the factory shop floor and thus the equipment maintenance. Rapid advances in cloud, mobile, analytics and Internet of Things technologies and their low entry barriers and affordable costs are driving the next wave of breakthrough innovations and disruptions.
Smart, connected factories require companies to build an entirely new technology stack, that operates in tandem with the physical equipment and other assets. Information exchange between the Physical-digital infrastructure, their interactions and resultant process changes, automation can help harvest big benefits and can ultimately converge the information to establish digital twins (equipment twins / factory twins).
The new technology stack is made up of multiple layers and numerous components, including embedded hardware and sensors, built in microcontrollers, memory chips, retrofitted electronics, embedded software, input / output ports, wired and wireless adapters, network and storage systems, public and enterprise cloud servers often supplemented by services, security frameworks, standards, protocols etc.
Understanding these layers, components and their integration is essential in defining a cohesive strategic plan. Computing infrastructure in the form of high-performance servers, operating systems, databases and other system software to run the digital technology services forms the base layer. This layer has been abstracted and commoditized by the many cloud service providers and offered as an elastic service, available on demand. Enterprise technology stack is built on top of these public cloud infrastructure or similar private enterprise cloud infrastructure.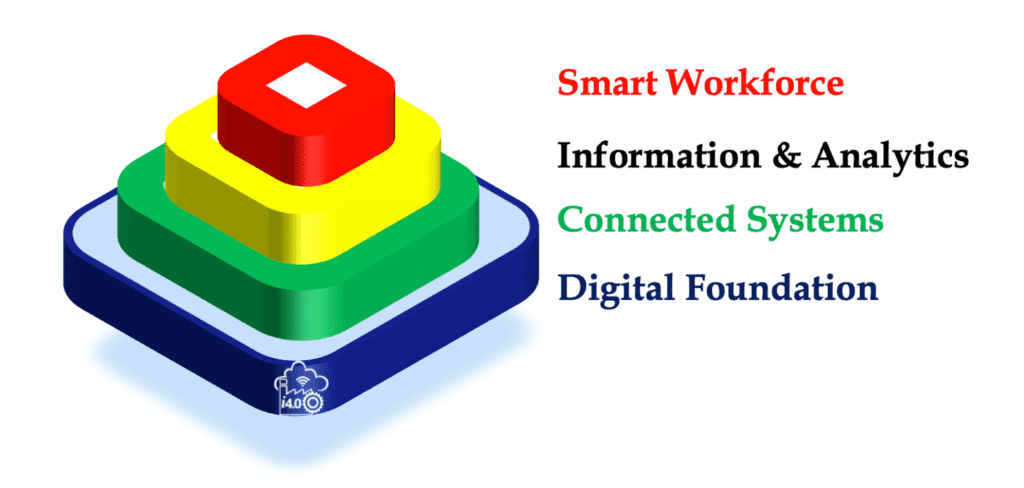 Digital Foundation comprises of the application fabric hosted on top of the cloud infrastructure and provides the digital services and interfaces for other systems to interact. It hosts all the asset information including their identification, so that when other external systems (PLC, SCADA, Internet of Things) are connected, the equipment information can be correctly mapped and made accessible to the workforce.
Digital foundation can also connect with emerging technologies like Augmented Reality / Virtual Reality and deliver asset information via Smartglasses.
In the Industrial Asset Management context, the Digital Foundation can be understood as a combination of
Asset Register: Repository of all information relating to different assets like facilities, equipment, spares, instruments, utilities and fleet. It supports asset identification and codification, hierarchy of assets, parent-child relationships and equipment classifications (group and sub-group, type, production / standby, rotary asset etc.). It can also host additional information relating to the asset like nameplate details, attributes, technical specifications, design documents, vendor information, cost center, permits required for work etc. Asset register thus contains all the static information related to the specific asset.
Process Assets Library: Digital Foundation also hosts all the relevant plans, processes, procedures and knowledge bases specific to the performing organization. Process asset libraries can include maintenance plans, preventive maintenance schedules and checklists, failure phenomena, instrument calibration schedules, why why analysis sheets, management reporting templates etc. Organizations strive to unify and standardize the processes and distribute the common checklists and templates to all stakeholders, update them with higher versions by including the learnings. Process Asset Libraries play a critical role in standardization, institutionalization and continuous improvement.
Application Tools: Tools perform a specific task or a group of related tasks, initiated by an user or another application. Tools can help digitize the processes and ensure compliance with the process flow. Examples include information search, data validation, transaction completion, rules engine comparisons, workflows, calculations, chart visualizations etc. Tools can also automate the business processes and can be system driven.
Asset History: Digital foundation also holds all the historic information of the asset to present a 360-degree view of the asset. It holds information on past failures, underlying issues, downtime records, actions taken, utilization and performance metrics, maintenance and operations cost, budget vs actuals, knowledge base relating to the equipment etc. This information can be combined with other sources to derive meaningful inferences and asset intelligence.
User Interface: Digital foundation by virtue of being the application, becomes the interface for users to access information, enter transactions, view analytics and reports, get notified on alerts etc. User interface supports multiple devices like PCs, Tablets and mobile phones and provide access / information via web browsers, mobile apps, email, text messages, push notifications etc. Digital foundation acts as the primary window for the users for views on the equipment, line and plant. Being human interface, the application needs to simplify the underlying technology and present an easy-to-use and engaging experience for the users.
Another perspective is to look at the whole physical-digital infrastructure as a system of interactions between man, machine, process, data and technology tools. They interact in myriad different ways to create business value in newer ways than ever. They bring together the disparate machines onto one integrated system. They create systems of enormous scale and efficiency. And they enable new levels of collaboration between people and things to create entirely new products and services.
Benefits of Digital Foundation
Single Source of Truth: Aggregates all information about the asset at a single place. Comprehensive, integrated and provides a holistic view.
Process Standardization and Institutionalization: Standard process ensures uniformity and consistency. Easy to manage process changes. Update at one place and all inheritances gets automatically synchronized.
Knowledge base & Learning: Helps build a learning organization. Knowledge on demand facilitates fast and efficient response to recurrent issues.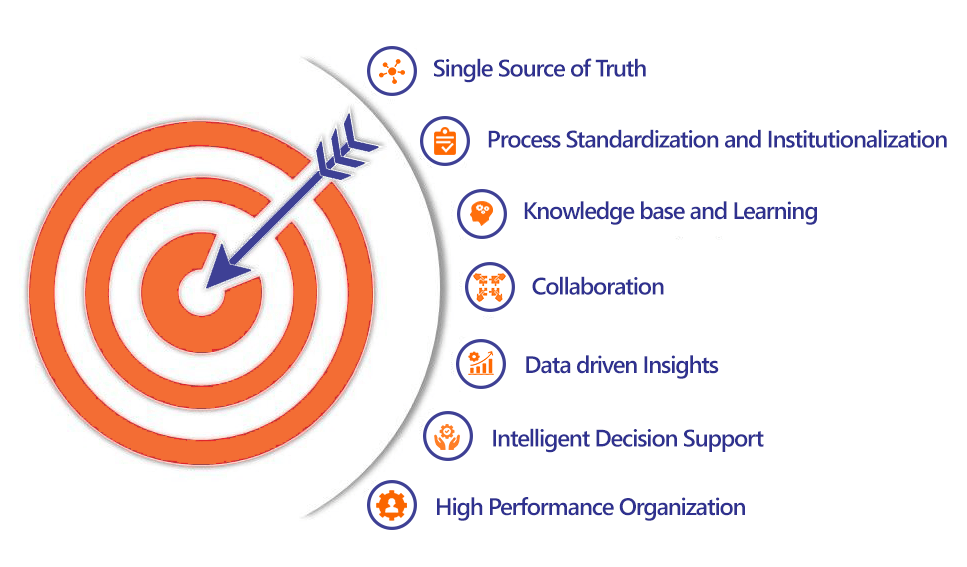 Collaboration: Remote monitoring can enable collaboration across time and distance. Application tools like eOffice can track all the action items of the team.
Data driven insights: Provides comprehensive asset intelligence at multiple levels. Enables better asset utilization, productivity and return on investments.
Intelligent decision support: First symptom alerts on breach of critical parameters, intelligent work order creation and support for predictive maintenance.
High Performance Organization: Improves the productivity and efficiency of the organization. Enables Smart Workforce.
Industry 4.0 is becoming all pervasive across many industries including manufacturing, power, turnkey O&M services, logistics and specialized industrial services. And it creates avenues for organizations of all sizes and provides radical benefits in production and service delivery. Embracing industry 4.0 is a competitive necessity and strategic advantage for the organizations. The digital technology stack can facilitate convergence of process, data and technology tools, that enables people to rapidly develop, iterate and operate digital services at scale.
How can MaintWiz help you?
Comprehensive Asset Register: MaintWiz provides a Comprehensive Asset Register that can include Facilities (Functional Locations), Equipment, Instruments, Spares, Utilities and Fleet. It supports rotary assets and standby assets. MaintWiz also supports nested hierarchy and parent child relationship of equipment to mimic your own unique set up. Visualization tools and SmartSearch functionality helps the users to find information quickly. Asset register can hold OEM Technical specifications, Vendor data, failure phenomena, BOM, Visual calendar, Equipment history etc. to provide a complete view of the asset.
Process Assets Library: MaintWiz helps you to create your process assets easily. Preventive Maintenance Schedules with task lists and breakdown phenomena can be easily set up. Task libraries can help in managing task lists versions and standardization. Has comprehensive utility to complete the full life cycle of a work order covering all aspects.
Collaboration: MaintWiz eOffice suite helps in fostering collaboration effectively with onsite teams and remote teams. Agenda, participation and minutes of all team meetings can be recorded and action items tracked. MaintWiz applies a team focus to maintenance and incorporates many collaborative tools and productivity boosters like PM Handover Checklist, Shift Handover report, non-conformance tracking etc.
Integration: MaintWiz digital foundation is the edifice over which all the integrations happen. Ready to use web services are available and can connect various Operational Technology (Sensors, Internet of Things. PLCs, SCADA, DCS, MES) and with Enterprise Technology (SAP, Other ERP, Data warehousing, In-house business applications etc.) and provide a unified data view.
Planning Tools: MaintWiz hosts many planning tools like Workbench and Horizontal Deployment to enable holistic view of the plant and plan PM tasks or CAPA activities with the enterprise view.
Personalization: MaintWiz has been designed with different personas in mind and how their daily routine can be simplified and made productive. Many tools and utilities are available to support the different personas – Production users, Maintenance Engineers, Supervisors, Planners, Middle Management and Top Management.
Business Intelligence: MaintWiz provides comprehensive analytics capabilities to support all stakeholders. Wide variety of reports are available to analyze the equipment history, performance, budget, people productivity, spares inventory, cost etc. Dashboards with user based custom tiles can support tracking key performance indicators. Dynamic filters help in repainting dashboards based on facilities or time period selected.
Simple, Easy to User Interface: MaintWiz prides in simplifying technology to make it easily accessible to the front-line staff. Information can be easily searched and retrieved. Visualizations support data tabulations. Customizable dashboards and interactive charts deliver maintenance metrics effectively. MaintWiz is easy to learn, easy to use and easy to implement.
Connected Systems

Connected Systems - Integrating Operational Technology with Enterprise Technology
Operational Technology is a broad term that defines the interfaces, controllers and systems that monitors, manages and controls the industrial assets and processes. Though the concept of SCADA, PLCs are old, Operational Technology (OT) is relatively new and used as an umbrella term that encompasses a broader range of technologies and control systems.
Sensors, Internet of Things (IoT), Programmable Logic Controllers (PLCs), Remote Terminal Units (RTU), Supervisory Control And Data Acquisition (SCADA) Systems, Automation Systems, Decision Control Systems (DCS), Manufacturing Execution Systems (MES), Building Information Management (BIM) Systems, Energy Monitoring Systems (EMS), Human Machine Interface (HMI), Machine2Machine (M2M) etc. fall under this category.
Internet of Things describes the network of intelligent things, wherein assets and other objects have embedded sensors to monitor critical parameters and ability to communicate with a central controller or server via internet. Internet of Things have enabled machines to become intelligent machines, that can self-monitor performance and diagnose themselves.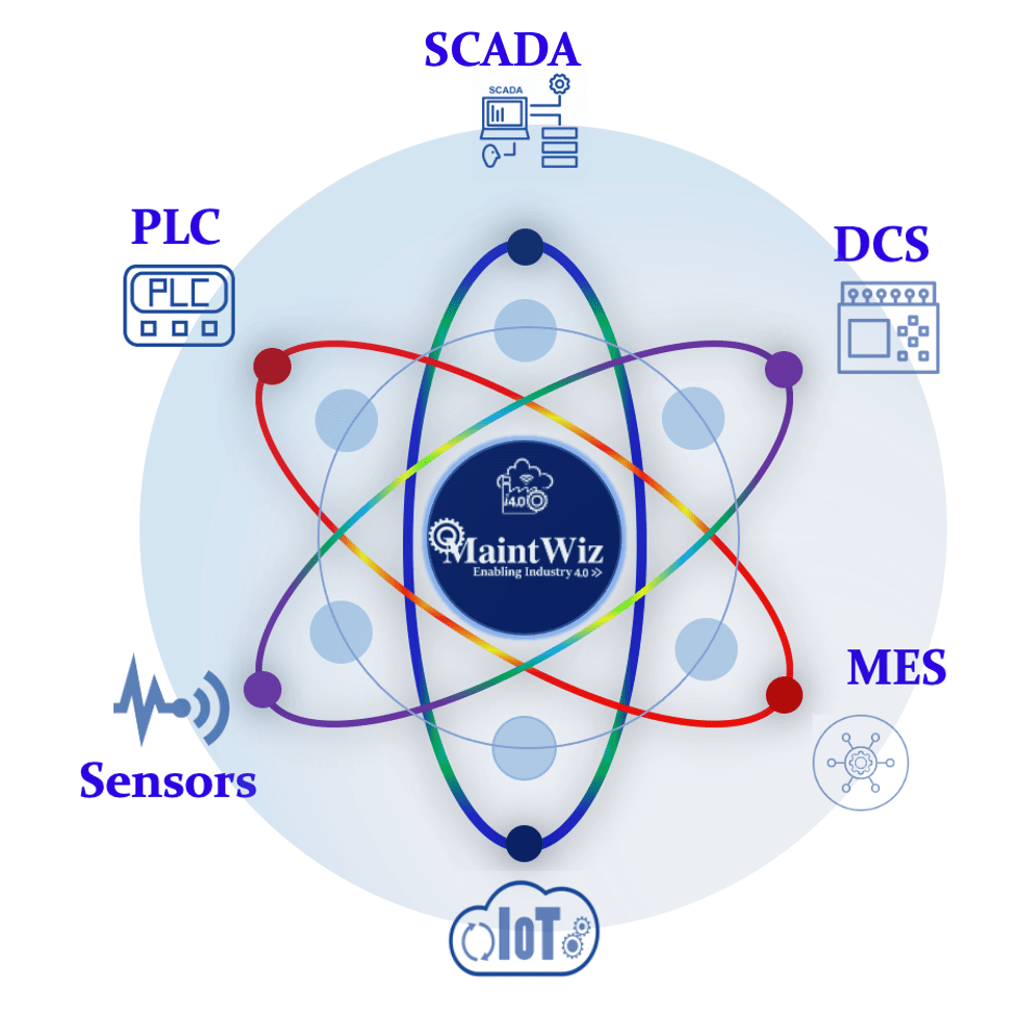 Traditionally each technology or system is self contained with its own logic, data storage, monitoring and supervisory controls and worked independently and effectively at the plant level. Since they were designed as specific limited purpose systems, by and large they were not integrated with other systems. Limitations of that era in real time communications, storage and high volume data analysis restricted their reach outside the individual plants and they were left alone as independent silos.
Recent advances in communications and networking enabled real time communication of these systems outside their silos. Integration services helped connect these systems with other disparate systems to provide an unified view. Big data systems helped in processing the volume, variety and velocity of data generated and derive higher order business intelligence.
Artificial learning and machine intelligence has helped identify hidden patterns and generate predictive analytics.
Digitalization created a lot many new businesses and as well changed many existing ones. Information pure play businesses like music, photography, data services etc. were disrupted. Business that were built on inefficient information or gatekeepers of information like ticketing, hotel room booking etc. had their business models upended. Uberization led to the transformation of an existing service-based industry like cab hailing, food delivery etc.
When a billion people connected over the Internet, the way businesses communicate their brands, sell their wares, manage delivery channels, process payments, listen to customer feedback and offer additional services changed digitally. Imagine the impact and transformation that can be brought in the industrial landscape when trillions of devices get connected to the Internet.
Digitalization has transformed the shop floor. Machines that consisted only of mechanical and electrical components earlier, sport an array of sensors, actuators, microcontrollers, data storage, I/O ports, applications etc. making them intelligent machines. In effect, the earlier siloed machine is now connected with its operating environment, integrated with the larger machine pool and is viewed as a production system.
Smart machines and connected systems provide newer functionalities, improve equipment and line reliability, streamlines production processes, enables higher resource utilization and provide lot of opportunities for optimization. Industrial Internet of Things has the potential to extend beyond the Enterprise firewalls with supply chains and customer organizations. Real time information exchange across the value chain can optimize many inefficiencies and improve agile response to changing business needs.
Many of the machinery manufacturers have a built in technology stack. Using this, they can even remotely monitor assets at customer premises to view their current status, performance, health, utilization, failures etc. Smart technology is transforming business from product sales to performance based contracts and as-a-service delivery. For example a boiler OEM's business mix that was product led (new boiler sale + some fixed annual maintenance services) is changing to services led (performance contracts for ensuring 99% availability) and to newer "as a service" business models (Steam-as-a-service wherein entire capex and opex is assumed by the OEM and steam produced is sold at predefined rates and quantity).
Earlier intervention of information technology digitized paperwork, automated existing business processes and supported with business applications. Core products and services largely remained in tact. Industry 4.0 with its converged technologies is changing the fundamental business tenet. Business models are getting altered, competition is coming from new age upstarts and industry structure is getting altered.
Industry 4.0 technologies thus has the potential to be the biggest transformation driving growth and innovation, productivity and efficiency, cost and value, utilization and reliability, personalization and mass production and many other business drivers. Enterprises need to embrace, adopt and adapt to the new technology led changes.
How can MaintWiz help you?
Data and technology have become the new factors of production.
Connecting the disparate systems to a common platform thus bridging the gap between Operating Technology and Enterprise Technology. Data can be exchanged between systems and other enterprise applications with out friction and on an automated fashion.
360 degree view of the Production System. Provides a unified view of the line with individual equipment along with their upstream and downstream equipment, their operating environment, production and maintenance schedules, utilization, performance, failures etc.
Remote Monitoring of critical parameters from offsite. Helps in monitoring similar assets from a central control room and leveraging the central team's expertise for troubleshooting at remote sites.
Condition Monitoring of critical parameters to trigger pre-defined downstream actions upon breach of control limits. With connected systems, condition monitoring need not be depedent on individual equipment parameters but based on the system. (eg. Leakage detected in pipeline can trigger upstream valve closure)
Utilities Monitoring and tracking their specific consumption (power, water, fuel, nitrogen etc.) against production output.
Business Intelligence and insights derived out of the information to support strategic business goals. Information captured can help in unlocking many inefficiencies like latent invisible information (residual life of spare parts), optimization (inventory) optimization, planning (production or maintenance planning), equipment performance, warranty services and budgeting.
Improve people productivity by providing them relevant information in demand, alert them on potential problems before they happen, provide decision support and feed performance metrics.
Connected Products – Extending beyond the enterprise to monitor equipment available at customer premises, analyze their data to come up with superior design changes or shift to "as a service" business models
Actionable Analytics

Actionable Analytics
Principal objective of asset care is to improve performance, utilization and life of the assets and support the strategic business goal of maximizing return on investment. Maintenance professionals can leverage analytics to track asset performance and equipment health to run the plant smoother and more efficiently.
Application of Industry 4.0 technologies can help you access all of your equipment information at a single place, and using the information to generate business intelligence that can support your maintenance goals. Actionable analytics can help asset management by connecting performance to data. Inferences and insights derived by comparing goals and actuals, budget and variances, past and present performance etc. can trigger suitable remedial measures to enable effective asset care management.
Internet of things and connected systems have fostered exponential growth of data, often scaling beyond human processing. MaintWiz solves this problem via intelligent navigation of the data, combining relevant data together for the user to process them concurrently and support with multiple levels of intelligence.
MaintWiz industry 4.0 CMMS combines the equipment data from various sources (including Operational Technology like PLC, SCADA, MES, IoT etc.) to provide a 360-degree view of your equipment. Asset intelligence provided include
Availability & Performance Metrics



Breakdown incidents & Downtime Analysis
Preventive Maintenance schedules, compliance, completion status and overdue tasks
Statutory Instruments Calibration, Inspection and Compliance metrics
Financial metrics relating to budget vs actuals, cost of maintenance, cost of operations, life time maintenance costs etc
Turn Around, Shut down and CapEx Project Metrics etc.

MaintWiz provides the information that you need in order to make informed decisions about how best to maintain your assets. MaintWiz helps your maintenance plan to be aligned with the business goals and provide superior performance.
MaintWiz provides customizable dashboards for users, based on their roles and goals, with filters to roll up multiple facilities or entities on to a consolidated one or drill down deeper for a specific facility.
MaintWiz Asset intelligence helps you reduce risk, improve performance, lower costs and downtime, by identifying equipment problems before they happen. MaintWiz provides a variety of readymade reports that can meet the needs of the different stakeholders. Frequently used reports can be automated. Monthly Management reports featuring consolidated information that are aggregated from multiple sources and adhering to a common format can be easily built.
Business Goals based Intelligence
MaintWiz is a new asset intelligence platform that helps maintenance managers make better decisions about their assets.
Dashboards track key performance indicators against targets and facilitate mid course corrections, if any required. Dashboard tiles can feature a variety of KPIs – Budget and Variances, Goals Vs Actuals, Year to date and Month to date performance, recent Breakdown information, Preventive Maintenance Calendar, PM Compliance and overdue tasks, Cost of Maintenance etc.
Persona Based Intelligence
Persona Based intelligence designing asset analytics and maintenance insights based on the stakeholder role. It declutters and provides a sharp focus on outcomes to achieve the goals effectively and more efficiently.
Personas in Asset Management space include but not limited to operators, technicians, supervisors, management team and other functional teams. MaintWiz provides rich intelligence to each of these stakeholders from breakdown history, shift handover reports, equipment health card, operational dashboards, KPI dashboards, Financial metrics etc.
Management – Dashboards, Cost of Maintenance, Budge vs Actuals, Scorecards
Supervisor – Shift Hand over reports, Calibration compliance to date, PM Compliance, PM Effectiveness
Technician – Alerts and notifications, Past history
Equipment based Intelligence
MaintWiz provides superior intelligence about the assets by comparing
individual asset performance against standards / OEM specs
the current performance of the equipment against its own historic performance (trends / deterioration) and
Comparing the equipment performance against peer class assets
Predictive Intelligence
Predictive intelligence examines equipment performance and conditions over time and using statistical techniques predicts the likelihood of failure. It requires a strong data foundation that can be analyzed for patterns using advanced statistical techniques and based on that forecasting models can be constructed for prediction.
MaintWiz platform boasts a robust data model complemented by an advanced computational engine which can be used to build the custom quantitative models as per requirements.
Contextual Intelligence
Contextual intelligence provides the ability to leverage previous experiences and compare them against current equipment performance. With this information, it is possible to identify pre-emptive failures or trends before they become a bigger problem.
Intelligent platforms extract relevant data from our data lake for comparison purposes and then apply additional knowledge for insight into conditions such as past history, peer class behaviour, or operating environment factors that could affect the equipment's ability to perform.
MaintWiz contextual intelligence provisioning includes
Past failures and repeat Failure history during breakdowns
Access to RCA and CAPA activities of peer class assets
Critical parameter values to identify contributing factors
Breakdowns since last PM
Incomplete PM tasks to provide traceability to breakdowns and strengthening PM Effectiveness
With industry 4.0, high velocity changes are transforming the shop floor. Maintenance organizations have a significant need to embrace the change and be more adaptable to data driven decisions. Asset intelligence is constantly evolving as more technologies and data sources proliferate and MaintWiz continuously applies the business and domain knowledge to innovate better techniques and visualizations to improve Asset Management and Plant Maintenance outcomes.
Smart Workforce

Smart Workforce
Digitalization has brought high velocity business environment where in changes are happening all around – from data capture, analytics, processes and even business models. High performance organizations need smart workforce that are agile, flexible and efficient to deliver more, mitigate the risks and seize the new potential opportunities.
Industry 4.0 is transforming shop floors with digitalization, interconnected systems, actionable analytics to enable an intelligence enterprise. Industry 4.0 is not just about automation; it's also about enabling people to work smarter with technology. Smart Workforce will be a perfect complement to the digital enterprise and can harvest advantages of digitalization.
Industry 4.0 has enabled the workforce to be smarter and more efficient, improving their access to information and expertise, ability to process enormous data, apply knowledge and analytics, streamline processes, automate routine activities and predict equipment reliability. Connected systems have bridged the gap between Operational Technologies and Enterprise Technologies to give a unified view of the equipment.
Newer technologies today can enable the workforce to be highly efficient. A Shop Floor engineer inspecting an equipment today, can not only see the equipment, but can check the performance of critical parameters, refer to the breakdown history and recurrent failures, assess preventive maintenance carried out and their effectiveness, refer to the manufacturer's technical specifications, evaluate spares replacement history and residual life and can make informed decisions on the equipment. All of these can be achieved using his mobile and accessing the CMMS.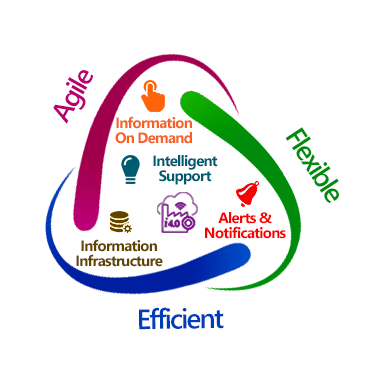 Emerging technologies can also provide a more immersive experience with Augmented Reality / Virtual Reality. Augmented Reality (AR) enabled by Smartglass can present more information about the assets based on the condition and context to help address the current and potential equipment issues. Virtual Reality can provide a complete immersion experience and can be of immense use in training and skill building.
Industrial robots are already used to do repetitive and routine tasks and activities in hazardous environments etc., often in isolation from humans. Collaborative robots or cobots work in close proximity with humans and often in conjunction with them to fulfil certain tasks. Factories of future may have more integrated environment where humans will be working alongside cobots and robots, seamlessly sharing the information, knowledge and tasks.
Next generation of workforce has to be more flexible, intelligent and adaptable. The new reality is coming sooner and organizations need to prepare their workforce to be smarter. Imperatives for manufacturing industry are
Manufacturing industry has been slow in embracing digitalization and needs to accelerate adoption
Technology is no longer restricted to desktops in cubicles and but more liberated and accessible via mobile at point of work
Younger workforce are technology savvy and are digital natives. Expect the technology foundation to be present for them to contribute on top of it effectively
Workforce belonging to older generation are not fully upto speed in keeping pace with technology and a visible digital gap is emerging
Training programs to bridge the gap and ensure adoption by all
Changing workplace dynamics and the invasion of always available technology on personal lives and effective ways to balance them
Innovations and their adoption should happen in a way that employees feel involved, engaged and genuinely empowered. Smartening of the workforce should weigh in the human and cultural aspects of the organization and suitable adopt a blended approach to realize the full potential of industry 4.0. Future shape of organizations are fast evolving as a convergence of robust technology foundation and agile workforce. Organizations need to accelerate their industry 4.0 adoption and engagement.
MaintWiz provides a robust Industry 4.0 solution with a focus on user engagement. MaintWiz simplifies technology and reduces the learning curve and removes the barriers. It helps the users to quickly come up to speed with technology usage and the harvest the power for improving their productivity and efficiency.
Specifically MaintWiz helps the users in
Better access to information on demand and available 24 hours. Information is no longer restricted and is accessible from point of work or remotely by experts.
Work order entry and other transactional data can be entered at the point of work by technicians, preventing information leakage.
Data from Sensors, Control Systems, Internet of Things and other automated sources can be connected and presented via mobile at point of work
Systems processing the enormous amount of data according to business rules set, thereby freeing the precious human time from data processing and feeding them vital information on exceptions for intervention. Systems can generate requisite alerts and notifications on first symptoms thereby facilitating planned intervention to minimize downtime
Consolidated knowledge
Automation
Present with rich analytics and visualizations to easily interpret the data and help in tracking key performance indicators and service level management to enable goal based maintenance
Apply intelligence – both human and artificial
Easy Implementation
Table of Contents
Easy Implementation
Get up and running Fast.
Salient features of MaintWiz implementation include
Get Started with Fast and Easy Implementation:
Easy Implementation
Get up and running Fast.
MaintWiz Computerized Maintenance Management System (CMMS) integrates the Man-Machine-Process interactions efficiently and strives to take it to the next level through integration of talent, automation, and analytics. With its simple, easy to use intuitive user interface, powerful features, one-click maintenance via mobile app, and management dashboards, MaintWiz increases the efficiency of operations and maintenance and facilitates evidence-based management decisions.
An efficient Implementation and Onboarding process is key to any successful implementation. MaintWiz Implementation team understands the Client's business requirements and success criteria for this project and adapts the solution to deliver maximum business value. MaintWiz Support team has extensive experience across different industries in implementing the Asset Management and Plant Maintenance solution and applies that expertise to map the product features effectively to meet Client's requirements.
Once you've selected MaintWiz, it's time to focus on going live.
And with our proven methodology, you get the functionality and value you expect— Quickly and Efficiently.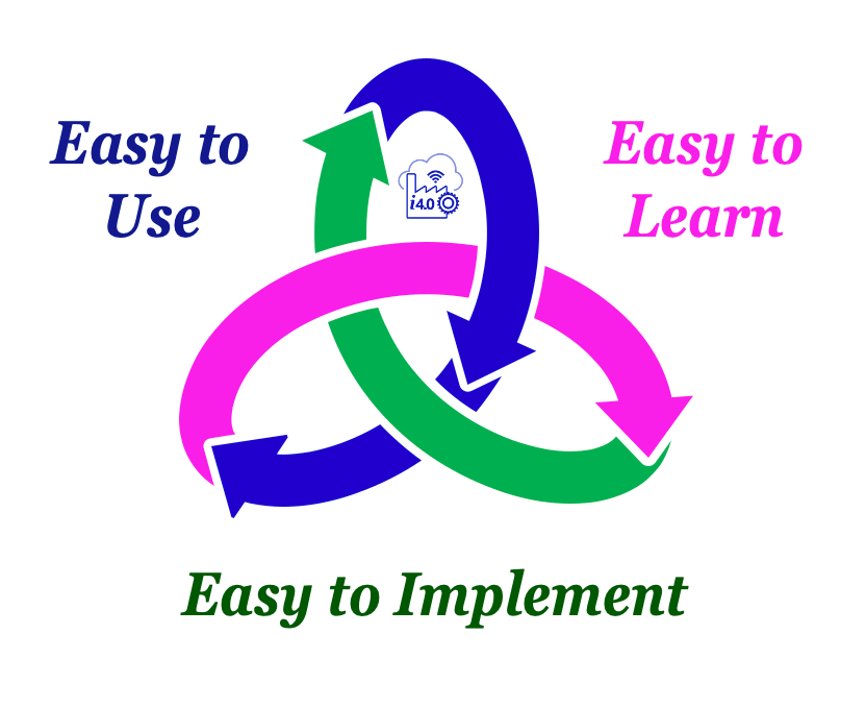 Salient features of MaintWiz implementation include
Customized Implementation
Focus on the key deliverables and success criteria. A dedicated Support Team member will help you configure everything to meet your needs and set up the equipment and process assets. Exactly to meet your unique requirements.
Fast Implementation and User Onboarding
Get, Set and Go Live with in few weeks.
MaintWiz implementation program is built around standards and repeatable processes. With this toolset, Clients can easily and readily scale the roll out to multiple sites. Standardized and institutionalized process to streamline operations delivered fast.
Customized Training & Support
Dedicated MaintWiz Implementation Expert will work with you very closely to ensure a successful implementation. Interactive and hands-on User Training will be provided to ensure engagement and adoption. Support will be delivered via online help manuals, email and over telephone.
Save time, worries and money
Save time and effort. Reduce the risk. MaintWiz will help you set the system properly, quickly and efficiently within the agreed timeline, and ensure the implementation meets the defined success criteria.
Get Started with Fast and Easy Implementation: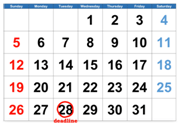 MaintWiz CMMS implementation is quick, easy and efficient. MaintWiz simplifies maintenance management, right from the word go. We don't require any capital investments at all. You can sign up and start using it from Day 1. No Credit Cards. No Fees.
Signing up ensures that a dedicated site is created for your organization with necessary security infrastructure in place. You can start adding other users, grant them access (all, single function, or graded) via role-based entitlements, And start using the system.
MaintWiz Implementation involves discussions with stakeholders to identify key success criteria and milestones. A custom project plan shall be jointly developed with the Client implementation coordinator and implementation is rolled out. Kick off meeting will be done with the entire implementation team to familiarize with the shared goals and plan.
Welcome & Kick Off
Sign Up
Executive Sponsor Meeting
Define Success Criteria
Dedicated Site Set up
User Id Creation
Project Team Formation
Kick Off Meeting
Roles and Responsibilities
Project Timeline
Set Up & Data Upload
Data Collection - Assets, PM Scheules, Job Plans, Failure Phenomena Site Configuration –
Branding, Shift Schedules, Workday Calendar
Customizations and User Notifications
Site Validation
Training & Support
Product Familiarization
Hands-on Training
User Engagement
Adoption
Clarifications / QnA
Refresher Trainings
Continued Support
Project Mgmt & Go Live
Weekly Reviews
Crtiical Path Assessment
Executive Sponsor Review
Success Criteria Achievement
Course Corrections
Transaction Entry
Reports & Analytics
Go Live
Standardization & Scale
Data collection templates will be shared and handholding sessions are provided. Collected data is validated to ensure consistency and alignment with business requirements. Configurable features are adjusted to ensure Client specific values are set.
Setting up assets in MaintWiz and generating work orders is as comfortable as child's play. MaintWiz provides easy to use Excel templates for easy uploads of everything – facilities, equipment, instrument, spare parts, preventive maintenance schedules, checklists, meter readings, etc. to ensure the data can be built quickly and efficiently and effortlessly.
Creation of asset hierarchy is that simple. Asset register including codification and hierarchy, nameplate details, attributes etc. can be created in minutes. Once asset register is set up preventive maintenance schedules can be configured, checklists added and breakdown orders can be created.
Once data is uploaded validated with Clients. Dashboard tiles and persona based dashboard configurations are done for different user groups. Regular project reviews are conducted to ensure on time delivery. Initial Training and refresher trainings are conducted to ensure user comfort. Post go live, MaintWiz team will monitor transaction entry for a week and offer another refresher training to users to maximize business value derived.
PRODUCTS
Asset Management
MaintWiz industry 4.0 CMMS platform helps you manage all your enterprise assets in one place – Facilities, Equipment, Instruments, Spare Parts and Utilities. Create work orders, schedule preventive maintenance, manage performance, view history, and alert stakeholders. 360-degree view to boosting your everyday productivity

Flexible hierarchy to mimic your unique needs. Configurable values to support your equipment categorizations



A visual view of the tree structure and geo-mapping
Track equipment performance – availability, OEE, MTTR, MTBF and more
Monitor asset history of failures and prevent their recurrence
Horizontally deploy learnings across same class of equipment
View comprehensive asset intelligence – failure history, performance trends, cost of maintenance.
Generate Equipment Health Card to get a complete view of assets and their performance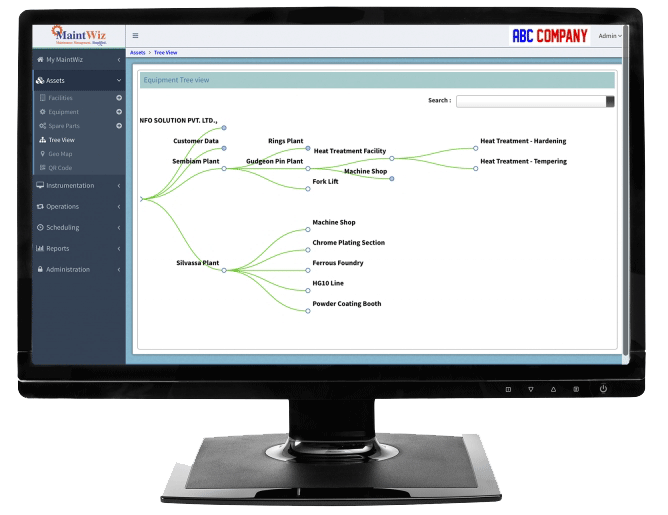 Breakdown Maintenance
MaintWiz industry 4.0 CMMS Software supports efficient work order management with a focus on improving shop floor productivity.
Generate work orders for break down or preventive maintenance. Streamline your process. Collect information to drive actionable insights.
Manage equipment failures with the orderly restoration process. Drive scheduled maintenance activities to precision.



Identify root cause analysis or Why Why Analysis to prevent recurrence of shortcomings
Communicate status and expected timeline to all stakeholders
Review the restoration process end to end to identify opportunities for improvement
Ensure safe work environment by enforcing safety precautions and permits.
Enable automatic workflow approvals when spares cost exceeds threshold or mandating root cause analysis for critical breakdowns
Track costs at the granular level – spare parts, labour and vendor costs to compute a cost of work order software maintenance.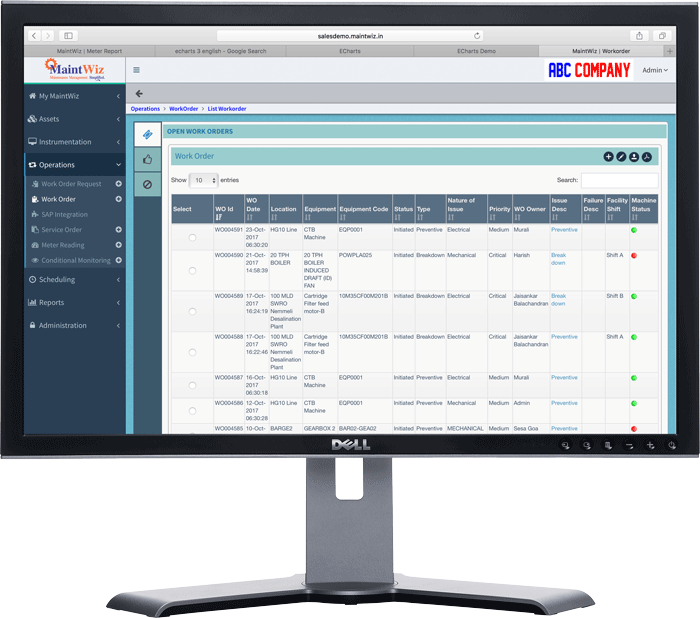 Preventive Maintenance
What is Preventive Maintenance
Improve equipment reliability, by fixing before it fails. Prevents downtime and expensive equipment repairs. Improves equipment safety and increases asset life.
Flexible to repeat simple to sophisticated time based schedules (time based scheduling)
Automatic generation of work orders based on certain run hours or on breach of critical parameters (condition based scheduling)
Orchestrated sequence of large scale preventive maintenance activities on occurrence of an event (event based scheduling)
Standardize preventive maintenance programs with same check lists and spares replacement
Track schedule maintenance compliance and failures due to improper preventive maintenance
Horizontally deploy to same class of equipment
Manage maintenance schedules with powerful planning work bench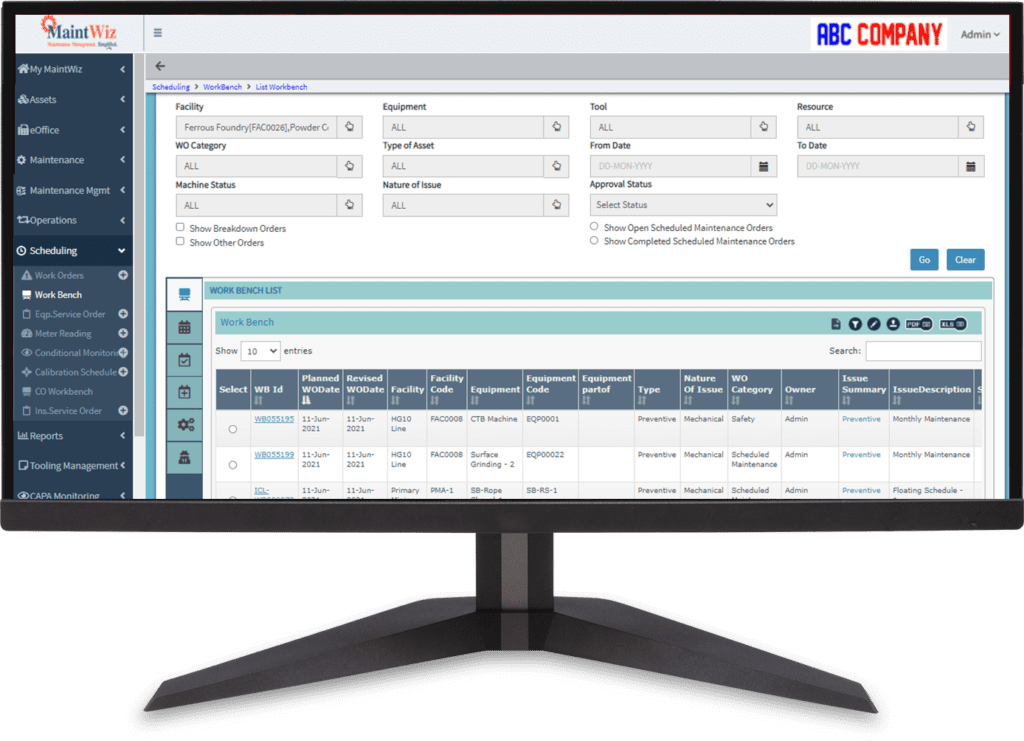 Predictive Maintenance (PdM)
Predictive Maintenance
Predictive analytics is changing the rules of the game. Always know the pulse of your equipment. Prioritize decisions with intelligent predictions.
Aggregate data from all data sources to give comprehensive picture of equipment
Deeper understanding of equipment performance and behaviour, stock outs / overstocking and equipment reliability
Real-time alerts and insights show you how projects are trending and how to course-correct at critical moments.
Avoid unplanned downtime and speed up your resolution time
Optimize inventory to balance costs and stock out situations. Institute quicker replenishment planning for critical spares.
Automated forecasting with statistics and models
Improve reliability by predicting the performance and potential failures beforehand.
Build system models and digital twins without writing a single line of code. Ready to use computational engine to calculate composite scores.
Implement integration of your own data source to compute custom models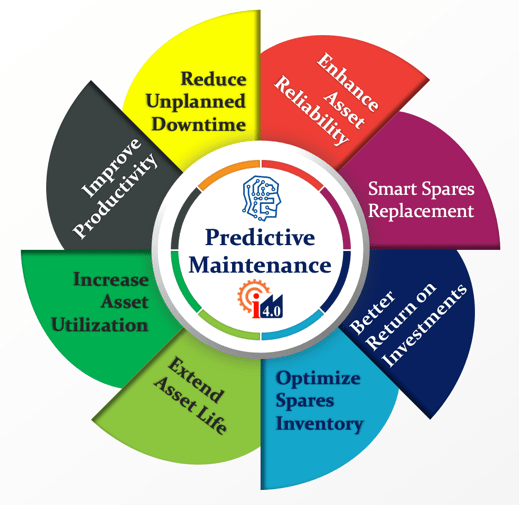 Condition Monitoring
Puts Alerts and Notifications on breach on auto-pilot, without you having to deploy human resources for monitoring.

Easy to measure and optimize every part of your asset care, like health, performance, breakdowns etc. on a single screen.
Gain insights on equipment performance and improve reliability
Build Powerful business rules on condition parameters based on equipment age, performance and operating conditions. No Coding required.
System monitors performance parameters and alerts on breaches. First symptom alerts give sufficient advance lead time for intervention prior to breakdown.
Create work orders automatically and assign to the right person.
Notifications sent via multiple channels – text messages (SMS), email and in-app messages.
Complete analytics with Operational Dashboard to provide insights and intelligence.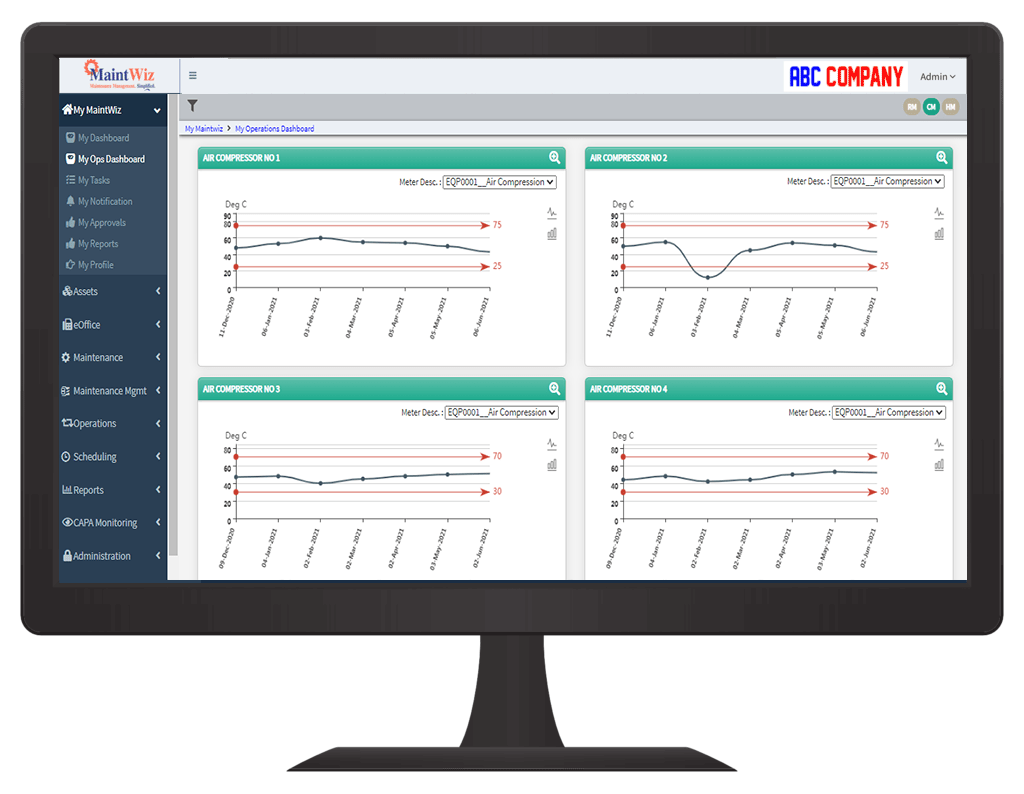 Internet of Things
MaintWiz industry 4.0 CMMS is the Only Platform you need to connect all your Operational Technology systems. Work with all your existing tools. Connect them all to get a Unified view. Integrate performance parameters and other critical data from all automated sources onto a single platform.

Connect Operational Technology with Enterprise Technology to bridge the gap.
Ready to use web services that can integrate with SCADA, DCS, MES and enterprise applications.
Directly tap data from PLCs and machine interfaces using our plug and play gateway
Retrofit sensors, actuators and other internet of things to legacy equipment and monitor their performance
Auto-post the data between systems. Avoid manual intervention and costly reconciliations.
Enable downstream actions easily – Condition Monitoring, Remote Monitoring, Asset Intelligence and Predictive Maintenance
Sensors, PLC, SCADA, MES, DCS, other Internet of Things and M2M communications in one platform.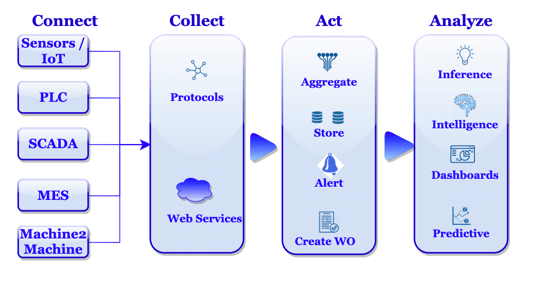 Asset Intelligence
Information is everywhere; intelligence is rare and insights are missing. Address this gap with powerful analytics from MaintWiz industry 4.0 CMMS Software. It combines different dimensions of data to provide a comprehensive perspective. Drive positive business outcomes through better asset intelligence and action-oriented insights.
Build your asset intelligence, all at one place
Compare equipment performance against set goals/standards, against itself over time (trends) and against the same class of equipment (horizontal)
Interact with your data to get action-oriented insights.
Build algorithms to institute Predictive Maintenance or Total Productive Maintenance (TPM)
Automate the report generation with pre-set criteria and generation schedules. Information seeks you.
Export to Excel or PDF for sharing with others.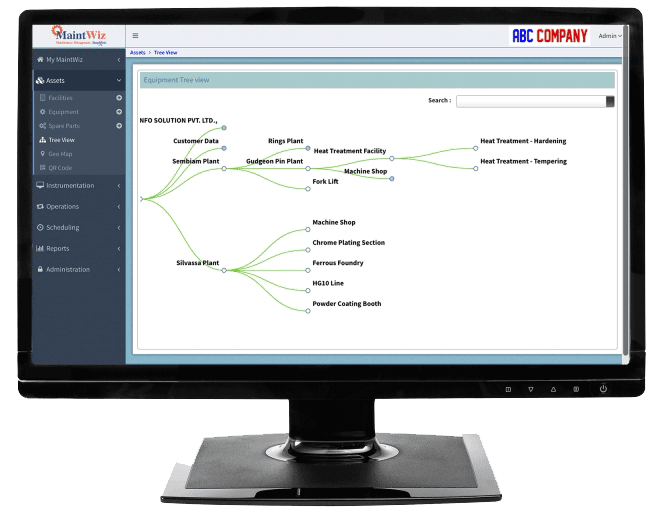 ERP Integration
Easy-to-use MaintWiz industry 4.0 CMMS can be the front-end system used by the Plant Maintenance team. SAP or other ERP can be used by your Enterprise for functions like Finance & Accounting, Sales, Production Planning, Purchase etc. MaintWiz provides seamless integration to ensure effortless auto-posting of transactions between the two systems and create meaningful user experiences.
Seamless integration between the two systems to avoid costly dual entry, manual reconciliation and interventions
MaintWiz presents a lot more information relating to Maintenance than traditional ERPs
Rich analytics and dashboards presented by MaintWiz are used for all business reporting
Ready to use web services available for integrating with SAP, Oracle, Microsoft, other ERPs and other Business Applications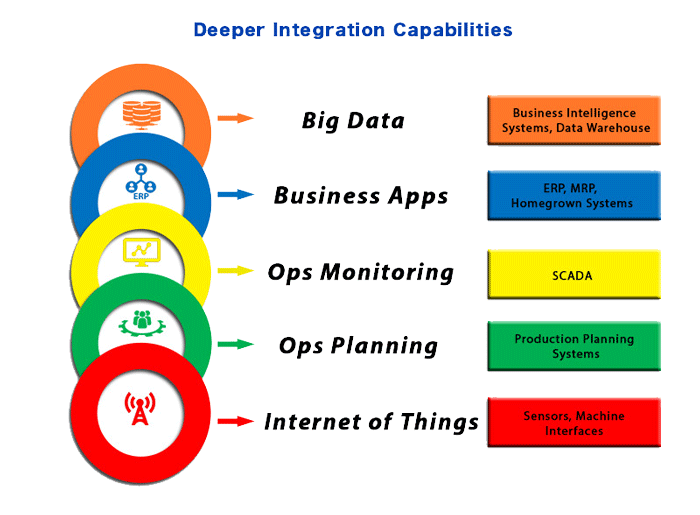 Overall Equipment Effectiveness (OEE)
OEE Computation is no longer complex. Stay ahead and organized. Everything you need to analyse OEE is at one place. Compute precise OEE in under a minute with zero excel.

MaintWiz allows you to track OEE by the product line, shift, day, batch etc,
Multiple configurable options to support discrete, batch and process industries.
Automated computation and visualizations. Drill down underlying data for better analysis.
Connect with your ERP / production control system for automatic data capture or enter few data point every day.
Comprehensive calculation engine to customize capacity, planned run time etc.
Manage multiple product lines, units and plants on common platform.
Compare to any past run easily.

Call Balaji @ +91-9940648190 for a demo

+91 4435003204

+91 4435003205

+91 4435003206

+91 4435003207