Lohmann Adhesive Tapes - The most advanced adhesive solutions
---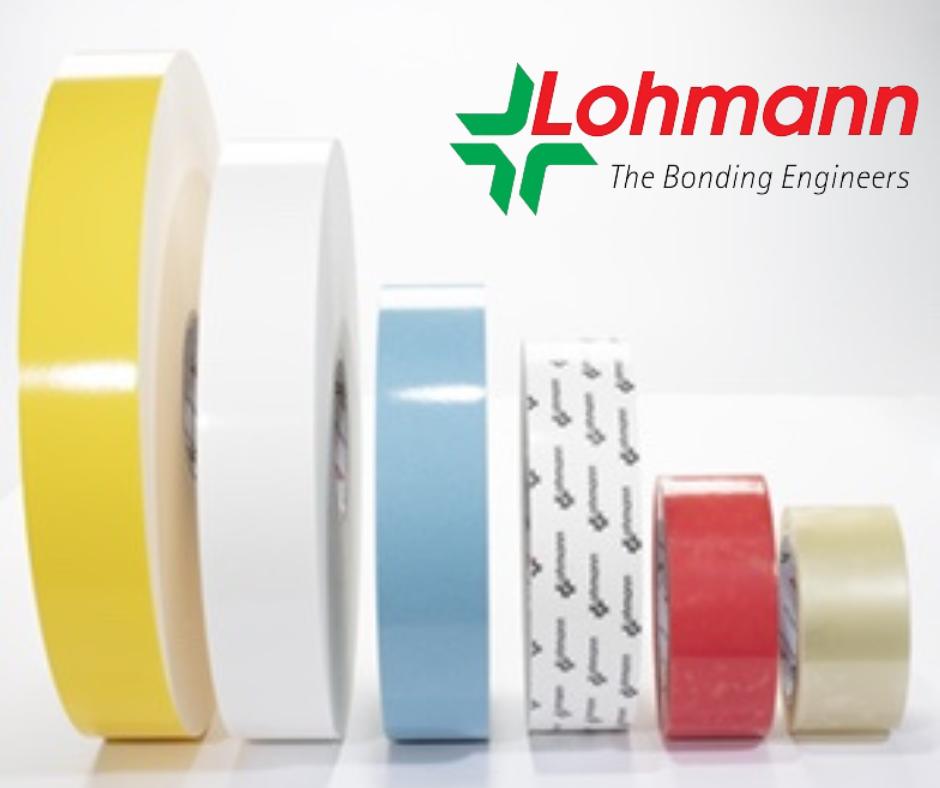 Welcome to Our Lohmann Adhesive Tapes Page!
Laminating is the process of joining two or more materials together in layers to create a single composite material. Follows is a small sampling of our abilities. It has good elongation property, anti vibrating, strong crack resistance, high resistance to heat , water and moisture, high seal property. Excellent for repair, crafting, Book Binding and imaginative projects. High performance strength and adhesion characteristics.
Lohmann Adhesive Tapes - The most advanced adhesive solutions to all manufacturing and engineering industry around the globe!

Lohmann GmbH & Co. KG is one of the pioneering forces in adhesive tape technology. Lohmann offers the most advanced adhesive solutions to all corners of the globe and is a supplier to the manufacturing industry.
The creative ability of Lohmann adhesive engineers manifests itself in many ways. From the global specification work and individual product development through to innovative adhesive constructions. On-site mechanical integration of the adhesive solution supports and optimizes the customer's production process.
The Adhesive Tape Group is headquartered in Neuwied, Germany. With approx.1600 employees worldwide, state-of-the-art coating plants in Europe, Asia and America, 20 subsidiaries and exclusive sales partners in over 50 countries, Lohmann has the best possible resources to guarantee optimal solutions for the industry.

Website: www.lohmann-tapes.com
++ Adhesive solutions for Wearables applications from Lohmann ++
In modern #healthcare, #wearables applications are well established, whether for #diabetes treatment, for temperature measurement or cardiac telemetry.
With our DuploMED© range we offer a variety of high-performance single-sided and double-sided adhesive tapes for multiple applications within the #medical industry.
✔️ Long wear time portfolio
✔️ High wearing comfort and easy removal
✔️ Optimal bonding of the #medicaldevices to the skin
✔️ In-house laboratory and testing capacities
✔️ #ISO13485 certified manufacturing
✔️ Tape solutions and die-cutting from a single source
✔️ Cleanroom manufacturing
Products :
* Lohmann High Performance Masking Tape
* Lohmann GP Masking Tape
* Lohmann Mirror Bonding Tape
* Lohmann Laminate Bonding Tape
* Lohmann Attachment Tape
Lohmann's flagship product, "German" Laminate Bonding Tape is a double sided tape with patented adhesive technology, and is being used by generations of carpenters, engineers, furniture manufacturers and interior decorators across the world for more than 40 years for their bonding requirements. This product has rich legacy behind it, and is fondly called "German" tape in many countries. In India, this product was launched a year back and has created storm and now used by carpenters for their bonding requirements.
Would you like to learn more?
Visit us at MD&M West in Anaheim, CA, and get in touch with our experts: matthew.hurley@lohmann-tapes.com and bill.pedersen@lohmann-tapes.com

Lohmann Adhesive Tapes India Pvt Ltd
Plot No Oz-15, Hi-tech Sez,

Sipcot Industrial Growth Centre,
Oragadam, Chennai - 602105
Tamil Nadu, India
Ct : 9962547903