Kumbhat Holographics Kumbhat Complex, No. 29, Rattan Bazaar Chennai 600 003. Tamil Nadu. India.
---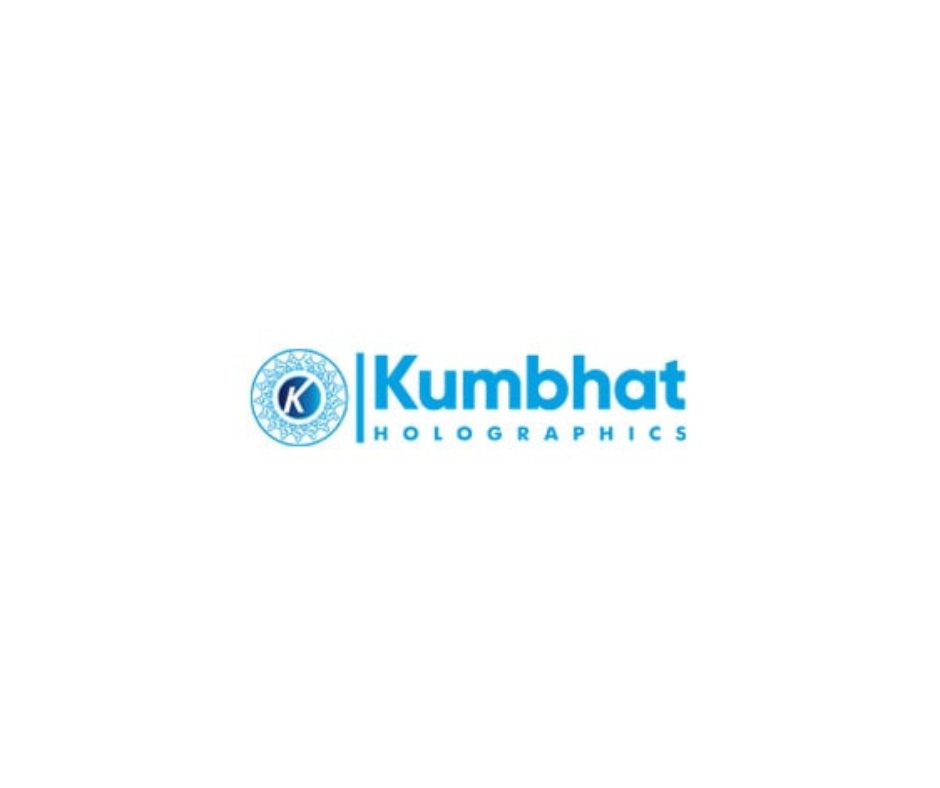 Kumbhat Holographics
Kumbhat Complex, No. 29, Rattan Bazaar Chennai 600 003. Tamil Nadu. India.
Ph Nos :+91 44 4216 5653
Mobile :+91 95000 92000 / +91 95001 88890
Whatsapp No:+91 95000 92000
E MAIL ID : holo@kumbhat.com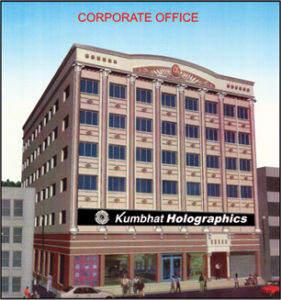 ABOUT US
Established in 1999 we took less than 5 years to reach out to the whole of India. Today we are one of the most reliable and economical "High Security Hologram Manufacturers" in India. Headquartered in Chennai out presence spans the entire nation through our Marketing divisions located in the various commercial hubs.
Kumbhat holographics protect the brand with hologram labels and Security Holograms from the black marketers because your security is important to us.

PROFILE

Baby steps but Giant Leaps....
Established in 1999 we took less than 5 years to reach out to the whole of India. Today we are one of the most reliable and economical "High Security Hologram Manufacturers" in the country. Headquartered in Chennai our presence spans the entire nation through our Marketing divisions located in the various commercial hubs. The dynamic management of Mr. Shanthi Kumbhat, Mr. Sanjay Kumbhat and advisory service of Mr. Ajit Kumbhat we have targeted a turnover of 60 million for the forthcoming year. Over the past five years Kumbhat Holographics has achieved a growth rate of over 40% each year.
With a production capacity of 500 million holograms per month and a sprawling manufacturing and R&D unit spread over 32,000 sq.ft. we see expansion as no constraint. Our objective is to produce Holograms at the most economic prices so that every industry small or big is able to protect the interest of consumer and the public.
An ISO 9001: 2000 certified company, Kumbhat Holographics, serves more than 7850 industries in the country including leading universities, financial institutions, certification agencies, government departments, and religious institutions. It is for this and various other reasons that the company is considered to be the leader in the creation of holograms in the entire country. The company's competencies are diverse and include artwork creation, master origination and multicolor labels.
For a company that was started only 10 years ago, Kumbhat Holographics, headquartered in Chennai, has already emerged a national leader in its field. The giant is also considered the most economical high-security solution provider in the country.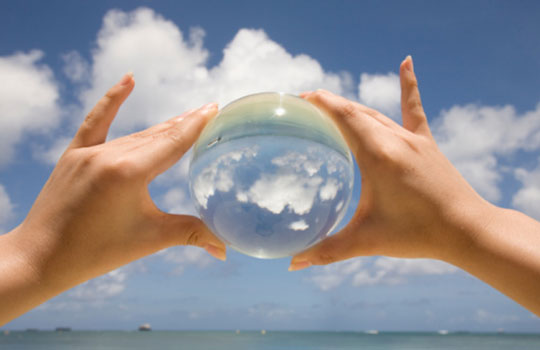 OUR VISION
Hologram manufacturer
The motto of Kumbhat Holographics is hologram manufacturer VISION & MISSION to eradicate counterfeit documents & certificates and classify fake products from genuine ones.
We at Kumbhat Holographics believe that security holograms should be treated as raw material to the industry and not as a value add product.
Be it any size of industry, Security holograms should be used to protect interest of all.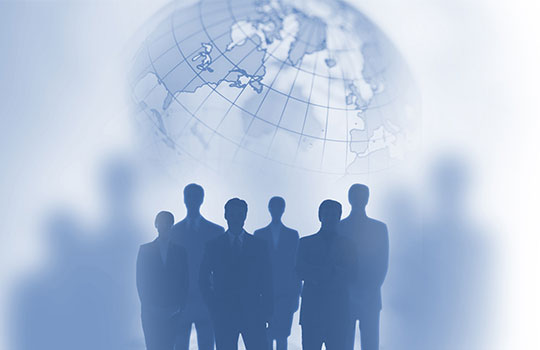 OUR MISSION
Hologram manufacturer
Hologram manufacturer is our VISION & MISSION to enable businesses to secure their brand identity, a commitment to their customers to buy with confidence and eradicate counterfeit products.
To deliver quality products with help of technology superior to our competitors. Our clients success is our success.
To continually improve the quality and securing brand identity of our esteemed clients.
To empower women majority of our work force have been women.
Group Of Companies

Starting out as distributors of Electrical Products in 1947 the group has diversified and expanded into various fields such as manufacture of Electrical Products, Distribution of Food Products, Real Estate, Finance & Audit firms. The group eventually graduated into the niche segment of manufacture of "Laser Optic/ High Security Holograms, packing solutions & IT related security solution.
The group companies include:

Litaski Electrical Pvt. Ltd.
Kumbhat Bazaar
Kumbhat & co
Kumbhat Info
Kumbhat Electricals
PRODUCTS

HIGH SECURITY HOLOGRAM

What Are Security Holograms?
Security holograms are labels with a hologram on them, they are used primarily for security reasons. Security holograms are very difficult to forge because they are replicated from a master hologram which requires expensive, specialized and technologically advanced equipment. It cannot be manufactured just as other stickers. Holograms have also been used even in currencies.
Holograms are widely used all over the world for currencies, tax labels, property document authentications, stamp papers.
Hologram : Images are stacked that each of the images are alternatively visible depending on the angle of perspective of the viewer.
Holographic products are now the latest trend in the market. They are colourful, attractive, tamper evident and also give a unique identity to your brand. All the industries, small and big scale, are currently utilizing these holograms. Kumbhat Holographics strives to provide you with Holograms that match up with the International Standards.
What are the Benefits of Using Security Holograms?
Security Holograms authenticate your Brand
They promote Brand Recognition
Classify your Brand from counterfeit market
Hard to Duplicate
Help in promoting your Brand amongst the target consumers
Easily Tamper Evident
What Is The Process We Use To Create Holograms?
1- Firstly, a Master Hologram is made using special optical equipments depending upon the kind of features and effects required
2D Master Holograms- Displays a consecutive different viewing angle of holographic lines with different colour combinations
3D Master Holograms – These showcase conventional designs and patterns that appear digital when viewed from different angles
Dot-matrix High Resolution- Portrays innumerable dots consisting of different diffractions
Flip/ Flop- Represents two different 2d/3d design or patterns when viewed from two different angles
2- Pre-Press Process for mass production of holograms that is done in two ways- Electroforming or Recombining.
3- Thirdly, we do Embossing– An impression/ image replica is embossed on a lacquered holographic polyester film
4- Last process involves Converting– The embossed holographic film can either be converted into label form or in the form of Hot Stamping foil and applied on the surfaces with help of hands or machines.
Why Choose Kumbhat Holographics?

Because we at Kumbhat Holographics are famous for Brand Protection.
We utilize the ultra modern technologies meticulously handled by highly skilled and qualified experts to ensure your Brand Protection.
We are at par with the International Standards
Security Holograms that we design guarantee to give your Brand a unique identity to promote your business without any fear of duplication by the counterfeit marketers.
We give attention to the minutest detail whilst designing the holograms to ensure that the colour combinations and patterns we create are visually appealing.
We manufacture Holograms that possess high resolution with perfect print.
Our Security Holograms rates are very pocket friendly, so that, these are easily available for all kinds of industrial consumers.
These Holograms are easily Tamper Evident. Destruction of these are evident as soon as some kind of tampering happens.
Industrial Usage:
As we all are aware that Security Holograms are the latest trend in the market when it comes to Brand Protection, below is a list of Industries we extensively manufacture for:
Defense
Banks
Education
Government
Retail Industries
Plastic Industries
Automobile Industries
Cosmetics Industries
Pharmaceutical Industries
Electronic Industries
Food and Beverage Industries
Packaging Industries
Metal Industries
Glass Industries
Toy Industries
Stationery Industries
HOLOGRAPHIC STRIPS

WHAT ARE HOLOGRAPHIC STRIPS?
Holographic Strips are thin strips made for transferring holographic content on to the substrate surfaces. Our dexterous experts at Kumbhat Holographics use these to laminate onto products with or without release papers. These are usually smaller in width. Also, these are mainly used to authenticate the products in the Pharmaceutical Industry.
WHY DO WE NEED HOLOGRAPHIC STRIPS?

Holographic Strips are necessary because these help sustain the authenticity of the Brand. So, we strive to make it tamper evident and non alterable. These help in promoting the Brand name to the targeted consumers and building a good Brand rapport also. Therefore, We can customise them according to your specific needs.
WHAT ARE THE QUALITIES OF THE HOLOGRAPHIC STRIPS?

We at Kumbhat Holographics ensure that our services for our clients are met according to that of the International Standards. Hence, We guarantee the qualities mentioned below:
Excellent Clarity of the Brand Logo/ Authentication Seal
Long Term Durability
Easily Applicable
Heat Resistant Adhesive
Water Resistant
Alkali Resistant
Metallic Polyester Film
Smooth and Lustrous
Strong Adherence
Tamper Evident
Attractive Combination of Colours
Superior Finishing
ON WHAT ARE HOLOGRAPHIC STRIPS TRANSFERRED?
We majorly expertise on transferring these on to PVC (Polyvinyl Chloride), PET (Polyethylene Terephthalate), LDPE (Low Density Polyethylene), Paper and Aluminium Products. Furthermore, a few of the other products on which we can find these are:
Stationary Items like pens

Cigarette Boxes
Shrink Sleeves
Preformed Caps
Labels
Blister Packed Items like tablets, capsules, chewing gums, mouth refreshers, batteries, pen drives, memory cards, mechanical items and many more.
INDUSTRY USAGE:
Kumbhat Holographics strives to provide to all the major industries and maintains a good brand rapport with them. Following are the Industries that use Holographic Strips:
Health Care Industries
Food Industries
Electronic Industries
Equipment Industries
Stationary Industries
Toy Industries
Plastic Industries
HOLOGRAPHIC HOT STAMPING FOILS

WHAT ARE HOLOGRAPHIC HOT STAMPING FOILS?
Holographic Hot Stamping Foils are manufactured by embossing impressions of the hologram on lacquered, metallic polyester film and then coated with special adhesive coating to enable to transfer the special holographic image on the surface using hot stamping machines without any difficulty. We manufacture it according to your needs so that you can either use it in registered from or in running strip.
These mostly are available in multiple colors, primarily being silver. These currently are in trend and have a high market demand from a lot of industries. The main purpose being – branding, authenticating, security and also decorative purposes.

HOW ARE HOT STAMPING FOILS TRANSFERRED?

The embossed holographic foil containing Brand and Product information is transferred using special adhesive coating without making any impact on the holographic image. It can also be transferred through a process of hot stamping either in running or registered image through eye mark where machine senses the eye mark and transfers the image accurately to the position.
ON WHAT DO WE USE HOT STAMPING FOILS?

These are so popular nowadays that we find these everyday on a lot of products like:
Credit Cards
Legal Documents
Mark Sheets
Certificates
Greeting Cards
Book Covers
Plastic Items
Glass Bottles
Decorative Items
WHAT ARE THE BENEFITS OF HOLOGRAPHIC HOT STAMPING FOILS?
Exclusively made for your Brand
Strong Visual Appeal that make it easier to verify the Brand
Eye Catching Colour Combinations
Attractive Patterns and Design
Faster to incorporate or apply onto products or packages
Very Cost Effective
High in Quality and impossible to replicate, hence, there is no risk of it black marketing.
Match the International Standards
INDUSTRY USAGE:
The following industries majorly use Hot Stamping Foils on their products:
Bank
Government
Education
Food and Beverage Industries
Plastic Industries
Book Binding Industries
Cosmetics Industries
Automobile Industries
Packaging Industries
HOLOGRAPHIC SCRATCH LABELS

WHAT ARE HOLOGRAPHIC SCRATCH LABELS?
Holographic Scratch Labels are a protective overlay that we use to hide pre-printed sensitive information. These are versatile in nature and we can easily find them on a lot of products (on Pin Codes, Passwords and Prizes to name a few). Also, lots of industries today use these as a means to promote their businesses in the form of giving gifts as present.
ON WHAT WE DO USE HOLOGRAPHIC SCRATCH LABELS?

These scratch labels are very common in the market. We use these on a lot of things, such as :
Prepaid Calling Cards
Prepaid Top Up Cards used to re-fill the mobile phone balance
Pre-paid Gift Cards for promoting businesses
Lucky Draw Coupons/ Raffles Tickets during Bazaars in schools, colleges and other places during campaigns and festival times
Membership Cards to activate the membership with a unique password
Debit Card ATM Pins
Bank Documents
High Security Purposes
HOW DO WE MAKE HOLOGRAPHIC SCRATCH LABELS?
Holographic Scratch Labels are stuck by using a special adhesive on the area where the pre-printed information needs to be hidden, so that, the pre-printed data is scratch proof.
It takes immense skill by our experts and investment using our latest technology to produce premium quality Scratch Labels /Foils, assuring that the end product is

Quick and simple to apply

Easy to Scratch off without much effort and less chances of making a mess
High quality and scratch proof ink for pre-printed sensitive information
Highly Opaque Foil that helps in hiding the pre-printed sensitive information
Tamper Evident and impossible to alter pre-printed data or the foil
Cost Effective
Easily accessible to all the industrial clients
INDUSTRIAL USAGE:
Telecom Companies
Mobile Service Companies
Retail Industries
Bank
Government
Defense
Food and Beverage Industries
Beauty And Fitness Industries
Cosmetics Industries
HOLOGRAPHIC LABELS

WHAT ARE HOLOGRAPHIC LABELS?
Holographic Labels are labels containing information about the Products as well security and authenticity of the Brand. These are highly trendy and usually come in attractive color combinations and patterns containing virtually impossible to copy contents.
Kumbhat Holographics strongly prioritizes in safeguarding your Brand and Products from the black marketers because your security is important to us. Hence, We guarantee that our labels are original, tamper proof and impossible to duplicate.

These labels can be further customized with below inks

Thermochromic ink,

UV ink.
Thermochromic ink changes color as per temperature.
UV ink label glows under ultra violet black light.

There are other customization possible on these labels. Feel free to call our expert for more details.

USE CASE FOR LABELS

A client was using multiple labels on a single product a hologram sticker, manufacturing date and batch number. applying multiple stickers to a single product was time consuming and tedious.
We recommended the client a single label which could serve the purpose, this saved cost and time for the client. The label had a hologram and provision to print both batch and manufacturing date on the same sticker through a barcode printer.

WHAT ARE THE FEATURES OF HOLOGRAPHIC LABELS?

Our skilled experts make use of the latest technologies and take great precautions in making sure that the Holographic Logo and other contents on it are:
Unique/ Exclusive

Premium Quality
Water Resistant
Strong Adhesive
Heat Resistant
Containing Eye Catching Color Combinations
Attractively Patterned
Visually Appealing
Customisable
Differently Shaped
Differently Sized
Superior Finishing
Impossible To Replicate
Economically Priced
Tamper Evident
WHAT ARE SOME OF THE EVERYDAY USE PRODUCTS WE SEE THESE ON?
These labels are commonly found used on almost all kinds of products nowadays. Following are a few everyday items that we find these labels on:
Medicines
Mobile Phones boxes
Gift Vouchers
Appliances
Utensils
Tin Boxes
Plastic Items
Kids Toys
INDUSTRIAL USAGE
Currently Holographic Labels are majorly used by all kinds of industries today, listed below are few of the industries that we cater to:
Banks
Government
Education
Defense
Pharmaceutical Industries
Food and Beverage Industries
Stationery Industries
Toy Industries
Hardware Industries
Machine Industries
Blister and Other Packaging Industries
Plastic Industries
Glass Industries
Metal Industries
Electronics Industries
Appliance and Equipment Industries
Chemical Industries
Automobile Industries
Paint Industries


HOLOGRAPHIC BREAKABLE VINYLS
WHAT ARE HOLOGRAPHIC BREAKABLE VINYLS?
Holographic Breakable Vinyls are labels that can be easily applied to any surface impossible remove it without breaking it. These are tamper proof and a person tampering with it will have to struggle to break the labels applied on any surface.
HOW DO WE MANUFACTURE HOLOGRAPHIC BREAKABLE VINYLS?

We at Kumbhat Holographics, always strive to make sure that your Brand Identity is 100% protected. Hence, our skilled labour meticulously utilise ultra modern technologies to produce High Quality Holographic Breakable Vinyls. Because of the thin vinyls and strong adhesiveness, a person will have to struggle to remove the label in bits and pieces rather than in one single piece. Hence, leaving evidence that somebody has tried to tamper with the product.
WHAT ARE THE FEATURES OF HOLOGRAPHIC BREAKABLE VINYLS?

Our Company manufactures these by keeping in mind the following features:
Exclusive/ Unique
Non Replicable
Tamper Proof
Excellent Quality that matches the International Standards
Long Term Durability
Heat Resistant
Water Resistant
Special Adhesive for a strong bond
Impossible to Copy
Complementing Color Combination
Attractive Patterns
Visually Appealing
Environment Friendly
Reasonable Prices
ON WHAT ARE THESE USED?
We come across these labels on an everyday basis. Some of the examples of on what we can find there are mentioned below:
Books
Stationery Items
Medicine Packages
Furniture
Jewellery
Appliances
Mobiles
Laptops
Tablets
Air Conditioners
Glass Items
Plastic Items
Mirrors
Food and Beverage Packages
Bottles
Hardware Items
Furniture
Boxes
Containers
Mobile Batteries
Chargers
Cricket Bats
Tennis and Badminton Rackets
INDUSTRIAL USAGE:
There is a huge demand in the market for Holographic Breakable Vinyls. Following are a few industries that we manufacture Holographic Breakable Vinyls for:
Food and Beverage Industries
Packaging Industries
Electronics Industries
Jewellery Industries
Cosmetics Industries
Pharmaceutical Industries
Chemical Industries
Government
Furniture Industries
Education
Defense
Banks
Garment Industries
Accessories Industries
Automobile Industries
Hardware Industries
Machinery Industries
Paint Industries
Retail Industries
Sports Industries
TAMPER PROOF VOID HOLOGRAM

TAMPER PROOF / VOID HOLOGRAM LABELS
We at Kumbhat Holographics strive to provide supreme quality Tamper Proof / Void Hologram Labels prioritising the authenticity of your Brand. We also make sure that counterfeit marketers do not duplicate, alter or tamper with your products in anyway possible.
HOW ARE TAMPER PROOF / VOID HOLOGRAM LABELS MADE?

Kumbhat Holographics uses ultra advanced technologies meticulously utilized by our dexterous experts because we believe in upholding your trust by providing High Optical Security Features. The process includes embossing the Holographic Image directly on to the aluminium foil through the Hot Stamping Foil Method.
Tamper Proof Hologram Labels

In the case of Tamper Proof Hologram Labels, we laminate the hologram with a transparent polyester film above and a special adhesive below the hologram. If the end user tampers with this, the laminated overlay will come off, whilst the hologram remains intact on the substrate surface.
VOID Hologram Labels

For "VOID" Hologram Labels, the word "VOID" is embossed on the hologram containing the clients specifications in such a way that it is not evident when we apply it onto the surface. If the end user tampers with these labels the "VOID" mark remains as shown on the image. If the user tries to re-apply the sticker, the sticker shows "VOID" indicating the seal is already broken.
INDUSTRY USAGE

A lot of manufacturing based industries believe in using Tamper Proof / Void Hologram Labels to fiercely protect their Brands from black marketers duplicating and re-selling the products at cheaper prices. A few of the industries are as follows:
Pharmaceutical Industries
Food Industries
Electronic Industries
Plastic Industries
Appliance Industries
Defense
Education
Government
WHAT ARE THE FEATURE OF TAMPER PROOF / VOID HOLOGRAM LABELS
Kumbhat Holographics provides following features for the Tamper Proof / Void Hologram Labels:
Exclusivity
Supreme Quality
Heat Resistance
Water Proof
Highly Cost Effective
Scratch Resistance
Attractive Colors and Patterns
Excellent Lamination
Strong Adhesive
Virtually Non Replicable
Long Durability
READY TO USE HOLOGRAM

WHAT ARE READY TO USE HOLOGRAM?
Ready To Use Hologram are labels that anybody can use on their products to authenticate the product as well as to give assurance of the quality and warranty standards to the targeted consumers. These are generic in nature and mostly adopted in any industry or product. The benefit you get with these ready to use holograms is that the master is already created for these and you just need to order them and we make it freshly and send it to you. You save time & money in designing these from scratch.
We usually carry a minimum stock of these ready to use labels and in case the quantity is large we can make and deliver it in very short span of time. Go ahead just order them once to bring confidence in your customers.

WHO CAN ACCESS THESE?

Anyone and everyone! These are versatile in nature and not limited to any particular Brand. We at Kumbhat Holographics manufacture these to ensure they are readily available to anyone who requires it.
WHY CHOOSE US?

Because we at Kumbhat Holographics ensure that our skilled experts meticulously design and emboss holograms into the labels by utilising the advanced optical technologies running in the market. We priorities your need for Product Authentication and assure you
Excellent Quality

Tamper Proof
Economically Priced
At par with the International Standards
Readily Available At All Times
Long Term Durability
Heat Resistant
Moisture Resistant
Visually Appealing
WHERE DO WE SEE READY TO USE HOLOGRAMS?
We all keep seeing these on a lot of everyday use items like:
Chemicals

Food Items like Ketchup Bottles, Milk Cartons, Pickle Bottles, Preservative Foods
Cosmetic Items like Creams, Face Wash, Facial Bleach, Hair Dyes
Medicine Packages in the form of Bottles
Utensils
Accessories like Bags and Belts
Almost all Fabrics (Handloom and Power Loom) and Garments
Gold, Silver and Platinum Jewellery and Other Metals
Electronic Items like Laptops, Computers, Mouse, Keyboards
USAGE:
These are commercially available for all small scale and big scale industries. We see these on everyday basis on a lot of things at home, at work, in restaurants, in shops, in hospitals, in pharmacies and many other places. Below are a few industries that use "Ready To Use Holograms":
Packaging Industries

Pharmaceutical Industries
Food and Beverage Industries
Cosmetic Industries
Chemical Industries
Toy Industries
Hardware Industries
Electronic Industries
Utensils Industries
Metal Industries
Jewellery Industries
Fabric Industries
Garment Industries
Retail Industries
BARCODE AND INKJET LABELS

WHAT ARE BARCODE LABELS? WHY ARE THESE IMPORTANT?
Barcode Labels are a sequence of vertical lines containing vital information regarding its brand owner, manufacturing details and tracking information such as serial numbers, records of inventory and other transactions. These help in reading and implementing data within a matter a seconds, therefore, reducing risk of errors, losses and liabilities.
Barcode Labels have become a ubiquitous element and are being used in all kinds of industries including retailing, airline, rental facilities, cinemas to name a few. These are also useful to track security and theft deterrence ensuring the rate of loss/ liability is down to zero.

WHY CHOOSE US?

Because we at Kumbhat Holographics have created history by being the first one to manufacture Invisible Barcodes in whole India.
We incorporate our Barcode Labels with high security elements in the form of holograms, visible and invisible security links. We also provide labels that can be customize through pre-printing.
Possess the Capacity of printing 0.5 Million Labels per day
Our dexterous experts use the ultramodern technologies to print superior quality barcode and give 100% assurance for barcode scanning. This is done using our very own in house testing and verification systems.
WHO USES BARCODE LABELS?
All industries use Barcode Labels in the current market scenario. A few of the industries are as follows:
Banks
Government
Education
Defense
Food and Beverage Industries
Cosmetic Industries
Pharmaceutical Industries
Toy Industries
Fabric Industries
Garment Industries
Retail Industries
Automobile Industries
Electronic Industries
Home Furnishing Industries
Plastic Industries
Accessories Industries
Jewellery Industries
Appliance Industries
Machinery Industries
Chemical Industries
Hardware Industries
Packaging Industries
Stationery Industries
ON WHAT PRODUCTS CAN WE FIND BAR CODES?
We can find Barcode Labels on almost all products we use everyday. Following are few examples:
Blister and Other Packages
Plastic and Glass Items
Utensils
Toys
Stationery Items like books, pens, paints, etc
Cosmetics
Batteries
Home Appliances
VARIABLE DATA LABELS

VARIABLE DATA LABELS
Variable Data Labels are labels that are majorly used for Serial Numbering the products and randomly withdrawing information of a certain material out of a database. Some of the other data include Q.R Codes, Lot Numbers, Expiry Dates, Bar Codes, etc. We provide these in the form of texts or graphics printed on "Non Tearable Paper" as well as embossed on "Hologram Labels". Kumbhat Holographics customises these according to your specifications. barcode-01-Kumbhat Barcode variable
These Variable Data Labels are not necessarily produced sequentially, but can also be produced in a unique format. These can include a series of numbers and alphabets mostly, but can also contain symbols. Some of the benefits of Variable Data Labels are

Exclusive because of the meticulous process used for categorising

Easier to Track from random data base
Impossible to Imitate
Supreme Quality
Economically Priced
No Two Labels Will Possess the Same Data
USES OF VARIABLE DATA LABELS:
Track Inventory in Warehouses, Pharmacies, Super Markets, etc
Assign particular seats or places in the form of tickets for places like Theatres, Stadiums and Events.
Promoting Businesses in the form of Gift Vouchers, Scratch Cards, Calling Cards
WHERE CAN WE FIND THESE VARIABLE DATA LABELS?
We find these on a lot of products we come across on a daily basis. A few of these are
Hard Ware parts of Electronics (Desktops, Laptops, Mobiles, Automobiles, Appliances)
Food and Beverage Products like Chocolate Boxes, Wine Bottles, Pickle Bottles, Sauce Bottles, Biscuits Boxes, Etc
Cosmetic Items like Foundation, Perfumes, Creams, Lip Sticks, etc
All the Medicine Packages
INDUSTRIAL USAGE:
Almost all industries use these labels. A few of these are as follows:
Pharmaceutical Industries
Logistic Industries
Packaging Industries
Food and Beverage Industries
Retail Industries
Electronic Industries
Chemical Industries
Automobile Industries
Hardware Industries
Software Industries
Cosmetic Industries
Defense
Government
Libraries
Machine Industries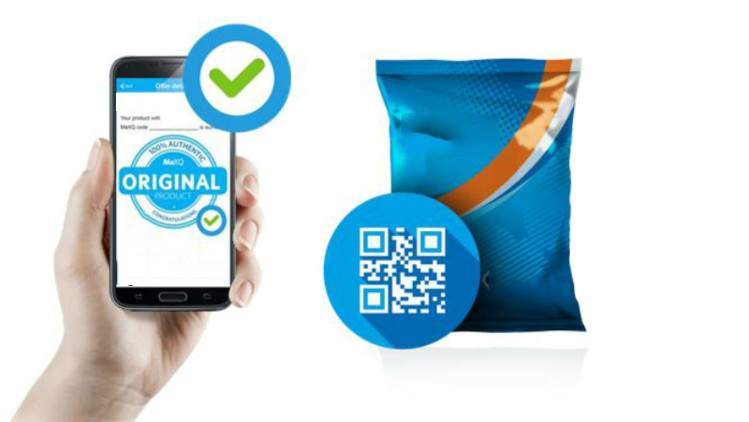 DIGITAL SOLUTION
As a manufacturer you're facing a lot of impediments on delivering and managing the right product reaching your branded customers?
Are you worried that counterfeit products have brought down your sales and Go To marketplace?

Do you feel like your loyal customers have started decreasing over time?

Have ideas to run marketing campaigns, but looking for the right path to start them?

Wanted to motivate your brand users by rewarding them with every purchase they make?

Interested In analyzing your customer behaviour?

Excited to know more about your potential customers?

Do you Have desire to interact with your customers On Issues they face?

Here you go, Kumbhat App serves as a ONE STOP Solution to fulfil for all your needs.

It helps buyers to validate genuineness of your brand Product .Wherein by such Validations you could establish or achieve a trust relationship with your loyal customers for further Purchases.

Additional Features Available On Kumbhat App
Geographical Sales Vision
Customer Insights
Paytm Mode Of Money Transfer
E-Wallet
Money Transfer Through Bank
Mobile Recharge & DTH Services
Marketing Campaigns
Tech Support
SMS Services
Available In major indian Languages
Reports analytics
Re-Configurable Messaging Formats Per Specific Order Slot
Why Us?

To solve manufacturer or dealer issues due to release of duplicate products in the market,we have come up with digital solutions of best authentication processes using QR Codes. We provide you with a set of Unique Qr Codes which you can apply on your product and while customers purchase your product line they find out SCRATCH COUPON on the product.By Scanning the QR Code on the product they can check genuineness of the purchased products.We also help you reward the loyal customers with some money value you wish to provide them based on their product purchase.
What We Aim At
Our Important goal is to get rid of counterfeit products spamming the market. And to build a society which is free of fake products .Help us achieve our goal,by collaborating along with us to stamp out the launch of Spurious Products.
All About The Team
Our Team accommodates active agile members,who are prepared to work with any upcoming requirement changes as the technology evolves or takes different transformations on a day to day basis.
How it works?
Step 1: Customer Purchases the branded product

Step 2: Notices scratch coupon code on the product

Step 3: Downloads kumbhat app clicking on the QR code to download the app

Step 4: Scans the QR code using the app

Step 5: Displays Relevant message related to genuineness,if the product is genuine

Step 6: If Product is genuine and if code is used for first time,then money gets added into wallet

Pricing Please contact us to take it further.

SECURITY