CPCL EDUCATIONAL TRUST CPCL Polytechnic College Nedunchezhian Salai, Manali, Chennai - 600 068.
---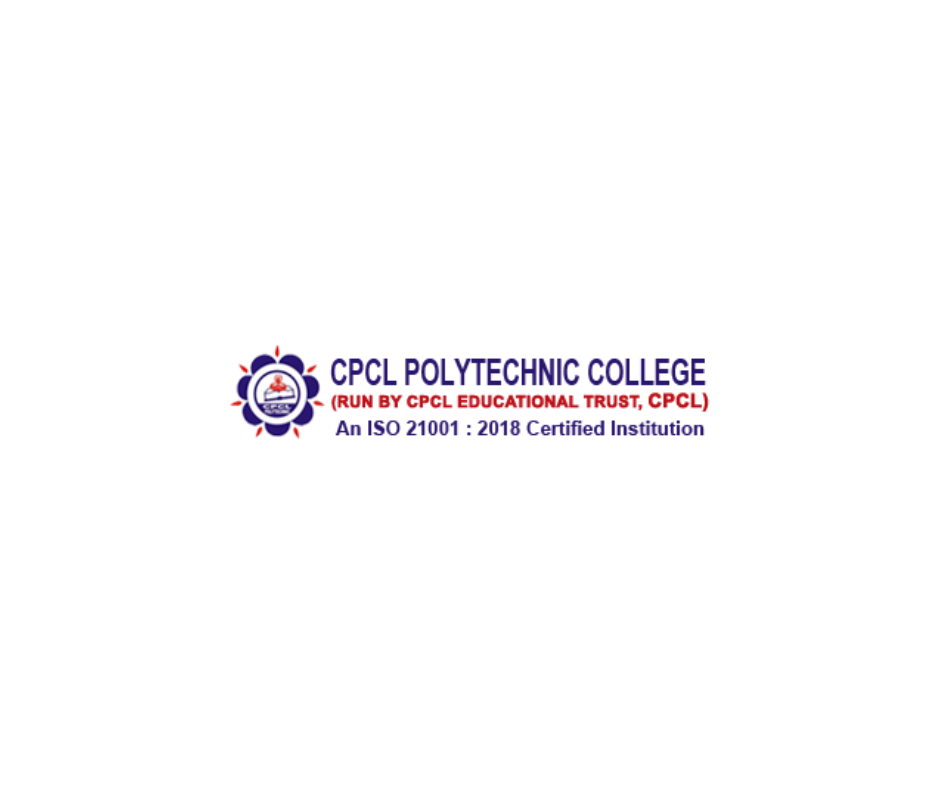 CPCL EDUCATIONAL TRUST
CPCL Polytechnic College
Opposite SRF Company,
Nedunchezhian Salai, Manali, Chennai - 600 068.
Email : princi.cpclpoly@gmail.com
Phone : 9445930157, 9445560159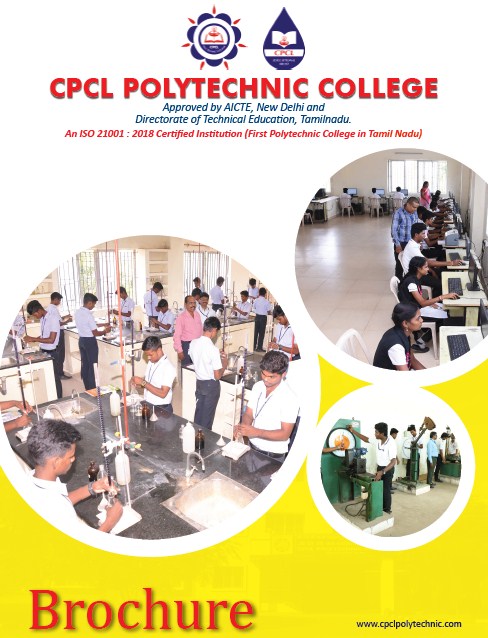 Overview
CPCL Polytechnic College, founded by CPCL Educational Trust, stands out as a premier center of technical learning with a mission of pursuing excellence in technical education. The institution, with its diverse and dynamic community of students offer a distinctive combination of some of the finest diploma courses, accomplished faculty, best learning facilities and state-of-the-art campus set on enriched environmental surroundings. CPCL Polytechnic College provide a variety of stimulating environments for intellectual development, free thinking, and personal growth, challenging its students with dynamic learning opportunities and equipping them with the skills, insights, attitudes and practical experiences that are necessary to take up responsibilities in the society.
While students at CPCL Polytechnic College immerse themselves in academics, the college has a lot in store for them outside the classroom. Student life includes participation in recreational, co-curricular & extra-curricular activities and sports. In short, at CPCL Polytechnic College, students will find an academic and social environment where everyone- from faculty members to peers help shape their future.
CPCL Polytechnic College is a home to aesthetically designed buildings with state of the-art computer and internet facilities, modern workshops, seminar halls, auditoriums and well stocked libraries, sports and games fields.
As an exemplary institution of learning, CPCL Polytechnic College follows an admission policy that strongly favors merit, even as it enables access to education for students from all strata of society through appropriate scholarships.
With so much to offer, it is only natural that students of CPCL Polytechnic College get a unique opportunity to carve a niche for themselves in their chosen field of study that enables them to become well-rounded and discerning citizens, fully qualified for their chosen professions in the workplace.
History
Chennai Petroleum Corporation Limited (CPCL) (erstwhile Madras Refineries Limited (MRL) one of the major corporations, having a dominant presence in South India formed the CPCL Educational Trust in April 1988 with a view to upgrade the technical knowledge of the serving personal in the Petroleum and Petrochemical Industries and create a centre for Technical Excellence in the field of Petroleum Engineering.
Now, it is dedicated to the service of the society to create well trained, disciplined and younger technicians in the area of Mechanical, Petrochemical and Electronics and Communication Engineering.
1988 - ESTABLISHMENT OF CPCL EDUCATIONAL TRUST
1989 - COMMENCEMENT OF PART TIME COURSE IN DIPLOMA IN PETRO CHEMICAL ENGINEERING
1994 - COMMENCEMENT OF FULL TIME COURSE IN DIPLOMA IN PETRO CHEMICAL ENGINEERING
2000 COMMENCEMENT OF FULL TIME COURSE IN DIPLOMA IN MECHANICAL ENGINEERING
2007 COMMENCEMENT OF FULL TIME COURSE IN DIPLOMA IN ELECTRONICS AND COMMUNICATION ENGINEERING
Vision
To impart sound and updated vocational training to the educated youth and collaborate with other Institutions having similar objectives and activities. CPCL Polytechnic College will impart futuristic technical education and instill high patterns of discipline through our dedicated staff, who shall set best educational standards, making our students technologically superior and ethically strong, who in turn shall improve the quality of life of the human race.
Mission
CPCL Polytechnic College is committed to develop a culture of technology, generate a steady stream of qualified, competent, dedicated and disciplined diploma engineers and to upgrade the skills of the serving personal in their field of study. We will provide individual attention, world-class quality education and take care of character building.
Policy
CPCL Polytechnic College is committed to imparting world class technical knowledge and training to meritorious students from diverse socio-economic backgrounds. Beyond technical education, CPCL Polytechnic College is committed to transforming lives by facilitating all round personality development and nurturing talent.
The following courses are offered
DIPLOMA IN PETRO CHEMICAL ENGINEERING (DPCE)
DIPLOMA IN MECHANICAL ENGINEERING (DME)
DIPLOMA IN ELECTRONICS AND COMMUNICATION ENGINEERING (DECE)