BIochest- Organic waste composting machine for processing of Food waste, garden watse in residential and commercial buildings
---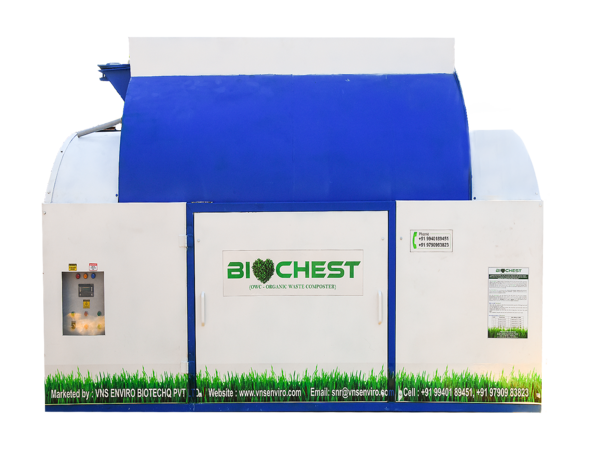 What is the answer we have
The BIOCHEST (Organic waste Composting reactor) converts your biodegradable waste into compost (fertilizer) automatically. BIOCHEST was developed after extensive research and development work conducted at our premises in Chennai, India.
BIOCHEST Uses forced aeration and mechanical agitation to control conditions and promote rapid composting
The BIOCHEST is a combination of a device and process, targeting the quickest transformation of biological waste into consistent - quality compost at the lowest possible cost and management effort.
With the BIOCHEST you are ahead of the rest ready to meet any stringent environmental standards that may restrict operations from using traditional disposal methods. With BIOCHEST you will be able to transform your biological and organic wastes into a value added product to your operation and in turn recover some or all of its capital investment.
WHAT TO COMPOST?
Meat, Chicken Fish
Vegetable / fruit Waste
Waste Flowers
Papers/cardboard
Tree Leaves
Food Waste
Wood Shaving or Sawdust

BIochest can produce high quality compost without a heater

Fully automatic and technically advanced from other models

Internal system works around the natural aerobic composting process in nature

Microbes present inside the machine will produce heat naturally

Machine comes with a shredder to shred vegetables, garden refuse, leaves, fruits, meats, etc.



Industries we serve
Manufacturing Industries
Hotels

Educational Institutes

Corporates

Retails

Convention Centres

Municipality

Wedding Halls

Residential Apartments

Malls

Hospitals
VNS ENVIRO BIOTECHQ
We develop biotechnological solutions and manufacture equipment and products that provide environmentally friendly solutions for medium and large industries, commercial complexes, hospitals, residential flats, etc.