Bala Tourist Service Tourist Transport Operators 88, MGR Salai, Nungambakkam, Chennai - 600 034, Tamil Nadu , India
---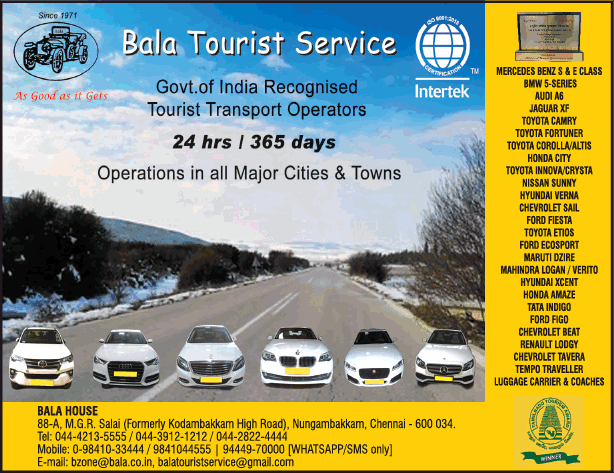 Bala Tourist Service
Tourist Transport Operators
Office Address:
BALA HOUSE
88, MGR Salai, Nungambakkam, Chennai - 600 034, Tamil Nadu , India
Tel: 04442135555 / 04428224444
Mobile: 9841033444 (No SMS) / 9841044555 (No SMS)
WhatsApp/Voice/SMS: 9444970000
E-mail: bzone@bala.co.in, balatouristservice@gmail.com
Since 1971

An ISO 9001:2015 COMPANY
As good as it gets!
National Award Winner for the Best Tourist Transport Operator
Welcome!
Celebrating 50 years and counting...

Why Book With Us

Best in class service.
Wide range of cars. Including EVs.
Leaders in the industry.
Pan India operations.
About us

Just like you, we hate waiting, we hate having to be late and we hate hiccups, snags and inefficiencies. So much so that we've spent the last 50+ years striving to give a seamless and smooth travel experience to our guests. This very motto of making travel in India a comfortable and an unforgettable experience has taken our founder M.P.Balakrishnan's fleet from one Ambassador, to a 250+ strong fleet ranging Maruti to Mercedes. A range that is one of a kind in the country.
Also to ensure you never have to worry about your travel arrangements this family owned business founded by Late. Mr M.P. Balakrishnan and currently run by his son Pradeep Balakrishnan work round the clock with at most attention to detail, well groomed drivers with uniforms backed up by well maintained cars. We operate in all major locations across India.
Have a problem with your travel arrangements? and you will often find yourself talking directly (talking directly not the other way round) to the Managing partners themselves, who will personally attend to your issue.
Impressive? You haven't seen anything yet.
Here efficiency thrives everyday.
Here it's truly not just about the destination but the journey itself.
It's as good as it gets.
Founder

Working in all kinds of jobs like selling newspapers, and in hotels, M.P. Balakrishnan's story is the true definition of rags to riches. He worked his way up the rungs of life through sheer perseverance and hard work with which he created a legacy. Ask him what got him to this position that most people only dream of? And he simply blamed it on discipline and persistent hard work. This is not hard to see in his daily routine, he used to show up at work at his sprawling office in the heart of the city at 8:30 am every day, even on Sundays. He always gave immense attention to detail and quality of service. He personally conducted quality checks on many of his cars before they reached the customers and is in a restless frenzy until the car and the neatly dressed driver make the way through Chennai traffic and at the same time in the other major cities and towns that Bala Tourist Service operates in. He was adamant that the staff pick up calls from customers within the first ring, you should try it, It's true! It's really a show of what it takes to be the best and needs to be experienced for one to believe. He worked alongside his son, Pradeep & together they have taken the business to new heights and achieved greater milestones.
Nearing 50 years of exemplary service the duo and their team were the recent recipients of the National Award for best Tourist Transport Operator in a felicitation chaired by the President of India. After an illustrious career spanning 65 years Balakrishnan breathed his last in February 2020, leaving the business in the able hands of his long-time partner and son Pradeep Balakrishnan and grandchildren.
---