ALMAZA RESTAURANT PRIVATE LIMITED NO - 30 A BLOCK, 6TH STREET ANNA NAGAR EAST, Chennai - 600102, Tamil Nadu, 600102
---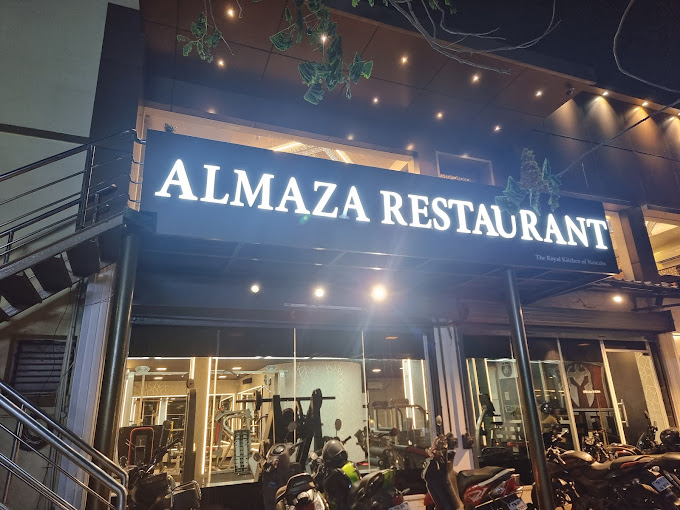 ALMAZA RESTAURANT PRIVATE LIMITED
NO - 30 A BLOCK, 6TH STREET ANNA NAGAR EAST, Chennai - 600102, Tamil Nadu, 600102
(Landmark - Behind Titan Showroom)
Phone.: 044 - 45561717
Mobile.: 9176317171
Email.: info@Almaza.in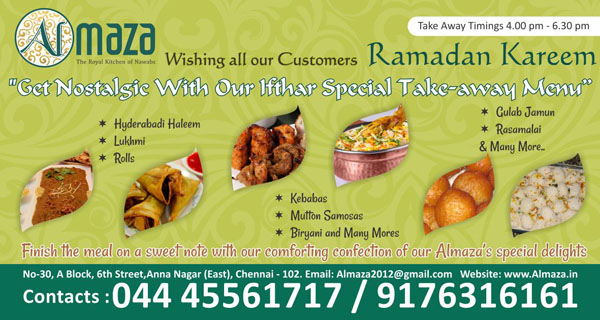 Welcome to Our Restaurant
Fine Dining with Nawab Style Cuisine
At Almaza, we are devoted to genuine Indian cuisine in the style of Nawab. Our recipes that are extremely mouth-watering are created by expert chefs having an in-house skills. The dining place provides live veggies and non-veggies starter barbeque dishes in endless servings, buffet -main course, broth, soups, sweets and a huge assortment of drinks that are made especially by us which cannot be experienced anywhere else.
Our devoted cooks take pleasure in creating works of art in the kitchen each day offering tastes that are perfectly balanced to improve our guests dining experience. Almaza brings the idea of a live barbeque grill and kebabs. A Worldwide Concept that this dining place provides a choice where our guests could prepare their food on personal barbecues, which are included in every table. With all exquisite styles we also offer the perfect ambience having clam and warm with a friendly atmosphere for you and for your dear ones.
About Us

Comfort and glamour, action and privacy, company and satisfaction welcome to "Almaza Restaurant" where you could experience the conventional Nawab style food. While you eat to your content of heart, you like to come here every time. This feeling is bought through our experienced cooks is the company circulation, which we have obtained here at Annanagar. The company circulation is not by any marketing released in the press, but it's been obtained from the client to testimonials. As evocative indicates Almaza fine-dine brings up opportunities in creating the most unique cuisine experience with the feature on the usability of genuine spices or herbs for you.
The specialty of this fine-dine is that clear kitchen is being developed from where guests could communicate with our cooks straight and order whatsoever type of food they want. Our excellent standards are in conjunction with the strictest worldwide cleanliness and health standards that is moved with expeditiously planning of the recipes to accomplish awards from our respected customers.
Banquet and Cozy Environment :
The new taste of this restaurant is the perfect place for a comfortable food with co-workers and friends, kitty parties, celebrations like birthday, private get-together and also for cozy twosome. This fine diner is also a venue where one could plan their conference with customers over meals, functions with banquet and small enterprise activities. Our continually top excellent of meals meets our heritage and guarantees that you would come back here again. "Almaza Restaurant" has devoted workers and a large number of pleased customers. We stay vivid, younger, innovative, devoted to serve you with improvement value. Its time for you to experience the best now!
Restaurant Timings
Sunday : 11:30 - 15:00 | 18:30 - 23:00
Monday : 11:30 - 15:00 | 18:30 - 23:00
Tuesday : 11:30 - 15:00 | 18:30 - 23:00
Wednesday : 11:30 - 15:00 | 18:30 - 23:00
Thursday : 11:30 - 15:00 | 18:30 - 23:00
Friday : 11:30 - 15:00 | 18:30 - 23:00
Saturday : 11:30 - 15:00 | 18:30 - 23:00