Temple style Dal Khichdi, a traditional Indian dish made with Rice, Lentils, and Spices.
---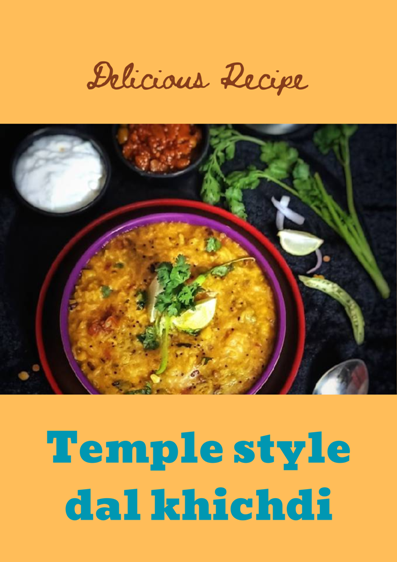 Temple style Dal Khichdi is a traditional Indian dish made with rice, lentils, and spices. It's a simple, nutritious, and comforting meal that can be enjoyed any time of the day. Here's the recipe and method for preparing Temple style dal khichdi:
Ingredients:
1 cup rice
1/2 cup split yellow lentils (moong dal)
1 onion, chopped
1 tomato, chopped
2-3 green chillies, chopped
1 inch ginger, grated
1/2 tsp cumin seeds
1/2 tsp mustard seeds
1/2 tsp turmeric powder
1/2 tsp red chilli powder
Salt to taste
3 cups water
1 tbsp ghee (clarified butter)
Method:
Wash the rice and lentils together in a colander until the water runs clear.
In a pressure cooker, heat the ghee on medium heat and add cumin seeds and mustard seeds. Allow them to splutter.
Add chopped onions, green chillies, and grated ginger. Saute until onions turn golden brown.
Add chopped tomatoes, turmeric powder, red chilli powder, and salt. Cook until tomatoes become soft.
Add the rice and lentils mixture into the cooker and mix well with the masala. Pour in 3 cups of water and stir.
Close the lid of the pressure cooker and cook for 2 whistles on high heat. Reduce the heat to low and cook for another 10 minutes.
Turn off the heat and let the pressure release naturally.
Open the lid of the cooker and give the khichdi a good stir. Add more water if required and adjust the salt.
Serve hot with a dollop of ghee on top.
Healthiness:
Temple style dal khichdi is a healthy and balanced meal that is rich in protein, fiber, and carbohydrates. Lentils are a good source of plant-based protein and fiber, which help in maintaining satiety and keeping blood sugar levels stable. Rice provides carbohydrates for energy, while the spices add flavor and are rich in antioxidants that boost immunity. Ghee is a good source of healthy fats that provide energy and support digestion. Overall, this dish is low in fat, easy to digest, and a great option for a balanced and nutritious meal.