MAYIM SYSTECH INDIA PRIVATE LIMITED Greater Than Infinity 4/564,1st floor, Railway Station Road, Dharmapuri, Tamil Nadu, 636701
---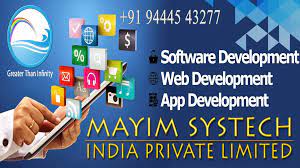 MAYIM SYSTECH INDIA PRIVATE LIMITED
Greater Than Infinity
4/564,1st floor, Railway Station Road, Dharmapuri, Tamil Nadu, 636701
Phone : +91 4342 234577
Mobile : +91 9444543277, +91 99941 94885
Email : info@dazzlesystech.com
ABOUT US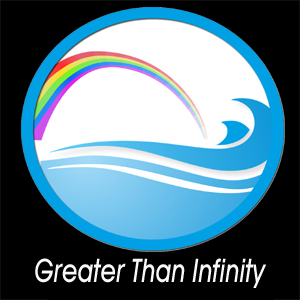 WELCOME TO MAYIM SYSTECH INDIA PRIVATE LIMITED
Mayim Systech (I) Pvt. Ltd., is an Indian based technology-driven engineering company which gives solution for website design/development and development of various applications on different technologies and domains. Mayim Systech (I) Pvt. Ltd., has worked with many vendors/companies worldwide and we are in tune with the standards and expectations from us regarding the proposed project.
We at Mayim Systech (I) Pvt. Ltd., are committed to delivering top quality and service in order to sustain our clients' business. The entire projects will be taken up at the Mayim Systech (I) Pvt. Ltd., facility in Dharmapuri, India.
Mayim Systech (I) Pvt. Ltd., is run by young,dynamic and ethical people. We are very easy to approach,creative in new ideas,prompt in updating the technology.
PROFILE
Mayim Systech (I) Pvt. Ltd., was registered as India Private Limited Company in 2019. Mayim Systech (I) Pvt. Ltd., is a developing software development company in India. It provides Offshore Software Development Services & Solutions and Web Solutions with many Services. Mayim Systech India Private limited has young dynamic officers who has a rich engineering pedigree in the software field. Its commitment to quality and distinguished record in customer service have enabled it to establish leadership position in most of its business ventures viz. Engineering, Information Technology, etc
EXECUTIVES
Cheif Executive Officer: S.MOSES IMMANUVEL B.E.,
Moses Immanuel is the Cheif Executive Officer of the Mayim Systech (I) Pvt. Ltd.,. He holds a Bachelor degree in Engineering in the Electronics and Communication Engineering field from Anna University, Chennai.
Marketting Manager: S. Solomon Abraham B.Sc., B.E.,
Solomon Abraham is the Marketting Manager of the Mayim Systech (I) Pvt. Ltd.,. He holds a Bachelor degree in Science (Chemistry) from Periyar University, Salem, and also holds a Bachelor degree in Engineering in the Computer Science and Engineering field from Anna University, Chennai.
Director: S.EBENEZER B.Com.,
Ebenezer is the General Manager of the Mayim Systech (I) Pvt. Ltd.,. He also partner of the tax consultant office (STALIN And CO) in Dharmapuri. Ebenezer holds a Bachelor degree in Commerce from Tamilnadu Open University
Director : S. JOHN CHRISTOPHER B.E
John Christopher is the Manager of Software Development of the Mayim Systech (I) Pvt. Ltd.,. John Christopher holds a Bachelor degree in Engineering in the Computer Science field from Periyar University, Salem.
DIRECTORS
Director: P.SEETHALAKSHMI B.A.B.L.,
Mrs.Seetha Lakshmi is the Director of the Mayim Systech (I) Pvt. Ltd.,. She holds a B.A.B.L. degree in Law, Dr.Ambedkar Law University , Chennai E.
Director: M.GRACE M.C.A.,
MRs.Grace is the Director of the Mayim Systech (I) Pvt. Ltd.,. She holds a Master degree in Computer Application from Periyar University,Salem.
SERVICES
GST Billing Software
SEO, CMS & ECommerce
Web Design, Hosting & Application
Mobile Application Development
Animation & Logo Design
Welcome to Mayim Systech (I) Pvt. Ltd.,!
GST Billing and Accounting Software
Mayim Systech India Private Limited provides ultimate GST solution for any kind of business. Our Software PURCHASE AUTOMATION SYSTEM (PASv3.1) gives solutions for all of your GST problems. We have GST billing customers all around TamilNadu, such as Dharmapuri, Salem, Krishnagiri, Hosur, Namakkal, Madurai, Chennai, Rajapalayam and Kallakurichi. PAS , ultimate GST Software, is easy to use. Its user friendly.
Features of Purchase Automation System (PASv3.1)
All in one software for GST Billing,Inventory Management, Business Administration (Income, Expenses, Balance sheet, Auditor Report)
Generate GST compliant invoices
Maintain items catalog and contact directory automatically
Save time in get Auditor Reports, GST Reports
Record payments for invoices created in the system
Track payments easily & get paid on time
Manage stock for items you generate invoices for
Automatically update stock while you create invoices
Track available quantity of items in your stock
You can Manage your all business activities (Incomes, Expenses, Balance Sheets, Attendance Management, etc)
PASv3.1 gives various analysis reports of your business, So that you can improve your business
Welcome to Mayim Systech (I) Pvt. Ltd.,!

E-Commerce
Electronic commerce, commonly known as e-commerce, eCommerce or e-comm, refers to the buying and selling of products or services over electronic systems such as the Internet and other computer networks.
However, the term may refer to more than just buying and selling products online. It also includes the entire online process of developing, marketing, selling, delivering, servicing and paying for products and services.
The amount of trade conducted electronically has grown extraordinarily with widespread Internet usage. The use of commerce is conducted in this way, spurring and drawing on innovations in electronic funds transfer, supply chain management, Internet marketing, online transaction processing, electronic data interchange (EDI), inventory management systems, and automated data collection systems.
Modern electronic commerce typically uses the World Wide Web at least at one point in the transaction's life-cycle, although it may encompass a wider range of technologies such as e-mail, mobile devices and telephones as well.
CMS
A content management system (CMS) is the collection of procedures used to manage work flow in a collaborative environment. These procedures can be manual or computer-based. The procedures are designed to do the following:
Allow for a large number of people to contribute to and share stored data
Control access to data, based on user roles (defining which information users or user groups can view, edit, publish, etc.)
Aid in easy storage and retrieval of data
Reduce repetitive duplicate input
Improve the ease of report writing
Improve communication between users
We are mainly concentrating on the following CMS Systems.

Enterprise content management systems



Web content management systems
Component content management system
SEO
Search engine optimization (SEO) is the process of improving the visibility of a website or a web page in search engines via the "natural" or un-paid ("organic" or "algorithmic") search results.
We will be doing the SEO for all kind of web applications, inclues open source web applications.
The best techniques we are using for SEO are
Checking and changing Domain & File Names
Keyword Phrases
Density of the Keyword
Title & Meta Description Tag contents
Meta Keywords Tag
Author & Robots Tags
Quality and Quantity of contents
By avoiding dynamic URLs
By Site Design
Using Robots.txt File
Welcome to Mayim Systech (I) Pvt. Ltd.,!

Web Design & Hosting
A web hosting service is a type of Internet hosting service that allows individuals and organizations to make their own website accessible via the World Wide Web. Web hosts are companies that provide space on a server they own or lease for use by their clients as well as providing Internet connectivity, typically in a data center. Web hosts can also provide data center space and connectivity to the Internet for servers they do not own to be located in their data center, called colocation or Housing as it is commonly called in Latin America or France
We are providing following hosting services.
Only Rs.750/- per year - which include simple design for your company/retail shop. You will get a subdomain in dpi.net.in or slm.net.in
We will get Windows Hosting from Rs.2200/- per year
We are covering all the platforms (e.g. PHP, Java, Ruby on Rails, ColdFusion, and ASP.NET,ASP)
We also covers all kind of database systems(like MSSQL, MYSQL etc)
Web Solutions
A quality website design ensures your website a prominent place in the highly competitive online business industry. Our customized web design solutions blend smart designing concepts with innovative ideas to create eye-catching and effective designs. We offer designs that are target audience and intended market centric to benefit your business.
We have years of experience in ASP.NET, PHP, ASP, and other programming languages. We provide highly customized and interactive programming solutions to suit your online business needs.
Following are the main key services we provide on web solutions
Web Programming
Graphic Design
Blog Customization
Forum Customization
Directory Site Design
Website design for mobile devices
Flash Design
Mobile Web Solutions
The Mobile Web refers to the use of Internet-connected applications, or browser-based access to the Internet from a mobile device, such as a smartphone or tablet computer, connected to a wireless network.
We are offering services in the following Mobile Application Areas.
Though Internet access "on the go" provides advantages to many, such as the ability to communicate by email with others and obtain information anywhere, the web, accessed from mobile devices, has many limits,[4] which may vary, depending on the device. However, newer smartphones such as the iPhone and those using the Android operating system overcome some of these restrictions. Some problems which may be encountered include:
Small screen size
Navigation - Most mobile devices do not use a mouselike pointer.
Lack of JavaScript and cookies
Speed - On most mobile devices, the speed of service is very slow, often slower than dial-up Internet access.
Size of messages - Many devices have limits on the number of characters that can be sent in an email message.
Cost - the access and bandwidth charges levied by cellphone networks can be high
Welcome to Mayim Systech (I) Pvt. Ltd.,!

Mobile Application Development
We understand the complexities of Android development and what features and design Android apps should have to satisfy the increasingly high standards of Android users. Based in London, we can seamlessly guide you through the whole Android app development process, from concept right through to launch. Apps are at the heart of what we do. We design and build custom-made mobile apps and web systems that make a difference. Moreover, our consultative approach provides impartial, strategic advice that will enhance and grow your business.
We have the resources and breadth of experience to turn ideas into reality - FAST.
Our expertise stretches from iOS and Android through to integrating backend databases, intuitive Content Management Systems and web service connections.
Whether you want to mobilise your internal processes, develop an entrepreneurial idea, motivate your employees or simply raise the profile of your brand - please get in touch.
Our Mobile Technologies are,
Android
iOS
iPhone
iPad
Blackberry
Symbian
Welcome to Mayim Systech (I) Pvt. Ltd.,!

Animation Works
Animation is just a series of still images shown in sequence, so the most obvious way to add animation to a Web site is to post a series of bitmap images that the user's browser displays in sequence.
These days, you can find animated figures all across the Internet! There are a number of technologies that web designers use to create animation, including:
Flash Animation
Animated GIFs
Dynamic HTML
Java
Shockwave and others