Boost your real estate sales with WhatsApp
---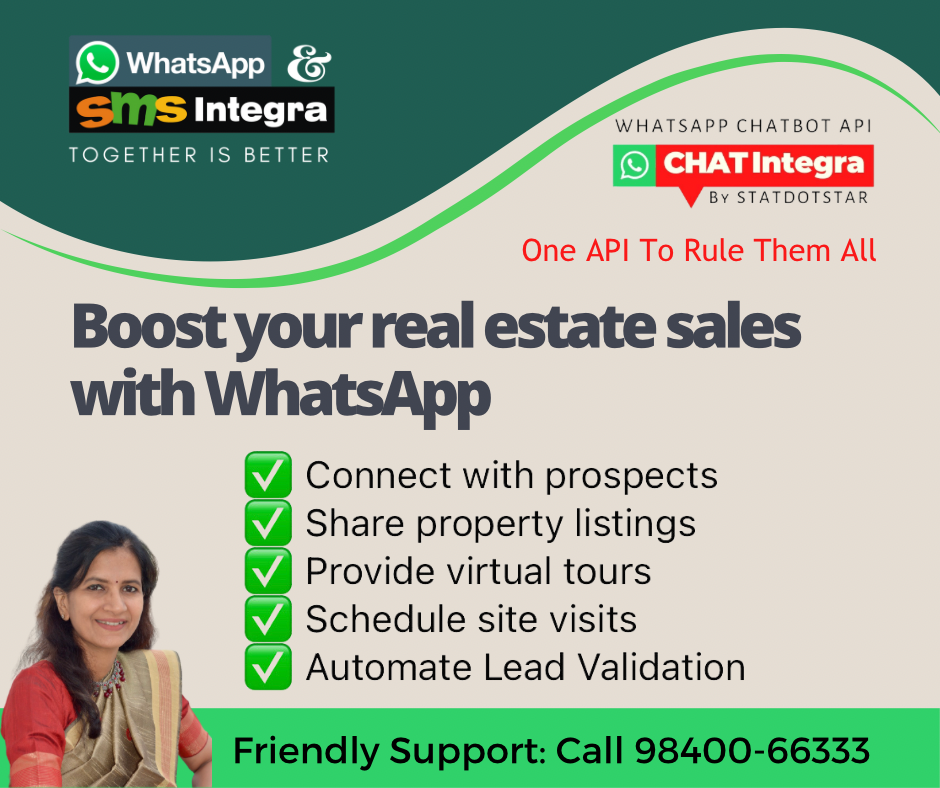 Boost your real estate sales with WhatsApp
Are you looking to take your real estate sales to the next level?
WhatsApp can be a valuable tool for real estate agents like you. With over 2 billion active users worldwide, WhatsApp is the go-to messaging app that many people use on a daily basis. As more and more people become comfortable with using messaging apps as their primary communication channel, the opportunity to use WhatsApp for sales is more significant than ever before.
Here's how WhatsApp can help boost your real estate sales:
1. Reach potential customers where they are: By utilizing WhatsApp, you can reach potential clients where they are already spending time - on their mobile devices. With WhatsApp's mobile-first approach, you can communicate with potential clients quickly and conveniently at any time of the day or night, which increases your chances of making a favorable impression and building trust.
2. Improve response times: With WhatsApp, you can communicate with potential clients in real-time and improve your response time to their inquiries. This creates a positive user experience, demonstrating that you are responsive and professional while distinguishing you from competitors.
3. Build stronger relationships: Communicating with clients through WhatsApp allows you to build stronger relationships with them. By sharing relevant and useful content such as images, video, and other media within the app, you can create a richer, more personalized experience for your clients, leading to better engagement.
4. Instant feedback: Quickly obtain feedback from clients on properties you have shown or for new listings. Real-time communication lets you address any concerns or doubts your client may have, leading to quicker sales and a higher satisfaction rate.
Ready to learn how to leverage WhatsApp to boost your real estate sales? Sign up today to get personalized training, tactical marketing tips, and insights into the latest best practices. By investing in your knowledge and becoming proficient in WhatsApp usage in your real estate practice, you will see improved engagement, leads, and sales results.
#Whatsappbusinessapi #whatsappbusinessapiindia #whatsappbusiness #whatsappapi #stardotstar #chatintegra #botfrnd #chatbots, chatbotdevelopment #chatbotmaker, chatbotmarketing
Start your journey to converting more leads through WhatsApp - Sign up to our training today!