Understanding dental insurance and financing options
---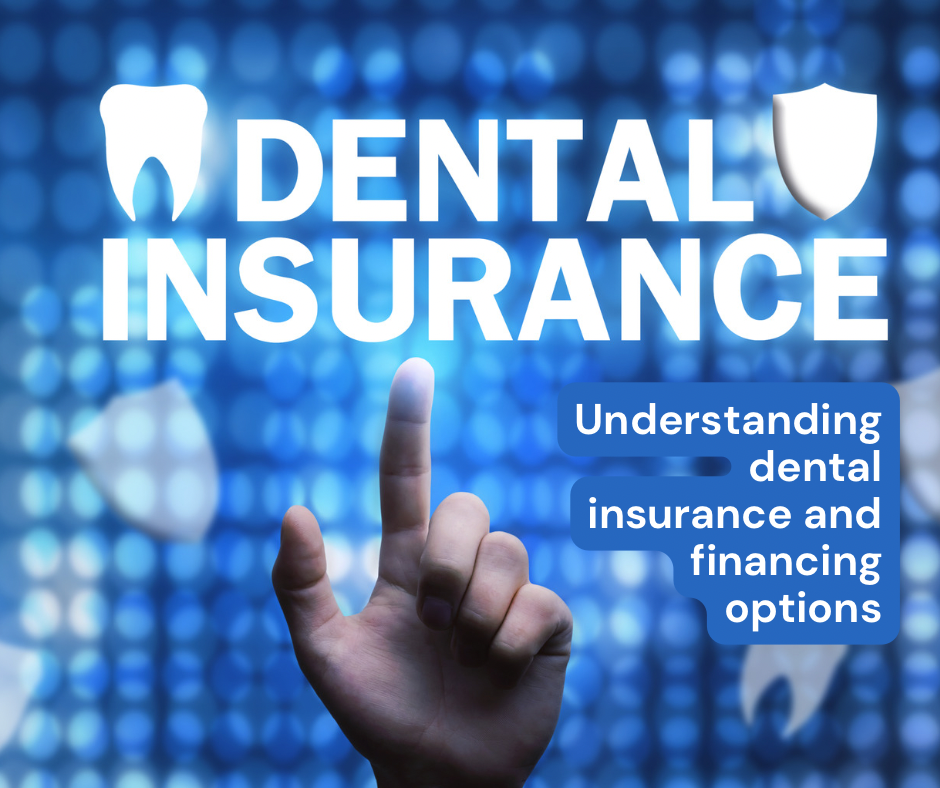 Understanding dental insurance and financing options
Regular dental checkups and cleanings are important for maintaining good oral health, but the cost of dental care can add up quickly. That's why it's important to understand your dental insurance and financing options.
Dental insurance is a type of health insurance that helps cover the cost of dental care. There are two main types of dental insurance: dental HMOs and dental PPOs. Dental HMOs typically require you to choose a primary care dentist from a network of providers, while dental PPOs offer more flexibility in choosing a dentist. Dental insurance typically covers preventative care, such as checkups and cleanings, as well as basic and major restorative procedures like fillings and root canals. However, coverage for cosmetic procedures like teeth whitening may be limited or not covered at all.
It's important to read your dental insurance policy carefully to understand what is covered and what is not. Some policies may have exclusions or limitations, so it's important to know what procedures are covered and what your out-of-pocket costs will be.
If you don't have dental insurance, there are other financing options available. Many dental offices offer financing plans that allow you to pay for your treatment over time. These plans may have low interest rates or even no interest if you pay off your balance within a certain period of time.
Another option is to use a healthcare credit card, which can be used to pay for dental care as well as other medical expenses. These credit cards often have promotional financing offers, such as no interest for a certain period of time, but it's important to read the terms and conditions carefully to understand the interest rates and fees associated with the card.
In addition to dental insurance and financing, there are other ways to save money on dental care. Some dental offices offer discounts for patients who pay in cash or who refer new patients to the practice. You can also ask about any available discounts or promotions when scheduling your appointment.
Overall, it's important to understand your dental insurance and financing options to ensure you can access the care you need to maintain good oral health. Don't be afraid to ask questions and explore different options to find the one that works best for you.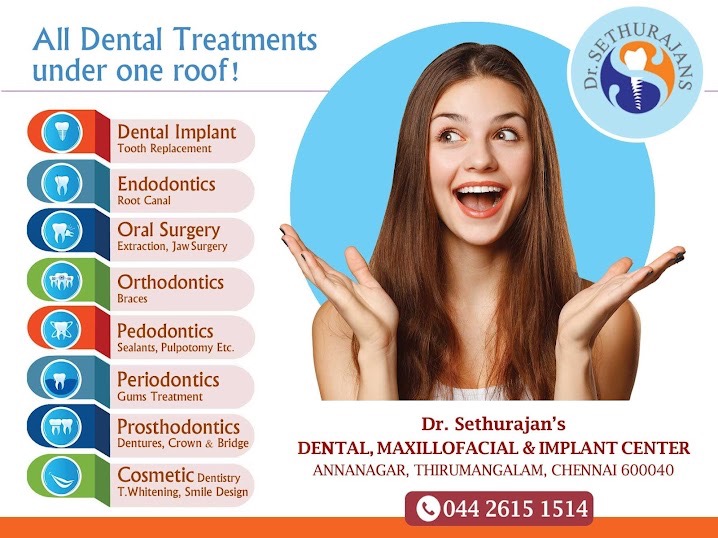 To set up your appointment give us a call at
(+91) 44 2615 1514 / (+91) 7397220464.
We have offices in Anna Nagar West. Walk-ins welcomed, we take emergencies and we are open on late nights to accommodate patients with a busy schedule. We hope to see you soon!
Dr. Sethurajan's Dental & Maxillofacial and Implant Centre
1/3, Welcome colony,
Ambattur Estate Road,
Thirumangalam,
Anna Nagar West Extension,
Chennai, Tamiladu 600101
Clinic Timings:
Morning: 9.30am – 1.30pm
Evening: 4pm – 9.00pm
Sunday: 10am – 1.00pm
Dr. S.B. Sethurajan obtained his bachelor's degree from Vinayaka Missions Sankarachariar Dental College, Salem, of Tamilnadu Dr.MGR Medical University in 2001. He completed his post-graduation as an Oral and Maxillofacial Surgeon at Madras Dental College, a proud institution of Dental Sciences in Tamil Nadu. He is a proud member of the Indian Board of Oral and Maxillofacial Surgery and the Indian Society of Implantology, a fellow of IBOMS AND ISOI, and a life member of DCI, AOMSI, and ISOI.
He's been selected for AOCMF Fellowship, Beijing, China

He was working as Assistant Professor at Kilpauk Medical College and in Govt. Dental College for 7 years
Dr. Sethurajan runs a multispeciality dental clinic in Anna Nagar West, Chennai for more than a decade. He is currently working as a Senior Assistant Professor in the Dept. of Plastic and Reconstructive Surgery at Rajiv Gandhi Govt. General Hospital & Madras Medical College, is one of the top ten medical colleges in India.
Dr. Sethurajan is extensively trained in Implantology and Rhinoplasty through various national and international conferences. His specialized area of interest includes Dental Implants, Nose Correction (Rhinoplasty), Jaw Advancement ( Orthognathic Surgery ), Facial Trauma, and Oral Cancer. He has completed the Advanced Rhinoplasty Dissection Course in Singapore.