C SOFT SOLUTIONS we understand your needs 2/51, Ekkambaram Industrial Estate, Porur, Chennai -600 116
---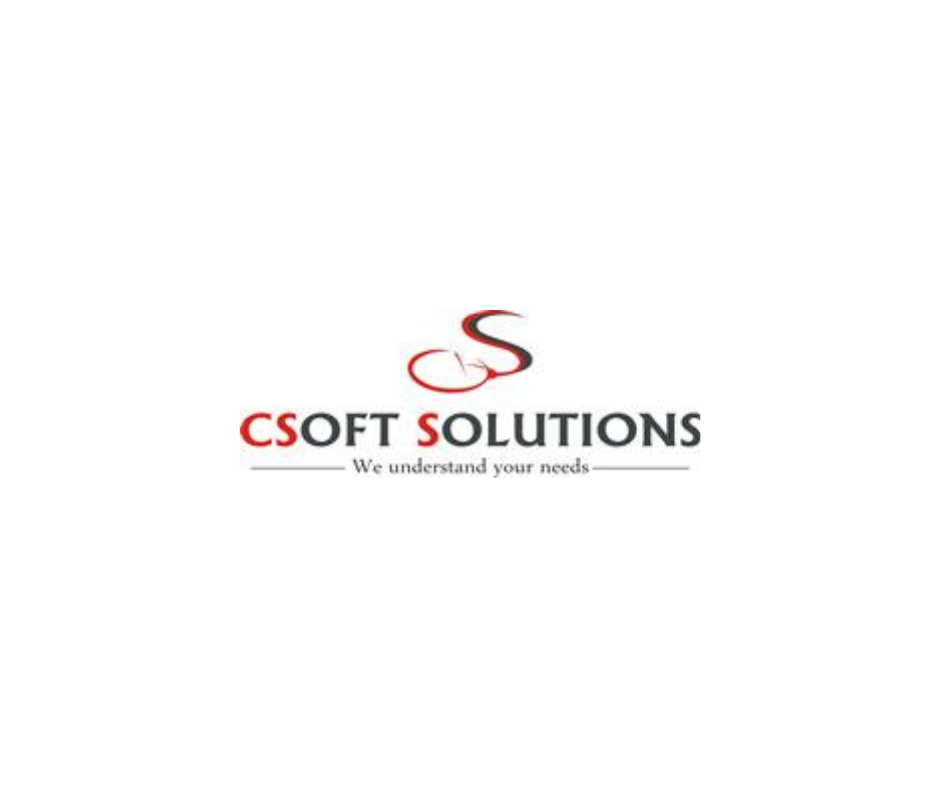 C SOFT SOLUTIONS
we understand your needs
2/51, Ekkambaram Industrial Estate, Porur, Chennai -600 116
Ph: +91 44 2476 2662 / +91 90 256 20 230
sales@csoftsolutions.co.in
About US

cSoft Solutions is one of the fastest growing software house, based at Chennai. cSoft provide end-to-end business solutions for Tally. Our services span the entire gamut - from sales, Implementation, training, customization, after-sales services and maintenance. cSoft also has integrated, customized and enhanced products/applications.
cSoft helps clients manage the business and technology complexities of today's economy. We provide software, technological expertise, quality procedures and services. Our software, Web solutions and services fit for your business and budget and will help you to stay ahead of your competitors in a challenging global market. The solutions we devise emanate from understanding our clients needs and their requirements. Our experienced project management team with proven technical capabilities ensures that our customers receive Intelligent Solutions in the most timely, cost efficient & reliable manner. We are highly experienced custom software programmers serving varied interests of our valued clients.
Our Software development centre gives our clients the advantage of getting right qualitative solutions at lower costs. The net effect is that you get a custom program for your business for a relatively low price, thus saving on a lot on the developmental costs.
cSoft understands the business implications of each client, and their requirements to offer highly customised solutions that fits perfectly for your businesses. We are blessed with our highly satisfied customers who give repeat businesses for their increasing business needs.
SERVICES
Tally Customization

Tally covers almost every aspect of a normal business. But as customer grows so the company needs more requirements. He thinks of automizing other aspect of business, which never bothered him before. With growing number of users he plans to add more Features like security, Voucher authorization, Head offce & branch office connectivity, MIS reports even when he is overseas.
We can customise your Vouchers, Invoice Plain Paper or Pre Printed, Security Control, MIS reports and even change input screens to capture additional data required by you.
Each and every organizations from every industry are recognizing the hidden power behind tally Customisation.
Tally Implementation

Tally 9 is an off the shelf software and can be purchased anywhere from India . However Tally 9 is loaded with features and is hard to comprehend the software in its entirety within short time. Due to lack of knowledge and initiation, Most of the people uses only 10% of Tally 9. Csoft will drive your user to the maximum percentage. cSoft will assure you that all the facility of the software will be benefits to the customer. cSoft will implement the Tally 9 and complete training for your staffs each will be focused according to their work profile and applicable to your industry. Tally Expert with various industries experience and having knowledge of local Taxation Rules and Statutory compliance shall impart training.
Data Recovery

cSoft having 13years of experience in handling Tally data from 4.5 to 9.0. cSoft recover your Data fastest and cost-effective
Data Migration

Data Migration from older versions of Tally. We convert your existing Tally 4.0, 4.5, 5.4, 6.3, 7.2 & 8.1 data to Tally 9.

We also convert all your accounting, inventory & payroll related data from your existing software to Tally 9.
Remote Support

cSoft provides Instant remote Support for our customer around globe within span of time, our engineers will resolve most problems faster @ low cost.

Split Company Data

Tally allows users to maintain a company for multiple financial years. Once the books of accounts are completed for previous financial years and if the user wishes, he could split the company data into multiple companies as per financial periods required. Tally offers a feature of splitting company data. The user can specify the date from which the company has to be split and Tally will split the company to form two companies as per periods specified.

Reset forgotten password

Most of the people don't know what to so when they forget their password or their key employee runs away after changing the administrative password. cSoft provides services and assure you that your password will is unlocked.

PRODUCTS
General Features
Concurrent Multi-lingual capability
Payroll
Job Costing
POS Invoicing
Flexible Financial Periods
Unlimited Companies
Data Synchronisation
Consolidation of Companies
Unlimited levels of classification
Advanced MIS
Drill Down Facility
AP / AR
Scenario Management
Accounting Features

Accounting without CODES
Complete Bookkeeping
Comprehensive Accounting
Multi-currency Accounting
Quotations, Sales Orders
Invoice Printing
Cheque Printing
Budgeting
Security Control
Powerful Audit Capabilities
Unlimited Cost/Profit Centres
project oriented reporting
Interest Calculation
Inventory Features

Multi-location Stock Control
Multiple-location
Warehouse Management
Flexible Units of Measure
Varieties of Management Reports
Stock Ageing
Batch-related Stock Reports
Sales & Purchase Orders
Invoicing
Multiple Stock Valuation
Reorder Levels
Multiple Price Levels
Other Unique Features
Cutting-edge Technology
OpenTally – Tally ODBC
MailTally
Statutory Features

Value Added Tax
* Simplifies every aspect of VAT
* Tracks VAT transactions to State specific VAT classification with inbuilt rates of taxes
* Generates VAT Computation for the desired period, along with Input VAT
* Details, Output VAT Details and net VAT payable amount
* Helps you file regular VAT/Composite Returns for a given period
Tally for Service Tax

* Pre-defines Service Tax categories/rates and the applicability of these rates from a given date
* Tracks input tax credit and adjusts it against Service Tax payable
* Provides information on net payable
* Generates half yearly Returns, annual Returns and TR-6 Challans, in the blink of an eye
Excise for Traders
* Generates Excise Invoices for traders
* Tracks Purchase Invoices during sales, with the ability to pass on Cenvat Credit
* Generates Quarterly Returns (Form 2)
* Maintains Excise Stock Register (RG 23D)
Tax Deducted at Source (TDS)
Allows you to configure TDS ledgers by specifying the Nature of Payment and Assessee Types along with the Rate of TDS
Determines user-defined expense/payment type with user-defined rates
Auto-deduction of TDS, based on pre-defined rates, once the transaction exceeds the threshold limit
Generates Challans and Form-16A Certificate
Generates and files quarterly and annual returns within the specified 25-day period
Generates e-TDS files in NSDL compatible formats
Employees Provident Fund (EPF)

Generates following Monthly / Annual statutory Challans & Reports
Form 12A
Form 5
Form 10
PF Monthly Statement
Form 3A - Employee wise Annual Payment details
Form 6A -Annual Statement of PF contribution
PF Administration Charges @ 1.10%
Employees' Deposit-Linked Insurance Scheme (EDLI) @ 0.5%
EDLI Administration Charges @ 0.01%
Other Admin Charges (inspection charges, interest paid etc)
Employees State Insurance (ESI)

ESI Monthly Statement
ESI Monthly Payment Challan
Form 3 - Half Yearly declaration form
Form 5 - Half Yearly Return of ESI Contributions
Form 6 - Half Yearly Employee Register
Professional Tax (PT)

PT Computation Report
PT Monthly Report