Legal Advisory Services in Chennai
---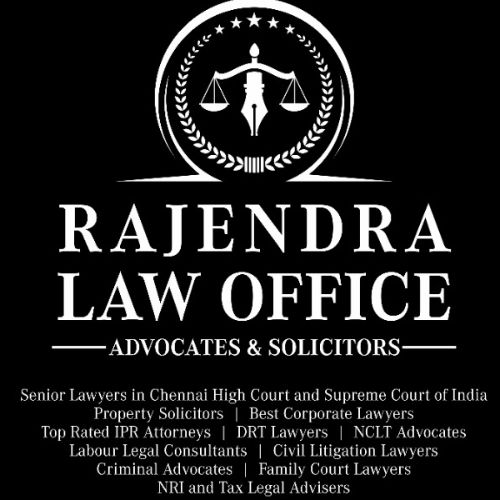 Rajendra Law office LLP, located in Chennai, is a prominent law firm providing a wide range of legal advisory services to clients in various industries. With a Senior Lawyers over 20 years of experience, the firm has built a reputation for providing high-quality legal services to clients in India and abroad.
The firm's Legal Advisory Services cover a wide range of legal areas, including corporate law, commercial law, intellectual property law, labor law, real estate law, and litigation.
Few the Legal Services are as follows
Criminal Cases
Civil Cases
Family Law Cases
Employment Law Cases
Intellectual Property Cases
Personal Injury Cases
Real Estate Cases
Business Law Cases
Environmental Law Cases
Estate Planning Cases
Immigration Law Cases
Tax Law Cases
Securities Law Cases
Insurance Law Cases
Constitutional Law Cases
Bankruptcy Cases
Maritime Law Cases
Education Law Cases
Entertainment Law Cases
Medical Malpractice Cases
Their team of experienced lawyers provides clients with legal advice and representation in a timely and efficient manner, ensuring that clients receive the best possible legal solutions.
Corporate and commercial law services include legal advice and assistance in company formation, mergers and acquisitions, joint ventures, and commercial contracts. The firm's team of experts assists clients in drafting, reviewing, and negotiating contracts, agreements, and other legal documents to ensure compliance with Indian laws and regulations.
Intellectual property law services include advice and assistance in obtaining and enforcing patents, trademarks, and copyrights. The firm's team of intellectual property lawyers assists clients in the protection and management of their intellectual property rights, including conducting patent searches, filing and prosecuting patent applications, and defending against infringement claims.
Labor law services include legal advice and assistance in employment-related matters, including compliance with employment laws and regulations, drafting and reviewing employment contracts, and resolving disputes between employers and employees.
Real estate law services include legal advice and assistance in property-related matters, including drafting and reviewing sale deeds, lease agreements, and other property-related documents. The firm's team of lawyers also assists clients in resolving disputes related to property ownership and other property-related issues.
Litigation services include legal representation in various courts and tribunals in India. The firm's team of experienced litigators provides clients with effective representation in civil and criminal matters, including arbitration, mediation, and other alternative dispute resolution mechanisms.
In addition to its legal advisory services, Rajendra Law office is also committed to providing clients with personalized and cost-effective legal solutions. The firm's lawyers work closely with clients to understand their legal needs and provide tailored legal advice and representation to ensure the best possible outcomes.
Overall, Rajendra Law office LLP is a leading law firm in Chennai that provides clients with comprehensive legal advisory services in various legal areas. The firm's experienced lawyers and commitment to client satisfaction make it a trusted partner for clients in India and abroad.