Chennai Tourist Places List PDF
---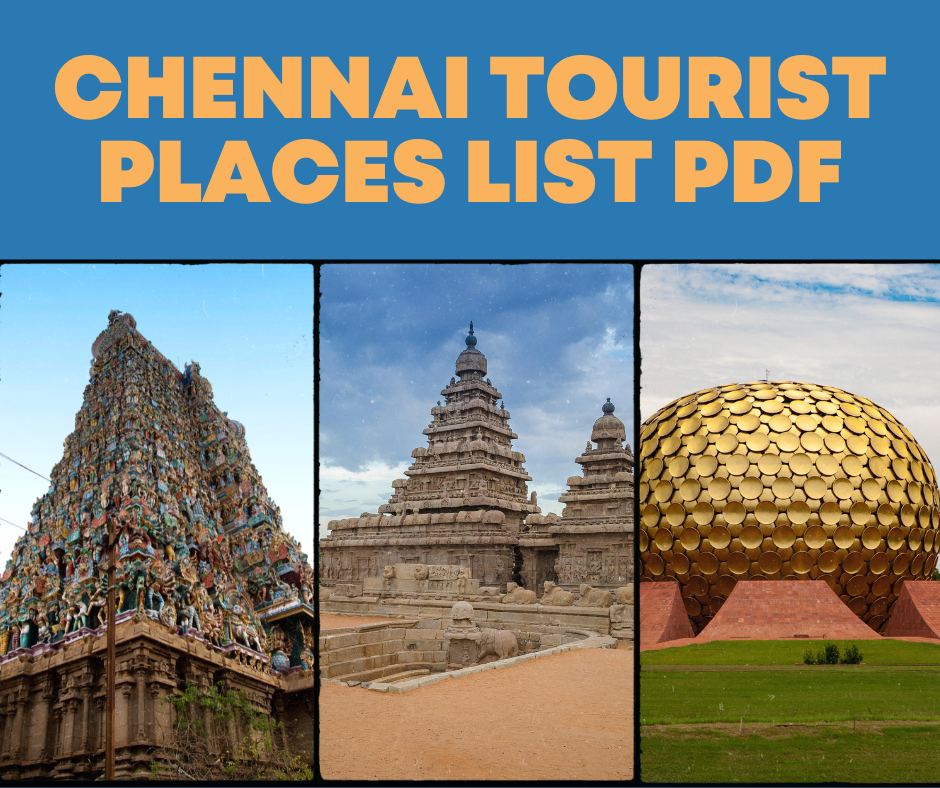 Chennai Tourist Places List PDF
Welcome to the ultimate guide for exploring the top tourist attractions in Chennai, a city that is rich in history, culture, and tradition. From stunning beaches to ancient temples, wildlife parks, and museums, Chennai has something for everyone. We have compiled a list of the best places to visit in Chennai, and we are excited to share it with you.
Explore the spiritual side of Chennai by visiting the ISKCON Temple, Ashtalakshmi Temple, Parthasarathy Temple, and Kapaleeswarar Temple. These stunning temples are not only breathtaking but also offer a glimpse into the rich cultural and religious traditions of the city.
For art enthusiasts, Chennai has Cholamandalam Artist's Village, National Art Gallery, and Connemara Public Library. These places are perfect for exploring the vibrant arts and culture of the city.
Take a trip to Dakshinchitra and Mahabalipuram to experience the city's rich heritage and architecture. Mahabalipuram, a UNESCO World Heritage site, is home to the stunning Shore Temple and the Five Rathas, which are a must-see for anyone visiting Chennai.
For those who love the outdoors, head to Covelong Beach, Marina Beach, Elliot's Beach, and Breezy Beach for some stunning ocean views and breathtaking sunsets. The Madras Crocodile Bank Trust, Guindy National Park, and Arignar Anna Zoological Park are perfect for nature lovers who want to explore the city's wildlife and biodiversity.
Chennai is also home to historical landmarks like Fort St. George, Vadapalani Murugan Temple, and Madras War Cemetery. These places offer a glimpse into the city's colonial past and are perfect for history buffs.
No visit to Chennai would be complete without trying some local food. From street food to fine dining, Chennai has a vibrant food scene that is sure to tantalize your taste buds.
Whether you are a first-time visitor or a seasoned traveler, this comprehensive list of Chennai's top tourist attractions is sure to make your trip a memorable one. Download our Chennai Tourist Places List PDF to plan your itinerary and make the most of your visit. Start exploring Chennai today!
Here are some popular tourist places in and around Chennai:

Marina Beach - A famous beach in Chennai, known for its long stretch of sandy shore and beautiful sunset views.

Mahabalipuram - A UNESCO World Heritage Site located about an hour's drive from Chennai, known for its ancient rock-cut temples and monuments.

Fort St. George - A historical site in Chennai that houses the St. George Museum, showcasing the city's colonial history.

Kapaleeswarar Temple - A famous Hindu temple in Chennai, dedicated to Lord Shiva, known for its unique Dravidian architecture.

Government Museum - A museum in Chennai that exhibits a vast collection of artefacts, sculptures, and paintings from ancient India and South India.

Valluvar Kottam - A monument in Chennai built in honor of the Tamil poet and philosopher, Thiruvalluvar, featuring his 1,330 couplets.

Elliot's Beach - A serene beach in Chennai, popular for its peaceful surroundings and scenic beauty.

Vedanthangal Bird Sanctuary - A bird sanctuary located about 75 km from Chennai, known for its migratory birds like pelicans, storks, and ibises.

Pulicat Lake - A beautiful lake located about 60 km from Chennai, known for its scenic beauty and bird watching opportunities.

DakshinaChitra - A museum located about 25 km from Chennai, showcasing the art, culture, and traditions of South India.

These are just a few of the many tourist attractions in and around Chennai that are worth visiting.