Why is Gold cheaper in Dubai?
---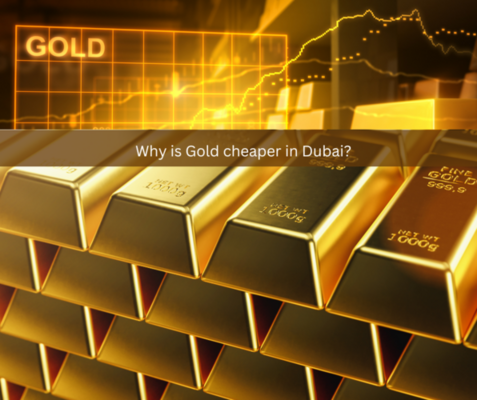 Gold is a precious metal that is highly valued all over the world, and its price can vary depending on a number of factors. In Dubai, gold prices are generally lower than in India for a few reasons.
One reason is the import duty on gold in India. The Indian government imposes a high import duty on gold, which makes it more expensive for retailers to bring the precious metal into the country. This cost is then passed on to consumers, making gold more expensive in India than in Dubai.
Another reason is that Dubai is a major trading hub for gold, with a large number of gold dealers and refineries located in the city. This competition among gold sellers helps to keep prices low. Additionally, Dubai has a strong tradition of gold trading, and the government has worked to create a favorable environment for gold businesses.
Lastly, Dubai has no VAT which makes gold cheaper in Dubai than in India.
In conclusion, gold is cheaper in Dubai than in India due to India's high import duty on gold, the competitive gold market in Dubai, and the absence of VAT in Dubai. These factors contribute to making gold more affordable for consumers in Dubai, while prices remain relatively high in India.
List of Top Gold Jewellery Showrooms in Chennai available for B2B marketing effort.
We facilitate #B2B connections, sales and growth.
WHAT ARE YOUR BUSINESS GOALS IN 2023?

THESE ARE SURELY OURS:
Become a growth vehicle for B2B businesses
• Help our members take up fierce competition
• Bridge the gap between buyers and sellers
• Maintain transparency and quality in B2B trading
• Assist small-scale businesses to deliver globally
• Advance presence as a leading B2B trade marketplace.
Continually improve our platform as an ultimate haven for B2B traders