Prism Portfolio Web Application Private Limited, 12/3, Meenakshipuram West,Main Road, Tuticorin - 628 002, Tamil Nadu State,
---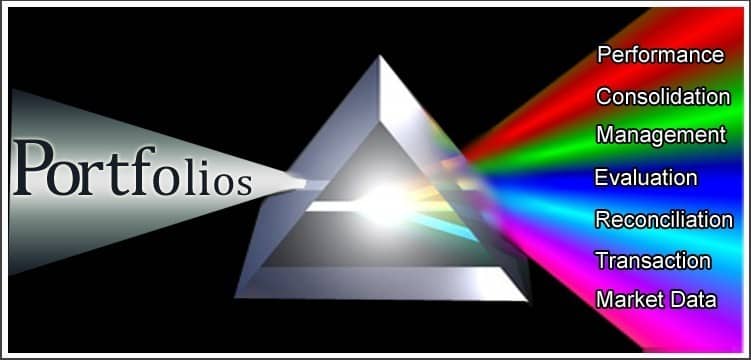 Prism Portfolio Web Application Private Limited,
12/3, Meenakshipuram West,Main Road, Tuticorin - 628 002, Tamil Nadu State,
EMAIL : Admin@PrismPortfolio.com
PHONE : 7598666003
Home
We offer Wealth/Portfolio/Asset Managers a back office solution for portfolio reporting. Our entire suite is offered as a service over the web, and, nothing needs to be installed at your premises. All records pertaining to market data, trades, portfolios, investors, portfolio managers, and administrators are maintained by us, so that you can devote 100% of your precious time doing what you love to do, namely, company analysis and investment decision making.
The trades executed in every portfolio are downloaded from brokerages, posted to portfolios, and, reconciled with brokerages by us, just so, you can review the portfolios managed by you as of any date from inception. Transactions, net asset value, and, more importantly, performance can be reported for each portfolio, or, for consolidated groups of portfolios for any date.
We present 360° view of your high net worth investors to help you improve their diversification. To help you with your investment decision making, we can present securities in portfolios of your high net worth investors, managed not only by you, but also by other portfolio managers, so that you can avoid investing and overweighting in the same securities they might be already invested in.
Investors can view all the portfolios managed by all their portfolio managers. To accurately review securities in portfolios spread across all portfolio managers, investors have the option to run reports on individual portfolios, on groups of portfolios, or, on all portfolios totally consolidated.
Let us have the privilege of being your IT department over the web, invisible but serving you 24/7. All you need is just a browser to avail our services.
Market Data
We download Market Data from approved vendors as our primary source. Prices of securities, especially closing prices, are downloaded from authoritative sources. Considering the fact that the accuracy of this data is of paramount importance to the appraisal of portfolios which then lead to the calculation of performance, various checks are done to assure their accuracy.
Data, after it is received, is exclusively handled by automated processes without manual intervention until it is processed, and posted. Processes are designed taking in to consideration the need to ensure the accuracy and integrity of the data.
Transaction
The trades executed by brokerages for all your portfolios are downloaded by us from the brokerages directly. Our posting process anticipates the availability of transactions at preset times. They are formatted and posted into the portfolios managed by you.
Transactions such as interest, dividend and capital gains generated by securities in every portfolio can be either downloaded from brokerages and posted, if the brokerages provide these transactions, or, these transactions can be generated by us and posted into every portfolio, if they are not provided.
When new portfolios are created for you by brokerages, those portfolios will also be created at your account with us. Primary and secondary investor names, addresses, contact information, etc. will also be updated as per the records sent by the brokerages. Changes made to the profiles of the portfolios by brokerages will also be reflected in the portfolios held by us.
Reconciliation
In order to verify the validity of the trades downloaded and posted by us, the quantities of each security held in each portfolio by us are reconciled every day with the quantities of each security held in each portfolio by the brokerages. After our reconciliation, our books and the books of the brokerages would match.
The cash balances in each portfolio can also be reconciled in the same way the quantities of the securities are reconciled.
Evaluation
Each portfolio can be evaluated/appraised on any date in the past and also on the same day after the closing of the exchanges when closing prices become available. The evaluation can be done for a group of portfolios, a single portfolio, an asset class within a portfolio, a security type within an asset class, a sector within a security type, an industry within a sector, a group of securities, or, a single security.
Historic closing prices for all securities in portfolios are maintained by us. Evaluations run for a portfolio for any date would present the actual end of the day holdings in the portfolio on that date for the closing prices of that day.
Management
Portfolios can be grouped as per the wishes of asset managers and investors to ease review of all portfolios in the group. Such group wise processing helps asset managers review their holdings across all portfolios in groups. Specific exposure to asset classes, security types, sectors, industries, and individual securities can be reviewed across all portfolios.
Consolidation
When an investor is managed by more than one asset manager, this investor, as well as all the asset managers, can report on all portfolios managed by all the asset managers for this investor. Such consolidated view of investors' accounts help both the investors as well as their asset managers.
Investors get total consolidated view of all their portfolios managed by all the asset managers accurately without having to undergo error prone manual consolidation. Portfolios can be reviewed and grouped by asset management companies, individual asset managers, or, by any other criteria.
Asset managers can review not only the portfolios managed by them and their in house colleagues for investors under their management, but also the portfolios managed by asset managers in other asset management companies for the same investors. Enabling asset managers to review securities held in all portfolios for their investors helps asset managers to achieve proper diversification not only in individual securities, but also in industries, sectors, security types and asset classes.
360° review of investors' holdings accurately done 24/7 provides asset managers the best information they can possibly get for the welfare of all the investors under their management.
Performance
Performance can be calculated for any time period during the lifetime of portfolios. Performance can also be calculated for a group of portfolios for group performance. Performance by individual securities and also by asset classes can also be calculated. The returns generated by portfolios over the life of those portfolios can be calculated by two performance calculation methodologies, namely, Internal Rate of Return (IRR), and Time Weighted Return (TWR).
Internal Rate of Return performance calculation takes into consideration the cash flows going in and out of portfolios. IRR can be calculated by using two methodologies, namely, Average Capital Base (ACB) and Discounted Cash Flow (DCF). Under ACB methodology the Modified Dietz method is used where the weighted average of each cash flow is calculated by taking into consideration the number of days each cash flow is in the period vis a vis the total number of days in the period. DCF uses Newton's Method to calculate the rate of return.
Time Weighted Return performance calculation does not take into consideration the cash flows going in and out of the portfolios. Whenever there are cash flows in and out of portfolios within the total time period, this total time period is broken on the dates of each cash flow into several sub-time periods. Each sub-time period would then have no cash flow at all. Returns are calculated for each sub-time period. Returns for all sub-time periods are linked together to arrive at the return for the total time period.