KSBS MANAGEMENT & TECHNOLOGY PVT LTD The company has a mission to provide affordable, clean, and reliable solar energy to communities and businesses throughout the country. 27 Nirmai Nagar, 1st Cros
---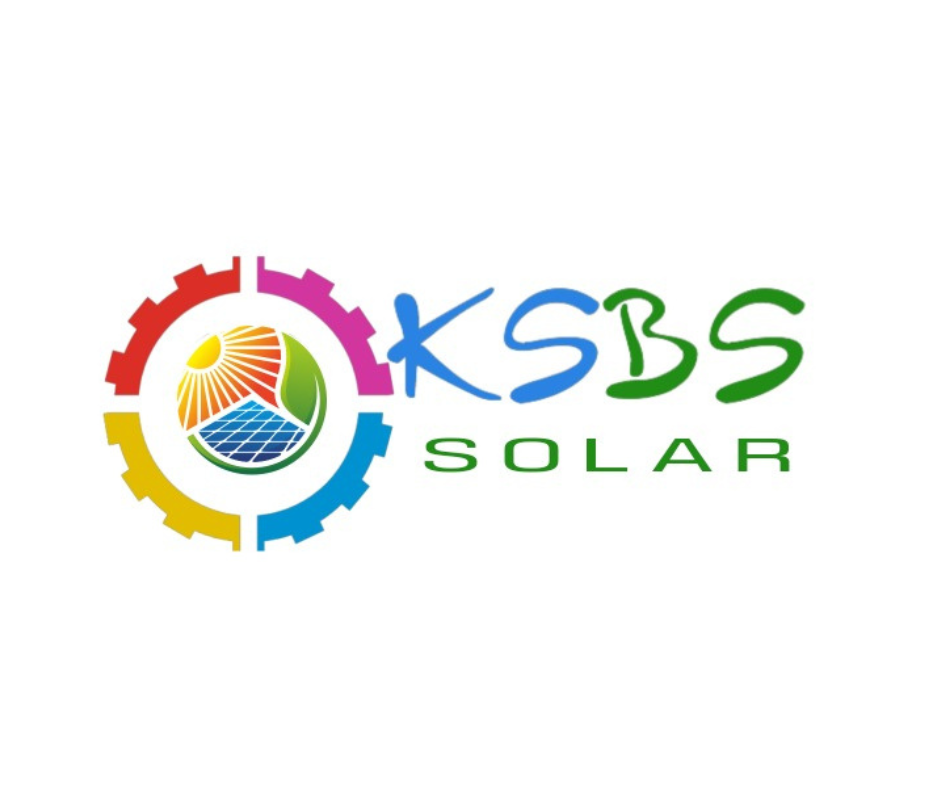 KSBS MANAGEMENT & TECHNOLOGY PVT LTD
The company has a mission to provide affordable, clean, and reliable solar energy to communities and businesses throughout the country.

27 Nirmai Nagar, 1st Cross Street, Kolathur, Chennai -99
+91 9176141411 / +91 9629891411
info@ksbsgroup.com
PRODUCTS
Solar Energy System
EV Charger
HVAC
SOLUTIONS
Residential



Commercial
Industry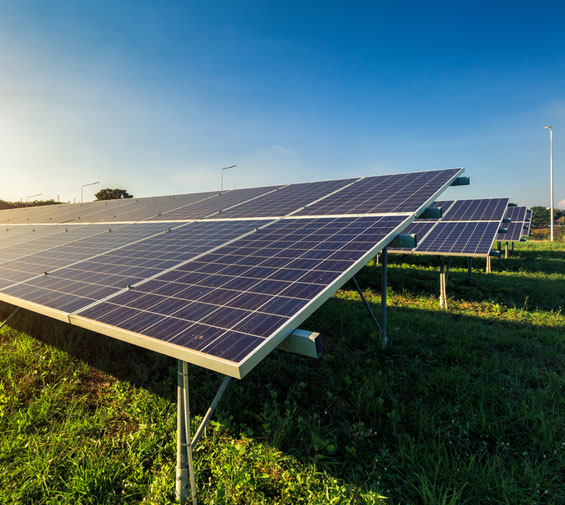 Why KSBS Solar

KSBS Solar is proud to serve customers in multiple countries, including India, Singapore, Dubai, and Canada. We have expanded our operations to these regions to cater to the growing demand for solar energy solutions worldwide.
In India, we are committed to providing affordable and sustainable solar solutions to help meet the country's ambitious renewable energy targets. In Singapore, Dubai, and Canada, we bring our expertise and experience to deliver high-quality solar products and services to support their respective clean energy goals.
Our global presence enables us to adapt to diverse market needs, regulations, and local requirements while maintaining our commitment to delivering exceptional customer service and reliable solar solutions in each of these regions.
Regardless of the region, KSBS Solar is committed to delivering top-quality solar products, excellent customer service, and driving positive change in the renewable energy sector.
Through its commitment to innovation and sustainability, KSBS Solar Business Unit has become a leading player in the Indian solar industry. The company has earned a reputation for delivering high-quality, reliable solar solutions to a diverse range of clients, including commercial and industrial businesses, government agencies, and residential customers.
With a team of experienced professionals and a strong focus on customer satisfaction, KSBS Solar Business Unit is poised for continued growth and success in the years to come.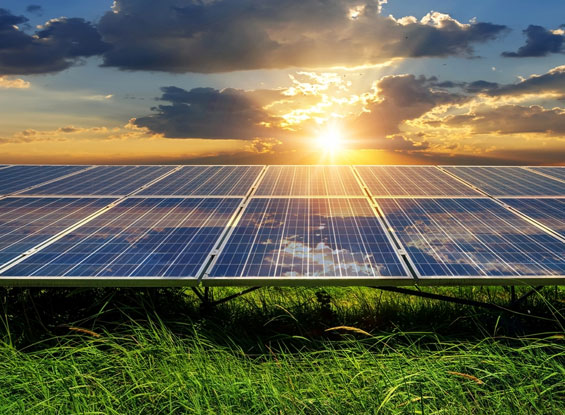 Customer Services
At KSBS Solar, we believe that exceptional customer service is the foundation of a successful business. That's why we place a strong emphasis on providing our customers with the highest level of service and support possible.
Our team of trained professionals is dedicated to ensuring that our customers receive the best possible experience when working with us. We provide timely and effective support to our customers at every stage of their solar journey, from initial consultation to installation and ongoing maintenance.
We are committed to transparency and honesty in all of our dealings, and we work closely with our customers to ensure that they fully understand the legal aspects of solar energy, including regulatory compliance and relevant policies.
At KSBS Solar, we believe that building trust with our customers is essential to our success. By providing reliable and effective solar solutions backed by exceptional customer service, we aim to create long-lasting relationships with our customers built on trust and mutual respect.
PRODUCTS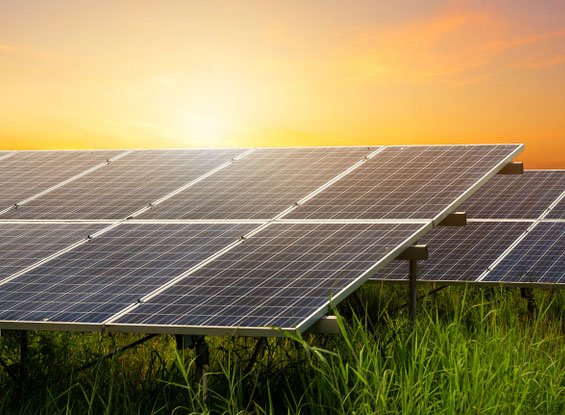 Solar Energy System
Solar power is the conversion of energy from sunlight into electricity, directly using photovoltaic (PV). Photovoltaic cells convert light into an electric current using the photovoltaic effect. A solar power system is made up of multiple photovoltaic (PV) panels.
Solar PV panels on the roofs of homes generate clean electricity by converting the energy in sunlight. This conversion takes place within solar panels of specially fabricated materials that make up the solar panels. It is a process that requires no moving parts. In most cases solar panels are connected to the mains power supply through a device called a solar power inverter.
Top 10 Benefits of Going Solar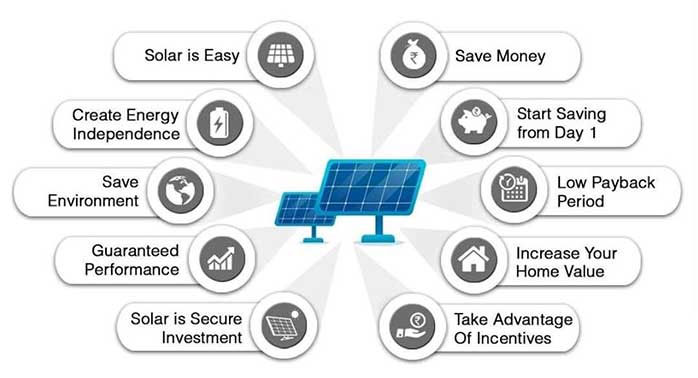 Electrical Vehicle Charger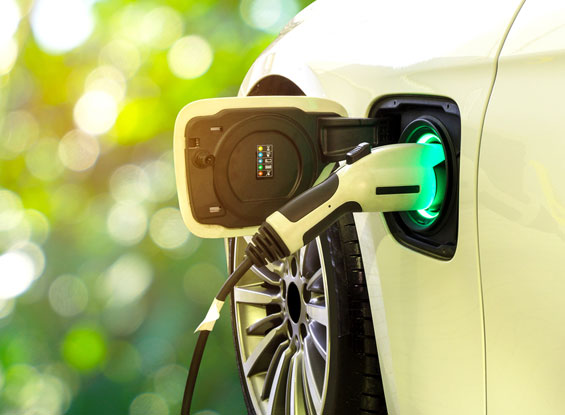 As the world is gearing up to unleash an EV revolution, it is still true that the rate of adaption is slow. Electric Vehicles (EVs) despite being a greener, smoother and cheaper mode of transport does not seem to be practical yet. The reason is two words, Cost and Ecosystem. Currently EV's are priced substantially at par with Gasoline cars making it a less significant choice for buyers, the advancement in battery technology and government schemes are expected to bring down the cost of EV in Future.
Charging station type :
There are mainly two types of charging systems: AC and DC charging systems. The AC charger powers the battery through the vehicle's on-board charger, while a DC charger directly charges the vehicle's battery.
level 1:
A Level 1 EVSE is (typically a residential charger) uses commonly available 220 VAC power off the grid, draws current in the order of a 12 A to 16 A range and requires about 8 hours to fully charge a 16 kWH battery.
level 2:
A Level 2 EVSE (typically used in commercial spaces such as malls, offices, etc.) uses three-phase 440 VAC of the grid to power a more robust vehicle charger and draws up to 32A to completely charge a 16 kWH battery in about 8 hours.
level 3:
Level 3 is fast charging station. This type of charging station takes AC power from the grid and then employs a power converter to supply high-voltage (300 V-750 V) DC at up to 400A directly to the vehicle's battery. Level 3 bypasses the on-board charger on the EV. Since high power is directly supplied into the vehicle, the overall time required to charge is much, lower and explains why Level 3 has earned the name "fast charger." The charging time for a typical 16 kWH battery is less than 30 minutes.
Different between AC and DC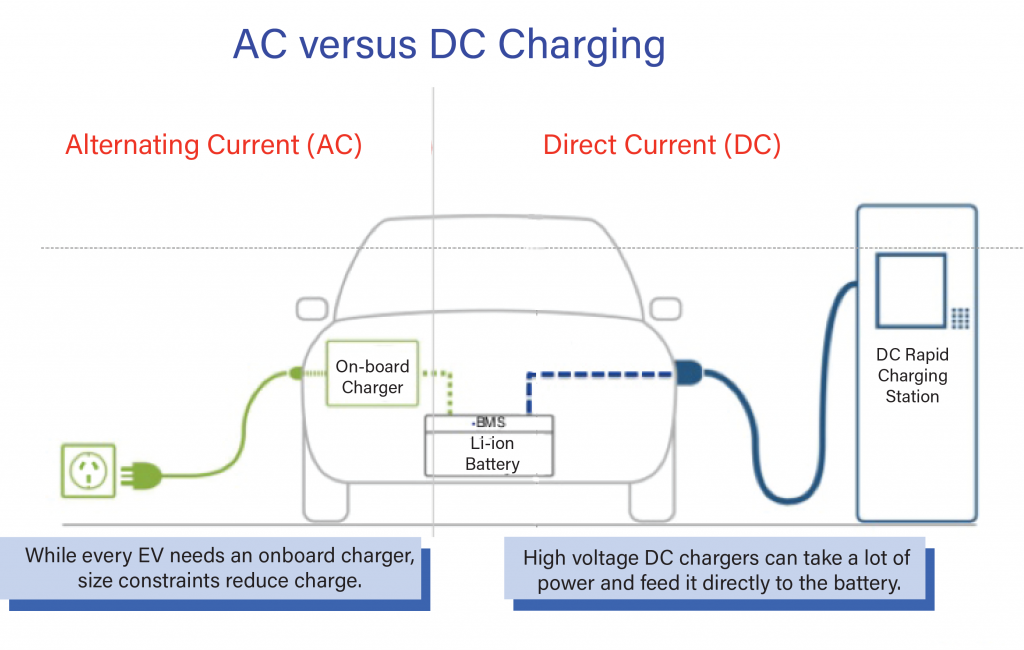 The national grid delivers AC (Alternating Current) but Electric Vehicles must charge their batteries with DC (Direct Current).
An AC charging point/EVSE supplies the vehicle's onboard charger which in turn converts the AC power to DC allowing the battery to be charged. The size of the onboard charging device is constrained by the space inside the vehicle and price point the manufacturer needs to sell the car. Because the onboard converter is small, the amount of power that they are able to deliver to the battery is typically low (3-6kW).
A DC fast charger bypasses the onboard charging device, supplying power directly and safely to the vehicle's battery. The DC charger is external to the vehicle and therefore not constrained in size or cost. DC fast chargers use 3-phase power, and have smart technology, enabling them to adjust the charge level to suit the battery state.
Level2 AC wallbox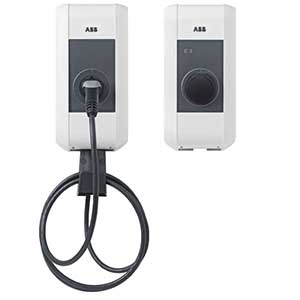 AC WALL
The wallbox is ideal for residential and commercial locations, businesses in the hospitality industry and those providing overnight charging facilities. It can also supplement DC charging sites for plug-in hybrid electric vehicles (PHEVs). It features DC leakage detection, which means there is no need for costly upstream Type-B residual current circuit breakers.
Key Benefits
• Easy installation – saves time
• Compact design – saves space
• High quality – more reliability
• DC leakage included – saves extra devices
Applications
• Homes
• Offices
• Hotel and Hospitality
• Overnight fleet charging
• Supplement at DC charging sites for plug-in hybrid electric vehicles (PHEVs)
Main Features
• 4.6kW and 11kW AC charging available
• 22 kW AC fast charging available
• Sealed electronics compartment
• Range of installation options
• Open Charge Point Protocol (OCPP). Pro S and Pro M devices can be connected for OCPP 1.5 and load management
• Authentication
• Monitoring
• Load balancing
• Compact design
• Robust all-weather enclosure for indoor and outdoor use Key optional features
• RFID and key authorization
• Input current limiting software to match site requirements
• Web tools for statistics, configuration and access management
• Communication interface for intelligently controlled charging and smart home applications
• Type 1 and type 2 cables available
• Type 2 socket available
• Type 2 with shutter available
• UMTS/G3
• MID certified versions available later in 2018
• Pedestals for 1 or 2 (back to back or 90 degree angle) wallboxes
Level 2 DC wallbox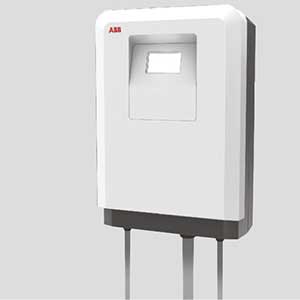 DC wallbox
The ABB DC wallbox is a compact 24 kW DC fast charger with one or two outlets supporting CCS and CHAdeMO.
Operating the wallbox is easy thanks to a 7" full color, daylight readable touchscreen display. This includes starting and stopping of charge sessions, progress indication during charging, tariff information, help menus, language selection, and PIN code access.
Connectivity is key to success in EV charging. The DC wall box features ABB Ability Connected Services to enable authentication, payment, monitoring, remote diagnostics and repair, as well as over-the-air updates and upgrades.
DC wallbox preferred over AC wallbox
When charging with AC equipment, charging power is often limited by the onboard converter of the EV. Onboard converters are usually rated 3.3, 6 or 7 kW. Any additional power the AC charging station could provide, remains unused.
With the DC wallbox, 24 kW DC power is provided directly to the battery, bypassing the limitations of the EV's onboard converter.
Applications
• Homes
• Offices
• Car dealerships
• Commercial locations
Main Features
• 24 kW DC fast charging
• 60 A high output current
• Single or dual outlet: CCS and CHAdeMO
• Daylight readable 7" full color touchscreen display
• Future proof connectivity:
• OCPP
• Capability for remote services
• Compact design
• Robust all-weather enclosure for indoor and outdoor use
Key Optional Features
• RFID authorization
• On-screen PIN code authorization
• Input current limiting software to match site requirements
• Web tools for statistics, configuration, access management, remote diagnostics and repair
• Integration with back offices and payment platforms
• Customized branding possibilities
Configurations
The DC wallbox is available in the following configurations:
• Single outlet CCS1
• Single outlet CCS2
• Single outlet CHAdeMO
• Dual outlet CCS1 + CHAdeMO
• Dual outlet CCS2 + CHAdeMO
Level 3 Terra 54 multi-standard DC charging station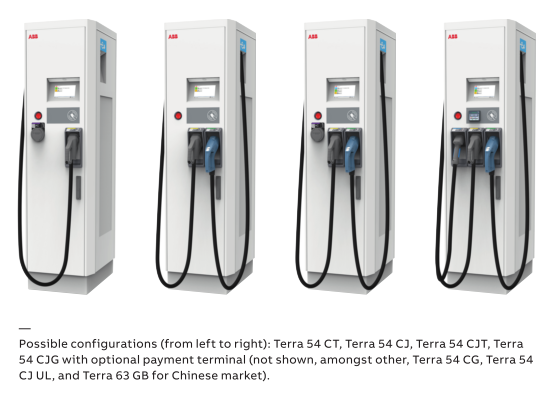 Main Features
• 50 kW DC fast charger supporting CCS, CHAdeMO
And Type 2 AC charging (optional)
• 22 or 43 kW AC cable, or 22 kW AC socket (optional)
• Designed to deliver full output power continuously and reliably over lifetime
• IEC 61000 EMC Class B certified for industrial and
Residential areas (including petrol stations, retail
Outlets, offices, etc.)
• Future proof connection via open industry standards, including remote uptime monitoring and
Assistance, updates and upgrades
• Daylight readable touchscreen display.
• Graphic visualization of charging progress.
• RFID authorization.
• Robust all weather stainless steel enclosure.
• Quick and easy installation.
Applications
• Highway petrol / service stations.
• Metropolitan / urban areas.
• Commercial fleet operators.
• EV infrastructure operators and service providers.
General Specifications
Environment : Indoor / outdoor
Operating temperature : -35 oC to +55 oC (de-rating characteristics apply)
Compliance and safety : CE, RCM, EAC, CHAdeMO 1.0
EMC emission : IEC 61000-6-3 Class B – Residential
EMC immunity : IEC 61000-6-2 Industrial
Input AC power connection : 3P + N + PE
Input voltage range : 400 VAC +/- 10%
(50 Hz or 60 Hz)
Max. rated input current & : CJ: 80 A, 55 kV
Power CT, CJT: 112 A, 77 kVA
CJG, CG: 143 A, 98 kVA
Power factor (full load) : > 0.96

Efficiency : 94% at nominal output power
RFID system : ISO/IEC 14443A/B,
ISO/IEC 15393,
FeliCa™ 1, NFC reader mode,
Mifare, Calypso, (option:Legic)
Network connection : GSM / 3G modem,
10/100 Base-T Ethernet
Protection : IP54
Dimensions (D x W x H) : 780 mm x 565 mm x 1900 mm
Mass : 350 kg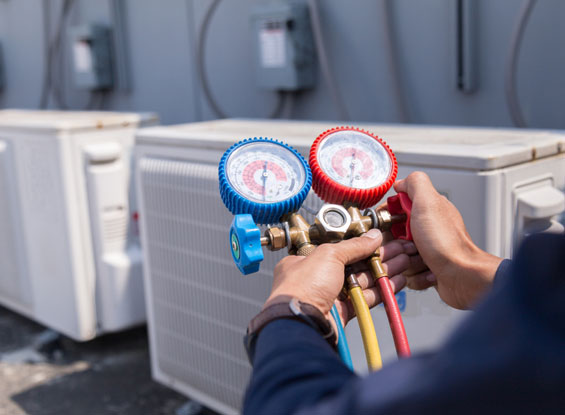 HVAC Solutions

KSBS Group is composed of a team of HVAC experts who have hands-on, working knowledge of complex HVAC projects and who can tackle your project with efficiency, diligence and care. All of our team members are highly educated, multi-disciplined with impressive backgrounds in mechanical and electrical engineering on both the residential and commercial fronts who are well versed in applicable codes and standards in your area, and who are well aware of environmental and sustainable options that can bring your project to the next level
SOLUTION

Residential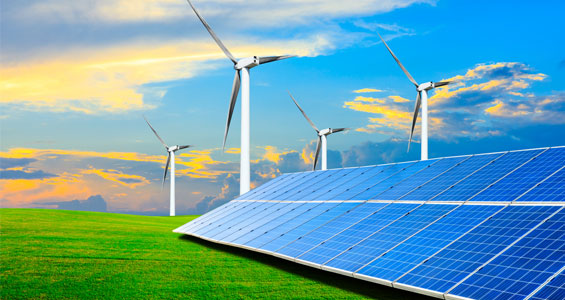 Step on it Solar Green Energy
A solar system clearly makes environmental sense by producing non-polluting, free, renewable energy. Over a 25-year period, this system will off-set the client's carbon footprint by 20 tons of CO2, or equal to effectively planting 35 acres of forest.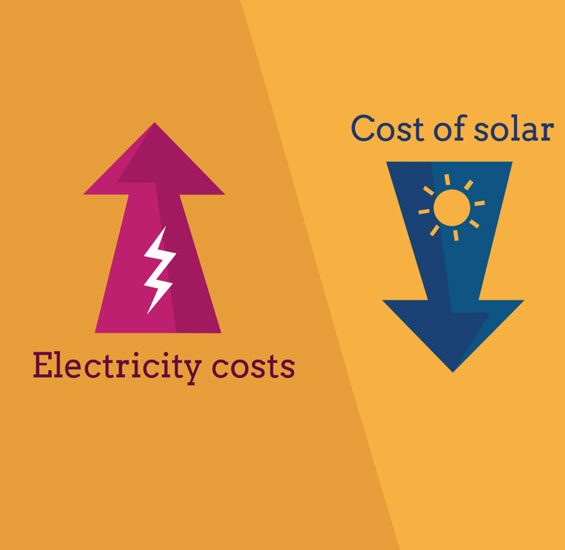 Save Your Utility Charge
Your utility rates seem to keep getting higher every year, don't they? Yet sunlight is free and abundant. Accessing power straight from the source makes more sense than paying for it indirectly from your local power plant. Clearly, solar power is more cost-effective than standard electricity. According to the World Economic Forum (WEF), installing new solar panels is cheaper than a comparable investment in coal, natural gas or other fossil fuel options.
One way to think about it is that the sun isn't going anywhere (for now), and so it's what's known as a renewable resource. It takes a lot of work to produce electricity, but when you set up your very own private power plant on the roof of your house, that is the definition of efficiency. Harnessing the power of the sun directly cuts out the middleman.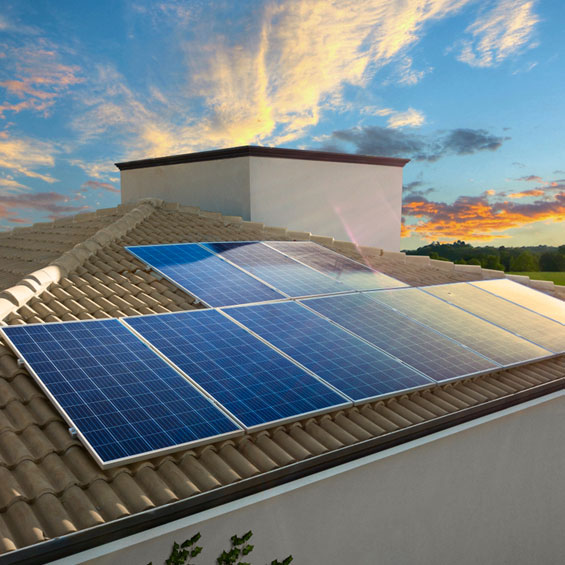 KSBS Roof Top Solar
KSBS doing roof top solar systems on-grid and off-grid solutions for residential and commercial clients. This proposal includes a ballast mounting system to avoid penetrating existing flat- roof systems. Our mounting system is custom designed to ensure we do not exceed the existing roofing structure allowance for dead and live loads. The ballast pads are designed to withstand winds of up to 120 mph.
The PV modules we propose to install are 100% Made in Certified Company by solar World. The PV system is a mono-crystalline technology that yields one of the highest efficiency power outputs on the market today. Our DC to AC power conversion is designed into a bank of fifteen pre sola inverters. We feel string inverter is the best design to meet your needs of reliability and maintenance ease.
On-Grid Solar Solutions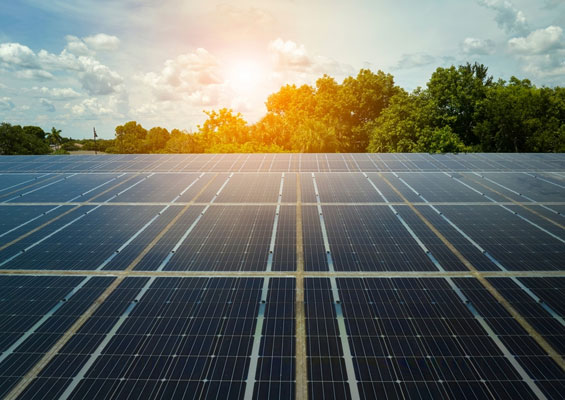 A ON Grid system or grid-connected PV system is an electricity generating solar PV power system that is connected to the utility grid. A grid-connected PV system consists of solar panels, one or several inverters, a power conditioning unit and grid connection equipment. They range from small residential and commercial rooftop systems to large utility-scale solar power stations., the grid-connected PV system supplies the excess power, beyond consumption by the connected load, to the utility grid
How Does Working: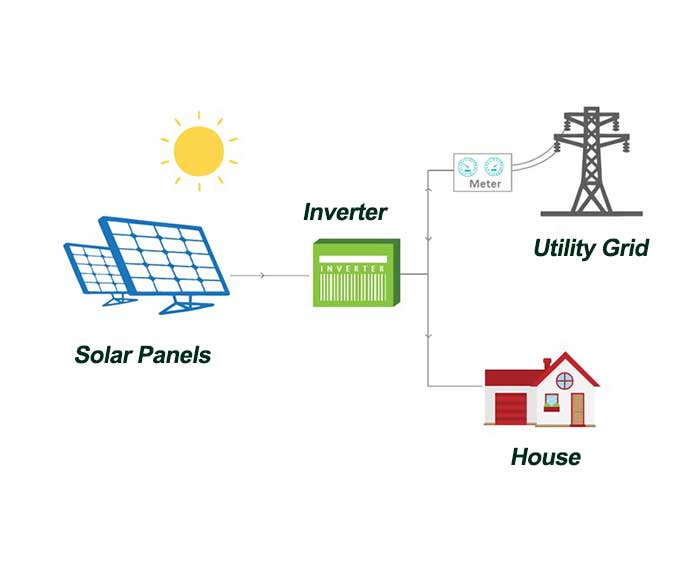 Solar power is the conversion of energy from sunlight into electricity, Photovoltaic cells convert light into an electric current using the photovoltaic effect. The current generated here is Direct Current (DC). The solar inverter then converts the DC to Alternating Current (AC), thus making it power the electrical items. This electricity is then routed to the grid where it is supplied for Everyday use. An important feature is the net meter. It is a device that records the energy supplied to the grid and the energy consumed. At the end of bill Timing, the outstanding is recorded and the consumer is provided with a bill.
Solar ON grid Vs OFF grid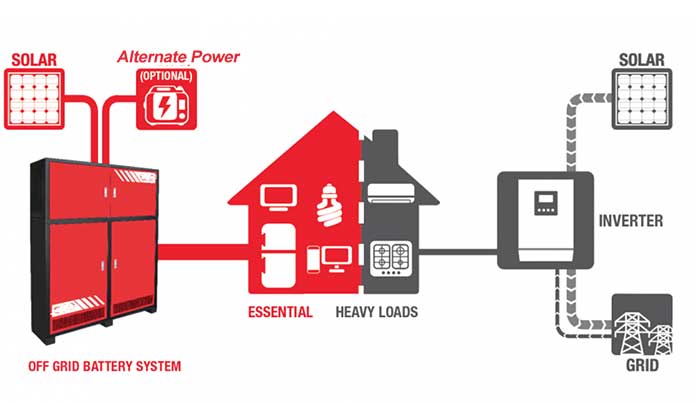 Off-Grid Solar Solutions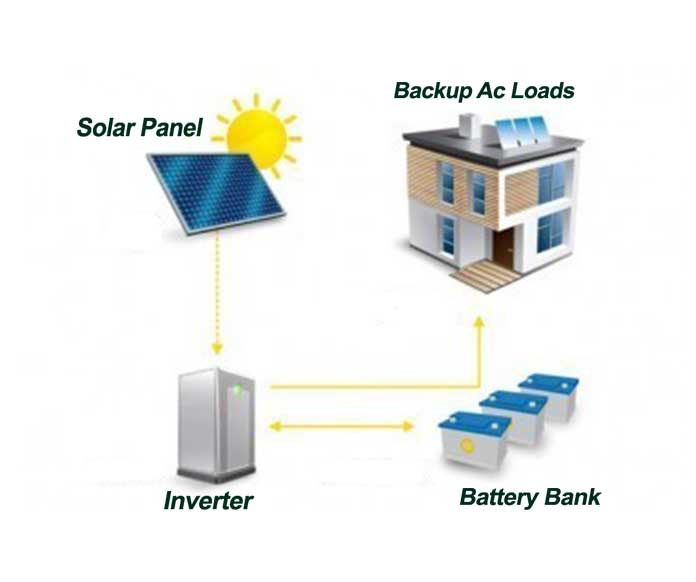 Off-grid systems work independently of the grid but have batteries which can store the solar power generated by the system. The system usually consists of solar panels, battery, charge controller, grid box, inverter, mounting structure and balance of systems. The panels store enough sunlight during the day and use the excess power generated in the night.
Off-grid solar systems can facilitate independent, long-term and sustainable electricity generation in rural and remote areas.

Solar ON grid Vs OFF grid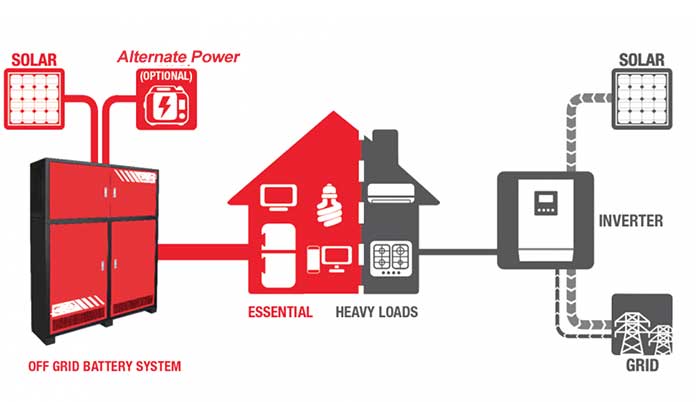 Hybrid Solar Solutions
On-grid solar solutions allow residential as well as commercial customers to build up reserve power using their installed solar panels and to use that power when needed. In some areas, on-grid solutions may allow customers to make money off of any power that they themselves are not using.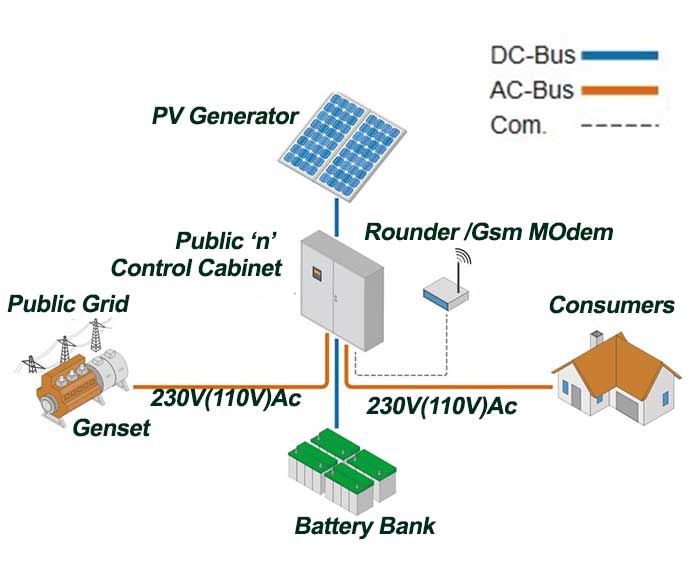 On-grid solar solutions allow residential as well as commercial customers to build up reserve power using their installed solar panels and to use that power when needed. In some areas, on-grid solutions may allow customers to make money off of any power that they themselves are not using.
COMMERCIAL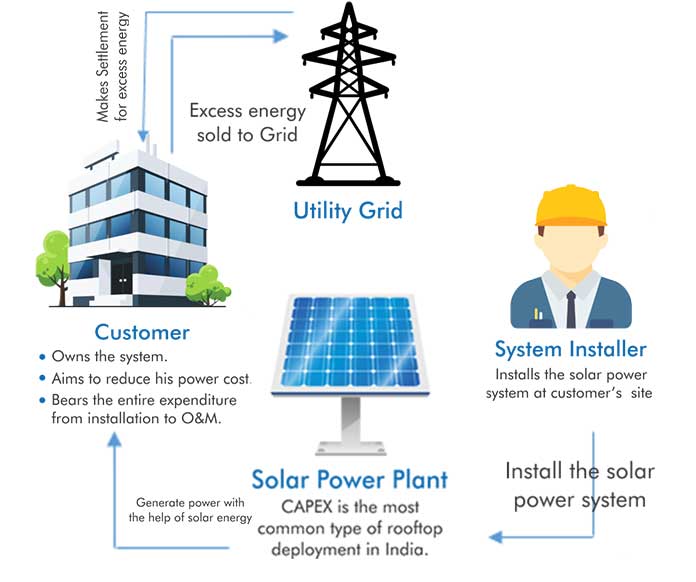 Solar EPC (Capex)
Consumer purchases the solar energy System and get it installed on their premises by the installer companies its called CAPEX model.
After that they receive all of the electricity savings and available subsidies. They also get solar renewable energy certificates and eligible to get other local scheme.
The biggest benefit of this module is, consumers will see immediate savings on its utility bills. Consumers provide the funds for the system upfront is the disadvantage of this model.
CAPEX is your choice if you have spare amount for investment which demands the quick payback of 3–5 years and after that free electricity for 25–30 years this is the best option for consumers. In terms of ROI (Return on investment) approx 20 to 25% easily you will get here.
INDUSTYR
Opex
Consumers only provide the premises for the solar plant whereas the plant is owned and operated by the installer companies or the investors called OPEX or PPA Model. It is also called as third party ownership.
Consumers pay with low rate of units to the developer or investors for the electricity produced by the panels, mostly per unit rate is lower than what they pay their utility bills to government. In average scenario affective rates are 25 to 30% lesser in some cases they freeze the rate for next 10 to 15 years.

Group Captive

Captive or Group Captive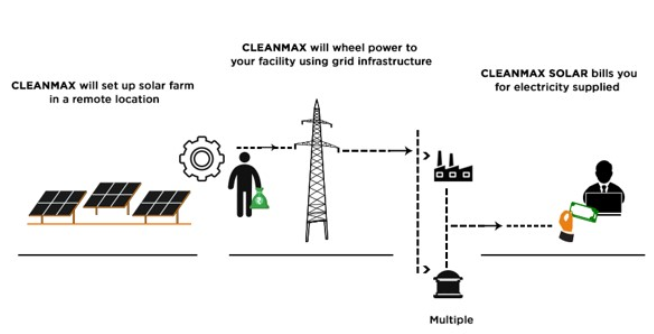 Whatever your reasons for considering alternative power sources, the end result is the same. You will save on electricity while meeting all your power needs. Captive or Group captive power is one such power generation option that helps you meet all your electricity needs, while also enjoying tariffs lower than prevailing grid tariff rates.