India's Leading SMS Marketing Platform -SMSIintegra.com
---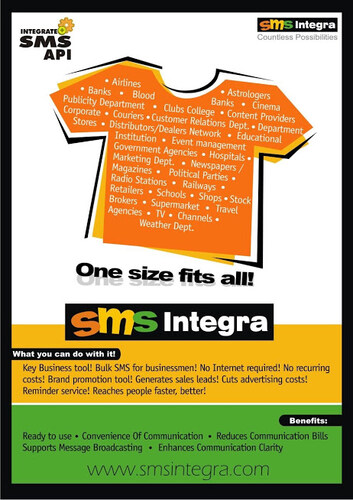 Send Better, Smarter, More Integrated SMS Messages
With massive engagement and open rates, SMS is a channel you can't afford to ignore. So why aren't more marketers using SMS in their marketing strategy?
In a recent poll, marketers said that one of the key reasons they're hesitant to use SMS is fear of over-messaging customers. We agree: pinging your customers too often is a terrible, no good, very bad way to earn trust, loyalty and drive long-term value.
But with intelligent SMS that doesn't have to be the case. In this playbook, we'll show you some of the ways you can use SMS to create deeper connections with customers — and better integrate text messaging into your overall customer engagement strategy.
Whether you're still considering SMS, just getting started or looking for ways to expand your use of the channel, use this playbook to make your SMS marketing even more valuable for your customers and your brand.
With average open rates of over 90%, you can't afford to ignore the power of SMS messaging. SMS is also one of only two mobile channels (the other one is mobile wallet) that allow you to message users directly without an app. Start creating deeper connections with customers on SMS today.
Quickly send sale alerts, upsell opportunities, partner promotions and more that grab attention, spark action and get results.
Make transactional messages more visible and useful — or respond to a user request through your preference center to send transactional messages via SMS.
Free BULK SMS software for PC
SMSIntegra API – A Free API Built for SMS Developers. We support all languages including PHP, .NET, C.
About our company
SMSIntegra is an communication service providing company headquartered in Chennai,
It is one of first companies in India to offer SMS Services Online.
Send Promotional SMS & Voice
Send high volume promotional SMSs to customers while ensuring those with DND activated are not spammed as per TRAI rules.
Transactional Messages (TRAI)
These are messages which are sent to your customer to pass on information necessary for using your product or service.
Capture Leads
Build opt-in database of mobile numbers by capturing it through Keywords, IVR, Missed Call & Short code, Toll-free number
Push / Pull SMS Solutions
Any organization can provide this service to their target customers to pull information by sending SMS. In reply, customers get a push SMS.
Missed Call (Fone Kall) solution
Include FoneKall Number - Start the Engagement. FONEKALL is the mobile marketing & call to action platform for brands of all sizes.
Voice Integra Broadcast
It is an automated tool which allows you to make thousands of automated Voice calls to send important alerts, promotions & notifications.